It costs 1.5 to 2x an employee's annual salary to replace them.
Retaining employees is much more cost-effective.
But if you're only beginning to build your employee retention plan where should you start? And can a tool like your company intranet help?
In this article, we explore how to calculate employee retention rates, the reasons why employees are resigning, and strategies to retain employees with the intranet.
What is meant by employee retention?
Employee retention is the ability of a company to keep or retain employees. More simply – how well employers limit the number of staff quitting. Companies should strive for a low employee turnover (i.e. having more people join than resign). Why? High staff turnover is costly and can signal bad company culture.
How can you calculate staff retention?
Want to know if you have a good employee retention rate? Use this simple formula from Upwork to calculate your annual staff retention rate:

What is considered a good employee retention rate? It depends on your industry and a lot of other factors. But generally speaking higher is better!
Why are so many companies struggling to retain top talent?
If you're struggling with a low employee retention rate and high staff turnover, you're not alone! According to the US Bureau of Labor Statistics, the annual quit rate (the number of employees voluntarily leaving their jobs) increased from 25.7 in 2017 to 32.7 in 2022.
It's the so-called 'Great Resignation' and it is being felt across the globe. While there's debate over when this 'Big Quit' began, whether it was pre-Covid or Spring of 2021, it arrived in force and shows no signs of stopping. A reported 23% to 44% of employees are planning to quit in the next year.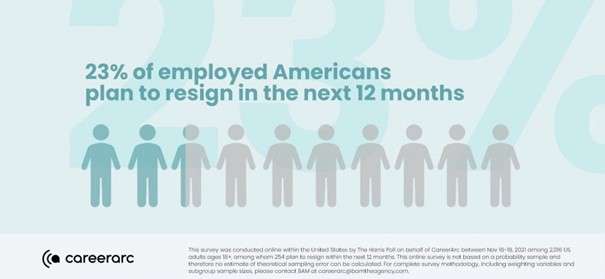 Why are employees leaving their jobs?
As our guest, Annabelle Roberts said on our podcast series Welcome to the New Normal "It's the great re-evaluation". People are assessing their work-life balance and seeking opportunities that better align with their needs.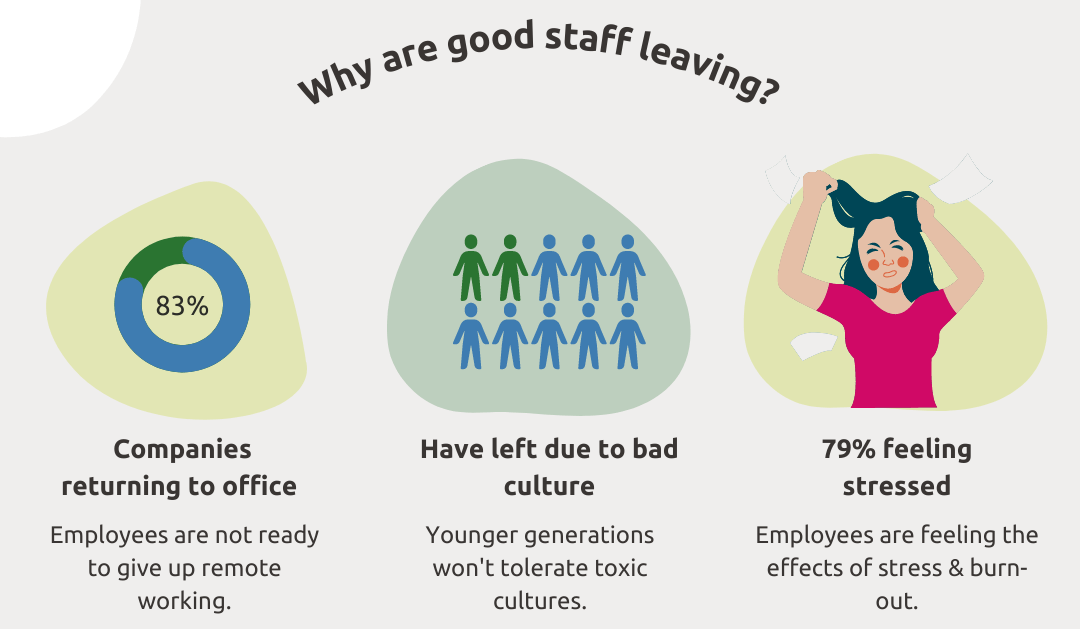 Dissatisfied with their jobs and not happy to go back to the way things were pre-pandemic, employees are quitting in droves. There are a few obvious and not-so-obvious reasons why:
Flexibility: The pandemic revolutionized work from home. Employees had the opportunity to prove to their employers that they were just as productive working remotely as in the office. 77% of people actually found themselves to be more productive at home. And they're not ready to give this up. Yet, from research with our partners StitchDX we found that 13% of companies plan to go back to the office full time and 39% want employees back at least half time. Companies could find that lack of flexibility drives resignations.
Lack of communication: Employees rely on communications, top-down and across to do their jobs and do them well. Yet, beyond this employees want to know what is going on – good or bad, so they can build trust. The pandemic and ever-changing health rules highlighted to need for open and continuous communications. Lack of transparency or poor digital communications systems won't help retain talent.
Bad or non-existent culture: Toxic company culture won't be tolerated by younger generations. In 2020, 5% of resignations from people aged 18-34 were due to bad culture. Researchers at MIT Sloan Management Review analyzed 1.4 million Glassdoor reviews and found that a toxic corporate culture is 10x more powerful at predicting staff turnover than compensation. A sour culture can make it impossible to retain or attract any employees if it's not caught quickly.
Stress & burnout: A never-ending pandemic and political unrest. It's no surprise that 79% of employees are feeling the effects of stress and nearly half of millennials have left a job after hitting burnout levels. Companies that forget to focus on employees' physical, mental, and digital well-being risk losing good people who have reached a breaking point. Employees are seeking a better work-life balance.
How can you improve employee retention levels?
If you're struggling with high staff turnover it's time to create an effective employee retention program that addresses the reasons good staff are leaving.
And the intranet is the ideal place to start.
Why? It's one tool that can be used to address the main reasons employees leave: lack of communication, bad culture, burnout, and inflexibility
A single source of truth for the entire organization, an intranet facilitates internal communications, gives employees access to the information they need, and forms part of your company culture. It's your digital workplace, a virtual space to connect and engage every employee. What's more – it's designed for remote and hybrid working. And when used correctly it can help improve employees mental and digital well-being.
How to design an employee retention strategy with an intranet:
Here are 6 employee retention strategies to implement using your intranet.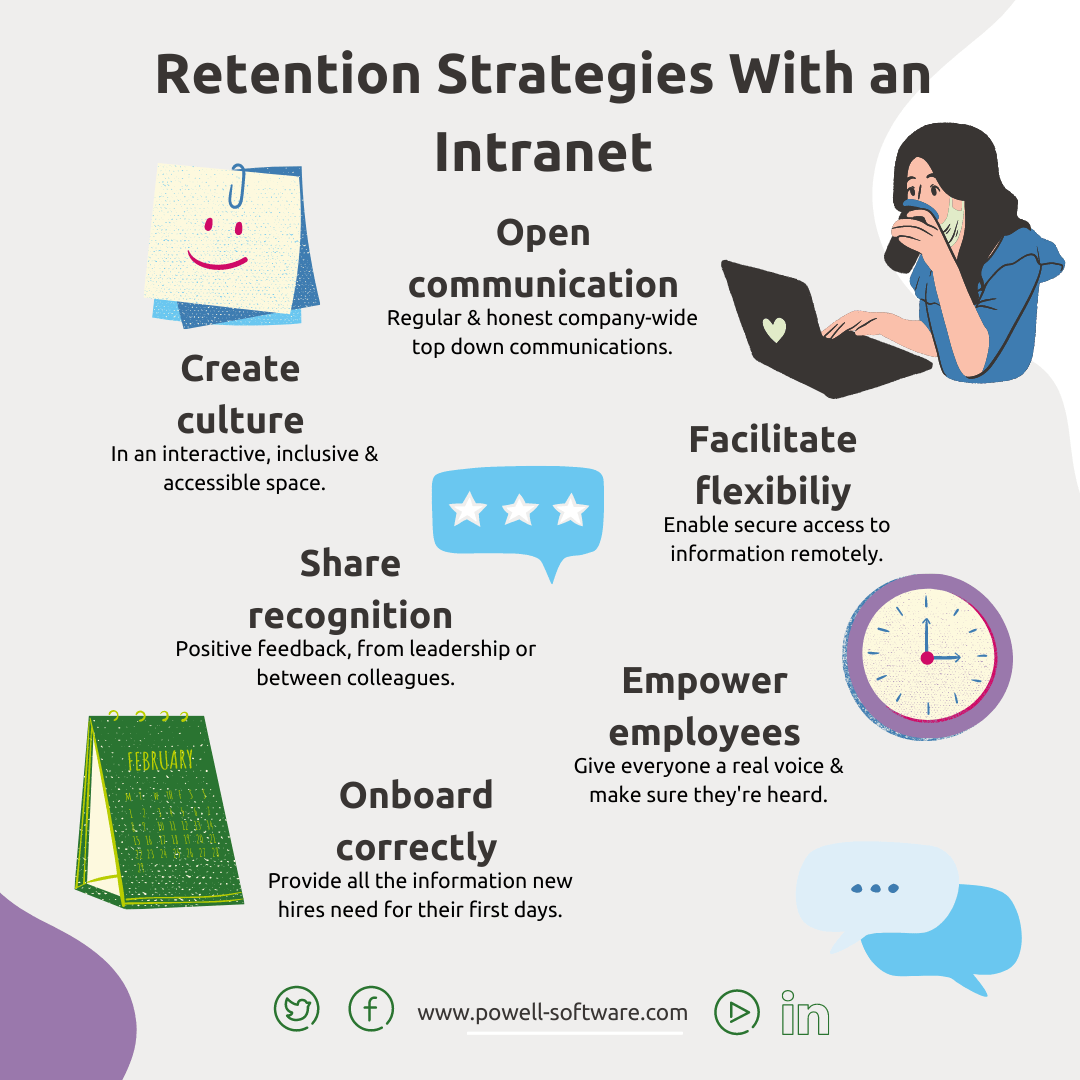 Open communication
Three-quarters of employees do not feel that their employer does a good job of keeping them informed, or communicates frequently enough. This can lead to disconnect, disengagement, and impact staff turnover.
A simple method for retaining great employees is to communicate with them. Let them know what is happening in the organization. Give them some visibility so that they can build trust. Openness and transparency from leadership and management can help employees feel more connected to the organization.
The intranet is designed for company-wide communications. It is a common space employees can easily access for the latest information. Leadership should regularly post updates on company performance – weekly, monthly, or quarterly.
Create a culture
An intranet is where you should store your written company vision, values and purpose. But company culture is not a statement, it's created through every word and interaction between leadership and employees.
In large companies where employees are spread across different offices, countries, and continents digital tools are essential to creating culture. Leadership needs one space where they can reach everyone, and ensure no one is excluded.
How can an intranet help? It can help improve company culture by being an interactive, inclusive and accessible space. It acts as a single source of truth and can unite employees around shared interests, ideas, or events.
If it's a positive, engaging shared space that meets employees' productivity and social needs – it's a great tool in your employee retention strategy.
Facilitate flexibility
Employees want flexible working options. Some want to work remotely 100% of the time, others from the office, but one common theme is a desire for flexibility.
Digital technology is the key to offering flexible working options. Tools like the intranet allow employees to work remotely because they have secure access to all company information away from the office.
Some intranets, like Powell Intranet, go a step further. Our FlexDesk widget allows employees to book their desk, a room, or even a car parking space directly on the intranet.
Flexibility accompanied by the tools employees need is another arm to add to your employee retention strategy.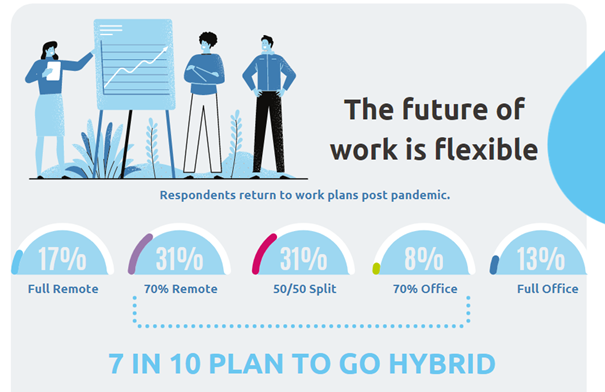 Share recognition
For employees who thrive on recognition, regular positive feedback is essential. Lack of employee appreciation will quickly lead to demotivated employees who are ready to hand in their notice.
Fortunately, the new generation of intranets is designed to make recognition easy.
Leadership can post announcements of a 'job well done' on the company home page for everyone to see. Top-down recognition like this also helps motivate employees to keep up their good work.
A Kudos feature (like on Powell Intranet) lets colleagues recognize each other, and make someone's day that little brighter.
Top tip: Recognition shouldn't be reserved for the big moments – like reaching annual objectives, or closing big deals. It could be acknowledging that someone has stepped in to help the team, put extra effort into a big project, came up with a creative project, or kept spirits up during stressful periods. A kind word helps build a positive culture and reduce staff turnover.
Empower employees
Employees who feel heard are 4.6 times more likely to feel empowered, and empowered employees perform better. They are also 27% less likely to quit.
Increase employee retention by ensuring every employee has a voice.
One way to do this with an intranet is to create a dedicated space for idea-sharing. Ask everyone to contribute ideas and then turn those ideas into action. With the Powell Intranet Idea Management tool, everyone can make suggestions and colleagues can vote for their favorite one.
Need some ideas on when to use this tool? You could ask people for their ideas for a big company event, a new product name or team building day.
Another way to empower employees is through employee advocacy. Employee advocacy programs are designed to turn people into ambassadors and give them a voice outside the organization.  It allows people to help build brand awareness and reach, contributing to company growth. Employee advocacy marketing is a creative way to engage and retain employees.
Onboard correctly
Up to 33% of employees leave in the first 3 months.
One way to reduce high employee turnover for new recruits is to improve the hiring process. The second is to create a great employee onboarding.
Employees' first days on the job are critical to retention. So getting onboarding right is essential to increasing employee retention.
An intranet is one of the most useful onboarding tools, especially for remote employees. It is a one-stop-shop containing all the information they need to do their job – from internal rules and processes to employee directories and company news. New hires should be able to easily access information.
Your intranet should make onboarding easy, for example with a dedicated onboarding space.
What is the most important aspect of employee retention?
Implementing these 6 strategies using your intranet is a great place to start when building your employee retention plan. However, retention always needs to be looked at holistically. Employees will stay when all of their needs are being met. So use these strategies to start an open conversation with your employees and find out what they are looking for!