With most jobs relying on technology, employers are now also navigating how to ensure digital wellbeing, especially among employees who spend their days on computers. The digital workplace, designed to improve employee engagement and productivity can be used to help, instead of harm.
What is 'Digital Wellbeing'?
The term digital wellbeing isn't strictly defined, but generally speaking, refers to the proper use of technology to ensure mental and physical wellbeing.
It's a relatively new term, born from the introduction of digital technologies like smartphones and the internet. Now with adults spending a shocking 11 hours on average a day looking at screens, research is focusing on the impacts this has on people's health. Talk around digital wellbeing focuses on how people can limit hours spent on technology. However, the time spent using digital tools is equally important.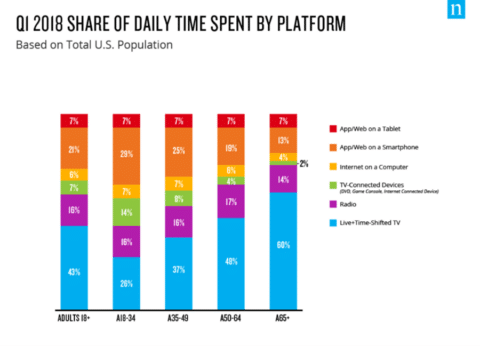 Focus on employee wellbeing during the pandemic
Digital wellbeing and digital overwhelm came under the spotlight during the Covid-19 pandemic. Although familiar with working at a computer in the office, those who moved to remote work during the pandemic spent an average of 2 extra hours a day at their laptop. With a long-term switch to work from home, these extended workdays may continue.
Longer work hours had a notable impact on employees' mental health, causing work stress and burnout. During the initial stages of the first lockdown in early April 2020, 73% of respondents to an ongoing survey in the UK, felt they were coping well with stress related to the pandemic. Five months on, this had dropped to 65%. Now over two years later with pandemic fatigue, coping levels continue to decline.
What is the digital workplace?
Today's employees are spending their workday on the digital workplace, a platform that facilitates employee collaboration and communication. A complete digital workplace merges the traditional corporate intranet with a collaboration platform, like Teams. This ensures employees can be as productive at home as in the office.
With the move to remote and hybrid work, more and more organizations are investing in a digital workplace. For companies with a long-standing corporate intranet, employees are using it more than ever.
While this technology undoubtedly helps employees get their work done, without best practices it can contribute to digital overwhelm.
The role of technology in employee work stress & burnout
Technology has a significant impact on employee mental health. This is especially true for remote employees.
Relying on digital tools to collaborate means employees are expected to be online throughout the day. Yet, anyone who moved to work from home during the first lockdowns quickly learned the impact endless hours spent in front of screens can have. Now employees want to set boundaries on screen time. One survey of nearly 4,000 people found that 75% of employees think limiting screen time at work, would help with their mental health.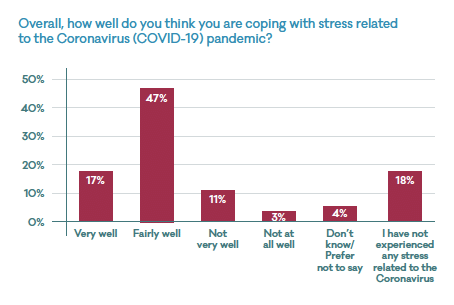 Sat in front of a laptop, employees are bombarded with instant messages, emails, video conferences. It can be overwhelming. In fact, over half of those surveyed said that overuse of collaboration platforms increased their work stress levels.
10 best practices to improve employee wellbeing in the digital workplace
It may seem wild to suggest that the digital workplace can be the answer to better employee wellbeing. However, digital wellbeing is all about using technology in the right way. Today's generation of employees will have to rely on technology for their entire professional lives. So introducing rules and best practices is a sustainable way to limit any harmful effects. The right strategies can go beyond this and enable the digital workplace to contribute to positive mental and digital wellbeing.
Download these tips as an infographic
1.      Allow switch off
One of the main problems employees face is not being able to 'switch off' after a workday. Unsurprisingly, nearly a third of workers find it hard to limit the time they spend on work, after hours.
It's even worse for remote or hybrid employees, who struggle to press the off button on a computer if their online status is being monitored. Employees who can't physically or mentally 'switch-off' struggle to find a work-life balance.
Even for those who happily close down their laptop at the end of the day, colleagues sending out-of-hours emails can be distracting. 39% of respondents to one survey said the technology made it hard to move from work to home life.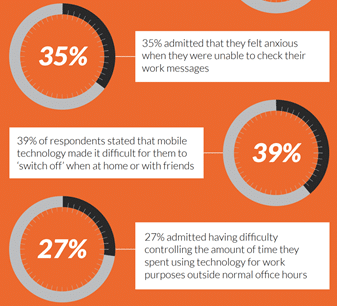 One way managers or HR can help is to set core hours employees need to be available. Encourage colleagues not to contact others outside this time, unless urgent. Employees can help by switching off notifications on their phones or laptops.
2.      Limit non-essential communications
Digital wellbeing is also negatively impacted when employees are inundated with communications. Emails are one of the primary offenders. Not only does it impact productivity, taking people out of their focus mode, but over two-thirds of workers struggle to get their work done because of the number of communications received, which causes unnecessary work stress.
On average employees spend 18% of their day on digital communications, mostly email. Not all of these communications are important, encourage employees to respect each other's time by limiting non-essential communication.
3.      Move essential communication to the right platform
Communication is the key to business success. Make sure the right conversations can happen by moving them to the right platforms. The digital workplace can help with this when best practices are set. For example:
Use the corporate intranet to send top-down communications, avoid sending a mass mail that won't be opened
Create Microsoft Teams channels to facilitate instant collaboration, as opposed to email
When using Teams, post in the right channel and notify the right people by using @ mentions
Encourage video calls when subjects are complicated, a quick 5-minute call can save an employee an hour of stressful messaging
Where email is needed, avoid copying in anyone who isn't relevant
4.      Avoid meeting fatigue
While video conferencing can be invaluable in the digital workplace, video call fatigue has truly set in, and unsurprisingly so. In 2020, people doubled their use of video meetings. Video calls, when they have a clear purpose can be time-saving, and recreate the face-to-face contact employees need. However, they can also be tiring as people have to be 'on'.
To avoid digital overwhelm, 80% of respondents to one survey said they would like one virtual meeting free day a week. This is easily achievable and can be adapted to the needs of the team.
5.      Respect co-worker's status
Digital tools like Microsoft Teams allow users to set when they are available, or busy. Teams even have a 'do not disturb' status, which limits notifications for the user.
While everyone can set this status, encourage employees to respect when co-workers are busy. This will allow people to concentrate on a task without distractions. At the same time, not every question can wait. It's good practice to be available for colleagues at certain periods throughout the day.
If using Outlook, check a colleague's calendar to see when they'll be free.
6.     Integrate wellbeing sessions on Teams
For true digital wellbeing, the digital workplace should be a space employees associate with more than strict work tasks. Microsoft Teams can be a fast-paced platform with lots of messages, shared documents, and constant notifications.
HR and Managers can bring in a softer side to the platform with some innovative sessions. Organize regular coffee chats, where conversations aren't focused on work. Bring in external speakers for Teams mindfulness, meditation, or even yoga sessions.
According to a study by Allianz, 36% of employees fear long-term impacts on their mental health from working from home during Covid-19. Over half have experienced new aches and pains.  The digital workplace can be used to help ease these effects.
Microsoft Teams is also introducing new wellbeing features to help.
7.      Add wellbeing content to the intranet
An intranet is a perfect place to store useful information for employees and help promote digital wellbeing. Create an HR intranet page and populate it with wellbeing information, contact numbers for any company-supported resources, national helplines, and details for anyone they can talk to internally.
If your company intranet has a social channel, post links to wellbeing ideas, for example, interesting articles or yoga videos. Be sure to also share posts and articles written by HR, the CSR team, or Happiness Officer on the intranet homepage where everyone can see it. Content like this should feed into your overall employee engagement strategy.
8.      Train employees on how to use the digital workplace
The digital workplace has allowed thousands of employees to work from home. Not only could employees stay productive but also be informed thanks to the intranet. Collaborative platforms like Teams remove the isolating feeling of working remotely by facilitating teamwork. Digital workplace tools provide job security for some, showing that they could do their jobs without being in the office.
However, while some embraced digital tools for others the transition was difficult. Varying levels of digital dexterity meant adaption was not equal. Employees with high digital dexterity will adopt technology much quicker, but few employees fall into this category. For most, they need to be trained in new tools. Some best practices:
Provide training to all employees on how to best use their digital workplace, store this content on the intranet so it's easily accessible
Keep employees up to date on new functionalities or tips and tricks to make better use of the tools they've been given
Organize one on one sessions for employees who struggle with technology
Have a digital workplace guru who can answer any questions
9.      Limit out of hours screen time
Limiting screen time is a key component of digital wellbeing. It's why apps like Instagram are now sending reminders to users when they've reached a daily limit. For remote employees who rely on screens, it's hard to get away from them. Yet, research found that 75% of employees think restricting screen time would help their mental health and avoid burnout.
There are still ways to help. Encourage employees to spend lunch breaks away from their screens. Maybe introduce a lunchtime step challenge and reward employees for the number of steps they walk over a few weeks. This is sure to help motivate employees!
Another option is to move to a hybrid work model instead of fully remote. In a hybrid workplace, employees spend part of their time in the office. This could really help with digital wellbeing if the time spent in the office is also time away from screens. In-office days can be used for team brainstorming sessions, learning lunches, coffee breaks, and any other activities which can't be done remotely. It should be seen as a chance for employees to do the work they can't do when sitting at a computer at home.
10.      Create a digital well-being digital workspace
Finally, digital wellbeing can be encouraged by gathering all these best practices and storing them on the company intranet. Pick and choose guidelines to suit your company, create engaging content, and store it where employees will see it – in the digital workplace.
In the move to remote work digital wellbeing is just one of many factors to consider. Engaging employees can also be a struggle. We've put together a complete guide to help!