Teamwork Culture. Effective Collaboration.
Microsoft Teams is the go-to teamwork and collaboration tool. Yet, sudden adoption by millions led to Teams sprawl and information overload. Too many teams and a lack of organization can leave users lost and IT teams facing complex management.
We enhance teamwork in Microsoft Teams with our modern collaboration tools. Powell Teams offers governance and control for IT, and a better user experience for users.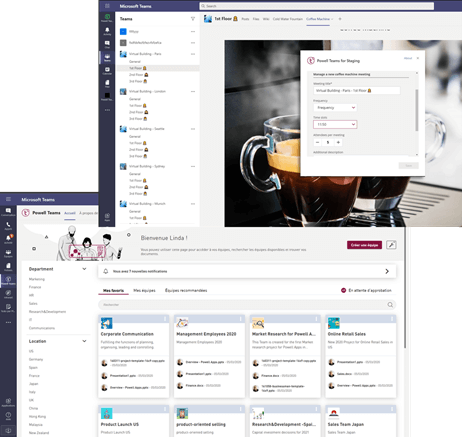 Foster a Strong Teamwork Culture
It's well known that organizations working as teams are more resilient and productive. Teamwork is the secret to success.
Implement a teamwork culture and facilitate collective intelligence with enhanced collaboration tools.
• Work together on collective and repetitive tasks through digitized and effortless processes
• Build smart bridges between corporate communication and team spaces
• Keep teams productive, even when remote
Instant Employee Productivity
Creating Microsoft Teams often requires IT knowledge. It can be time-consuming to create customized and configured channels and tabs. Multiple teams with no clear structure can also leave end-users endlessly searching through messages and documents, hindering the collaborative experience.
Save time and collaborate instantly on collective tasks with a catalog of premade Teams templates
Organize Teams and their information with easier navigation and search
Make Team creation a guided process or an automated experience
No more long-winded discussions across email and chat apps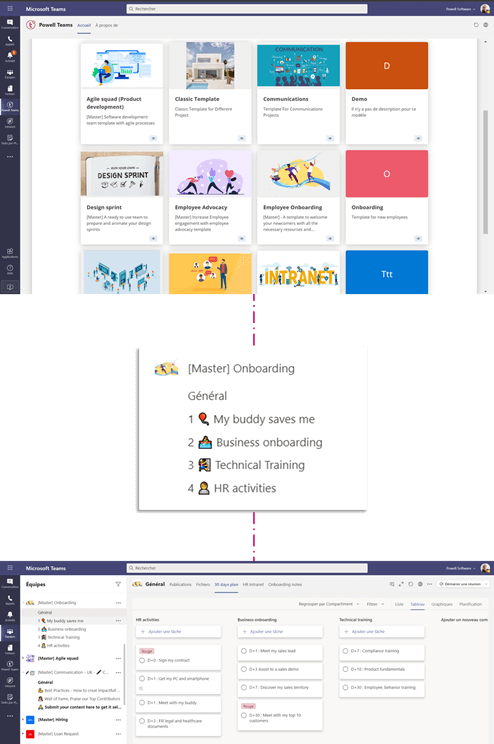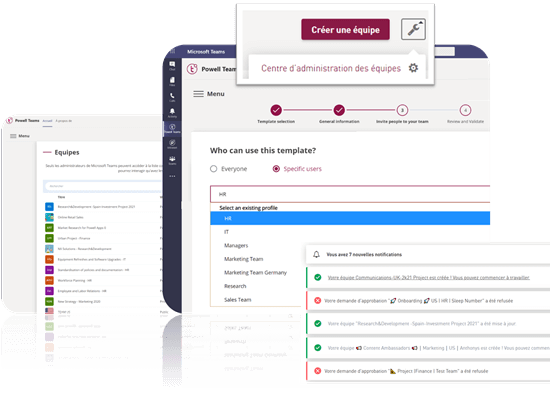 Secure Collaboration Best Practices & Governance
Avoid complex management and the challenges that can appear when implementing and using Microsoft Teams. An uncontrolled environment can lead to a spread and duplication of Teams. Powell Teams addresses these issues by enabling proper management from IT.
Teams approval system
Integrated IT best practices & governance rules
Guided Team creation process for end-users
Teams management through dashboard & reports
Drive Effective Teamwork and Boost Collaboration
Find out more about how to take Microsoft Teams collaboration to the next level. Discover the enhanced employee experience we provide to both end-users and IT departments.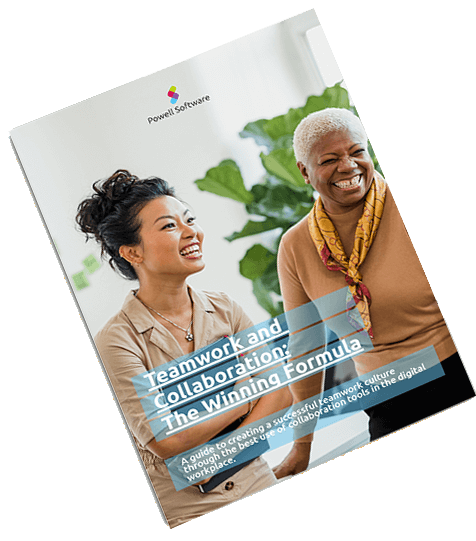 Teamwork and Collaboration: The Winning Formula
Fostering teamwork success relies on a company culture shift, and it starts by understanding the barriers to teamwork, its benefits, and the tools that can be used to enhance collaboration.  Download this whitepaper, and learn how to build a company culture that fosters teamwork and collaboration.
Promote Teamwork
Follow the Powell Software blog for helpful resources like best practices, tips, and guides about creating the right culture and selecting the best tools for teamwork.
Teams is a powerful platform made better with apps. From productivity and brainstorming to the end-user experience, Microsoft Teams apps are revolutionary.
Unruly, lawless, and chaotic - when your Teams workspace looks more like a scene from a Western it's time to bring in the Sheriff.
Microsoft Teams governance is crucial to avoid the creation of too many, duplicated and unorganized Teams and with Powell Teams it's easy to get right.