Improve Teamwork and Collaboration
Nurture healthy team dynamics to tackle unanticipated challenges and build a more resilient organization with teamwork. Favor collective intelligence, even for hybrid teams.
A Collaborative Workplace Culture
How can you establish a teamwork culture with strong collaboration? Provide users with both easy access to the platform they need along with information-sharing capabilities. Powell 365 provides at scale and simple collaboration processes with complete teamwork capabilities.
Organizational communication is no longer just top-down, it's also lateral between employees and among teams.
Employees can communicate and collaborate within their team
Information shared is organized and easily accessible
Conversations flow in easily searchable and dedicated Teams and channels
No more long-winded discussions across email and chat apps
Improve Employee Productivity
Multiple teams with no clear structure can leave end-users endlessly searching through messages and documents, hindering collaboration. Powell Teams solves this.
Accompany end-users through a guided team creation process
Benefit from automated and integrated best-practices
Avoid common issues faced when implementing Microsoft Teams
Make it easy for employees to navigate and find information
Boost Company Teamwork Today
Take Control with Governance
As with all Microsoft 365 services, Microsoft Teams requires IT professionals to implement administration best practices. IT needs governance and automation to bring structure to the following processes:
Guided team creation & approval
Teams sprawl control
Teams lifecycle management
Analytics & Reports on usage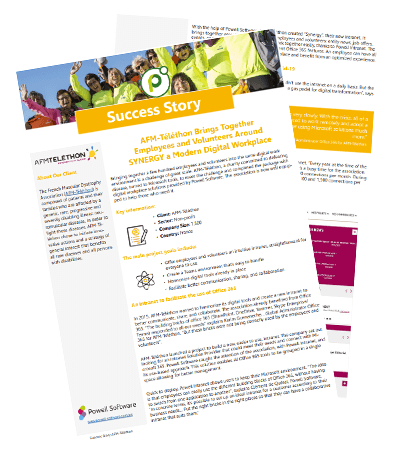 AFM Téléthon made Teamwork a priority in their Digital Workplace
With a few hundred employees and volunteers collaborating they needed more than just an intranet. Get insights into the project from Karim Guenaneche, Global Administrator Office 365 at AFM Téléthon, as he explains in detail his experience implementing a digital workplace with Powell Software.
Download the success story to learn more about AFM Téléthon's project.
Promote Teamwork
Follow the Powell Software blog for helpful resources like best practices, tips, and guides about creating the right culture and selecting the best tools for teamwork.