Introduction
In the previous article, we explored the User Management feature within Powell Teams Administration Center, a centralized space that enables administrators to manage users within the Microsoft Teams environment effectively. This dedicated page provides a comprehensive overview of all users and offers powerful capabilities such as managing team ownership or membership and granting or revoking user access.
In this article, we will delve into the practical application of these features and highlight the efficiency and effectiveness of User Management in addressing the use cases such as employee onboarding, offboarding, and managing guest users.
Why is onboarding difficult, and why is it important to handle it well?
Onboarding employees is a critical process for any organization, as it sets the foundation for the new hires' success and overall experience within the company. Despite its importance, onboarding can be a challenging task for many organizations. To ensure a smooth and successful onboarding process, it is essential to handle it well and have specific tools in place to make it easy and seamless.
Powell Software already provides robust capabilities for employee onboarding on the Powell Intranet and Powell Teams. The Powell Software employee onboarding templates are designed to allow HR managers to create a smooth and effective onboarding process for new hires. , connecting employees with their manager and HRThe Powell Intranet onboarding template makes it easier to welcome new employees and equip them with necessary materials, start-up documentation, training, and a direct link to their team in Microsoft Teams. Powell Teams provides access to a team equipped with channels, tabs, and documents through its Powell Teams onboarding template, connecting employees with their manager and HR.
A step-by-step guide for remote employee onboarding is available through Powell Software.
But there's more. The User Management page in Powell Teams takes the onboarding process to the next level. It provides a one-stop shop for administrators to manage all aspects of user access and membership within the Microsoft Teams environment. With the ability to assign or revoke team access or manage team ownership and membership of each user, administrators can easily streamline the employee onboarding, offboarding, and guest management processes. Take a closer look at these capabilities in action through real-world use cases.
So how can you benefit from the actions on the User Management page, and how do they adapt to different use case scenarios?
Action: Grant Access
Use Case: Onboarding
Mark is a new employee in the company. He will work within the marketing team, primarily leading digital marketing for the DACH region. To successfully complete his role, he will have to converse with different teams in different countries. He needs an organized space in Microsoft Teams to access all the necessary teams and channels for different countries and departments.
Linda is an IT manager. She must take the necessary steps to ensure Mark is a member and owner of all required teams. With the help of the Powell Teams onboarding template, Linda gives Mark already access to his onboarding team with the necessary channels and tabs. However, she needs to add Mark to other important teams related to his role, including general company-wide teams and specific marketing teams for different countries.
Adding Mark to all these teams manually would be time-consuming for Linda, but with Powell Teams User Management, it's made easy.
With Powell Teams, Linda can manage Marc's user rights. She goes to the Powell Teams Administrator Center and finds John, who has a similar role in the marketing department for the DACH region. Since John has the same role in the company, Marc will have the same user rights as him. Marc should be part of the same teams as John.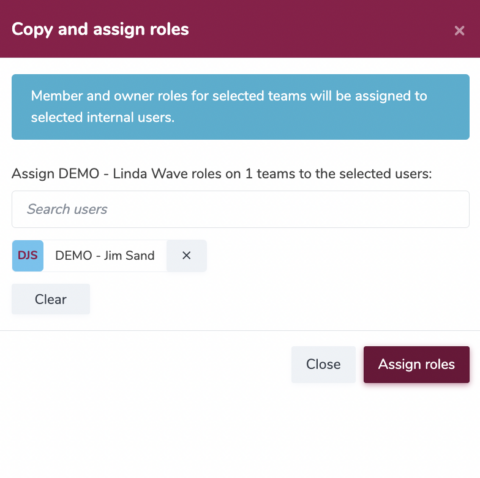 What is excellent with Powell Teams is that Linda can copy John's user rights on the user management page and assign them to Marc. This would mean that Marc automatically becomes part of all the teams that John belongs to.
As Linda is done with assigning rights, she can send a Microsoft Teams message or launch a Microsoft Teams call directly from the page to inform Marc that he has been successfully added to all the necessary teams and is ready to start his role.
Result: Simplified and streamlined onboarding process. Saved time and effort for managers, making the process more efficient and allowing new hires like Mark to get started quickly.
Action: Revoke Access
Use Case: Offboarding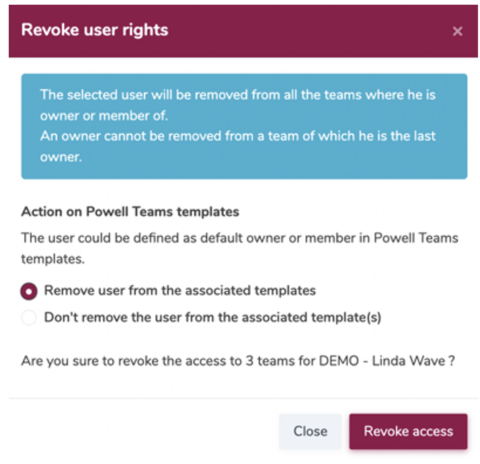 In the event that Marc transitions out of the company or switches to another business unit, Linda will be tasked with managing his offboarding process, which includes revoking access to teams he is no longer associated with. She will have to remove Marc from all teams he belongs to or is a member of. This is essential in maintaining the security of internal files and documents from unauthorized access.
Linda can easily achieve this by accessing the administration center, selecting the teams Marc is a member or owner of, and revoking his access. This process can be completed in a matter of seconds, ensuring a secure and streamlined offboarding experience. If Marc moves to a different department within the company, he will not be inundated with irrelevant notifications from teams he is no longer associated with, allowing him to remain productive and focused on his work.
To sum up, Powell Teams' User Management Functionality provides a seamless solution for IT Administrators in managing employee onboarding and offboarding procedures. The ability to quickly onboard a new hire by copying user rights and revoking access when necessary simplifies the process and saves time. With Powell Teams, administrators can ensure that employees have the appropriate access to teams relevant to their role while also safeguarding internal files and documents by revoking access when an employee leaves the company. This makes the onboarding and offboarding process smooth, efficient, and secure for both the IT Administrator and the company as a whole.
Use Case: Guest Access
Linda and her team oversee various projects that require collaboration with external parties. These individuals are often added to Microsoft Teams to facilitate project implementation, with an average of 30-40 new guests joining teams each year. Managing and keeping track of all these guest users can be challenging, particularly when a project ends and these external users no longer require access to the teams they were a part of.
Searching for guest users in all these teams will be very difficult for Linda. But through the user management page, administrators can easily filter the list by guest users and quickly determine the number of guests in the tenant and which teams they belong to.
This allows for easy tracking of their access rights and the ability to revoke their access once their involvement in the project has ended. This simplifies the process of managing guest users and ensures that sensitive information remains secure.
Use Case: Too many Teams
Risk Limitation and better governance are one of the many responsibilities of  IT administrators. To guarantee security and maintain an organized and uncluttered workspace in a Microsoft Teams environment, administrators need to monitor users who may pose a potential risk.
If proper measures are not taken to review and track user ownership and team membership, the list of unused and redundant teams can rapidly expand, leading to too many teams, thus confusion and disorganization.
Therefore, the responsibility of the IT administrator is to identify these users and revoke access to teams that are no longer necessary. The User Management page offers a convenient solution for this task, making it easy for administrators to maintain a secure and organized environment.
Conclusion
In conclusion, Powell Teams' User Management is a must-have tool for IT Administrators who want to streamline the process of managing users within Microsoft Teams. With a centralized location for managing user access, team ownership, and membership, the processes such as employee onboarding, offboarding, and guest management become effortless and efficient. You can quickly grant or revoke access, saving time and ensuring your employees have the right level of access to teams relevant to their roles. This feature also helps maintain the security of internal files and documents.
Overall, Powell Teams User Management provides a seamless solution to manage employees within Microsoft Teams. We will continue improving these capabilities in the coming months with additional features on filtering, searching, and bulk actions. If you're interested in seeing this feature in action, we invite you to schedule a demo with us to see it for yourself.