Managers rely on collaboration tools like Microsoft Teams to manage remote employees from afar. Yet to succeed, the platform must be accompanied by the right strategies.
Challenges of Managing a Remote Workforce and Where Microsoft Teams Fits In
Over a third of US companies say half their staff will stay working remotely. Offering remote options is key to attracting better talent, lowering staff turnover, and potentially cutting overheads. Yet, with a remote workforce comes a unique set of challenges.
Remote employees can feel disconnected, lonely, stressed, and unable to separate work from home. On the other hand, remote work and flexible work allow people to create a work environment that suits their needs.
To benefit from the opportunities working from home presents, employees require guidance from managers and HR. Why? Proper management boosts employee motivation and increases productivity.
Yet, effectively managing remote employees relies on using the right technology in the best way possible. With the mass move to remote, more organizations have adopted Microsoft Teams as a tool to facilitate collaborative teamwork. Teams now has over 115 million daily users. Organizations are relying on this collaboration tool because of its power and potential and also to make the most of their Microsoft 365 investment.
10 Strategies to Manage Remote Employees Successfully with Microsoft Teams
Provide the Right Technology
Businesses have always invested in the physical workplace. The pandemic and ensuing lockdowns confirmed that organizations must invest in the digital workplace to ensure resilience and agility. Businesses can't control a remote employee's physical environment, but they can create a better virtual one.
This virtual workspace is essential to remote employees, and the corporate intranet alone won't make the cut. Microsoft Teams is a key component to integrate with an intranet and, in turn, provide a complete employee experience platform. Microsoft Teams is one of the most popular collaboration tools, as it allows people to chat and call, share documents, and work together in real-time.
Choosing to use Teams is just the first step. Managers then need to use it in a way that suits employees.  Everyone communicates differently, some people like video calls, while others want to send quick messages. Decide on what's best for both parties.
Regular Check-Ins
Nearly half of remote employees fear that they miss out on important information. To avoid this, managers can arrange regular check-ins. Schedule a weekly Teams meeting with remote employees and ensure there is dedicated time to catch up. Setting time aside weekly to connect allows remote employees to feel noticed, voice any concerns, or give them the guidance they need.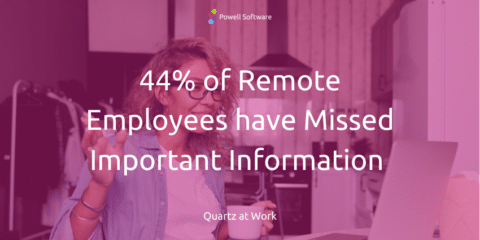 Regular check-ins also allow managers to understand an employee's task load, ensuring they don't have too much on their plate or can assign more responsibilities.
Outline Best Practices
In a physical office, managers could set an open-door policy or scheduled office hours. Employees could also easily gauge when a manager was free because they could see them. In a virtual environment, these queues are lost. As businesses move away from the office, new guidelines are needed.
Microsoft Teams allows instant collaboration through chats, channels, calls, and more. However, employees become frustrated if they don't know what to use. To avoid confusion, set guidelines on where different types of collaboration can happen.
Set private channels for individual tasks and messages.
Create a team channel for more general information.
Define when employees should arrange a call, when an email might be more appropriate, and when they send a message.
Ensure the creation of Teams is controlled to avoid duplicate teams.
It may also help to give guidelines on when a manager is more available. Perhaps Mondays are busy for meetings, but Fridays are usually more open. Maybe evenings are calmer. Find what works best and inform your team.
Monitor Progress
Managers fear employees aren't doing any work when at home. Employees, in turn, feel pressure to prove that they are. Despite the belief that remote employees slack off, research shows they work two extra hours a week since moving remote during the pandemic.
Nevertheless, a focus on hours spent is counterproductive. Just like it's easy for employees to sit idle in an office for hours, they can also stay active on Teams and do very little. Instead, managers should recognize work done and tasks completed to manage remote employees better. Microsoft Teams can help with their Planner integration. The Planner app allows teams to work together and projects, and with the To-Do feature, managers can assign tasks to employees. Apps and integrations are the secrets to making the most out of Teams.
Facilitate Teamwork
Solid teamwork is crucial to more productive and engaged employees. It happens when there is a culture of teamwork and collaboration.
Teamwork might be more natural in a physical office where employees are together. In remote work, they rely on having the right technology. The first step is to provide employees with space for collaboration. Microsoft Teams is designed to facilitate teamwork and collaboration, but doesn't happen independently.
Managers can help foster a culture of teamwork with some conscious planning.
Schedule weekly Teams meetings: Encourage everyone to have their camera on and use together mode.
Organize casual Teams coffee chats: Build team bonds with informal chats. Use Microsoft Teams café background for a better virtual experience.
Create specific channels for collaboration: Outline what each channel will be used for to control the channel.
Ensure Face to Face Interactions
21% of remote workers struggle with loneliness. For anyone who lives on their own, this will only be amplified. However, making video calls the default is one easily implemented change that can help.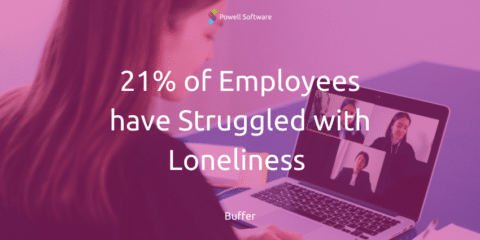 Turning on the camera for a Teams call can be intimidating, especially when employees work from home. Some people may be conscious of their surroundings and not want co-workers to see inside their homes. Microsoft Teams backgrounds help by either blurring surroundings or offering a fake environment. Companies can also create a customized background. During team meetings, use together mode, so it feels like everyone is in the same room.
Prioritize Tasks
In a physical office, it's easier to see when someone is overburdened. Seeing piles of paper and disorder are noticeable signs. A sentiment of stress also becomes obvious from the person's behaviour, like long hours and taking lunch at their desk. When managing remote employees, it's harder to spot when someone is overloaded.
Remote workers are hidden behind a screen. They may want to prove they are working hard and accept every task. Or, they may find it difficult to prioritize because it's unclear which assignments are high priority. Help employees prioritize tasks with a Teams integration like Microsoft Planner. An at-a-glance overview of an employee's tasks makes it easier to notice when someone is overrun.
Ensure Communication Flows
As a manager, it's important to give orders and create a more participative environment. Top-down management styles are outdated and the key to effective communication is ensuring information flows both ways. Microsoft Teams allows for information to pass up, down, and across.
Recognize Wellbeing
40% of employees experienced burnout at work during the Covid-19 pandemic. Stress and burnout are serious concerns that affect not only an employee's productivity but also their well-being.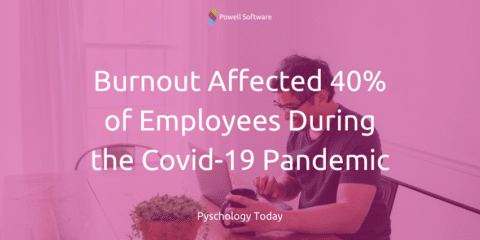 When employees are working remotely, it can become difficult to separate work and home life which quickly leads to overwhelm. Managers can help by checking in with employees, ensuring they are not overloaded, making sure they have the right equipment, and listening to their needs. Microsoft Teams can also help, with their new employee wellbeing features designed to improve mental health. Looking after employees' digital well-being is also key and a topic that is being recognized more now than ever as our use of digital tools is at an all-time high.
Think About the Bigger Picture
It's clear that Microsoft Teams is a great tool to help manage remote employees. However, if your business is moving to remote or hybrid work permanently, it's time to invest in a more long-term strategy.
It's a great time for SMEs to start thinking about their overall digital transformation strategy. As large corporations start to move back to the office, small businesses can retain a competitive advantage by offering flexible talent options. While investing in digital technology seemed overwhelming at the beginning of the pandemic, it's become clear that a strong digital ecosystem is the key to survival in an ever-changing world.
That's why we created a guide to digital transformation for SMEs who want to make the move to remote or hybrid work a success.