Corporate Communication. Employee Engagement.
A flexible hybrid workplace requires better communication solutions and more engaging ways to connect employees. We provide a modern company intranet that's; attractive and easy to use for employees, simple to set up and update for IT, inclusive and engaging for HR and Internal Comms.
Attractive & Effective Communication
Successful corporate communication relies on an inviting employee experience. Create an interactive and seamless experience with your intranet platform.
• Strengthen internal links and create a closer company culture
• Remain informed and distribute important information with ease
• Allow cross-platform communication with smart connections between the company intranet and Microsoft Teams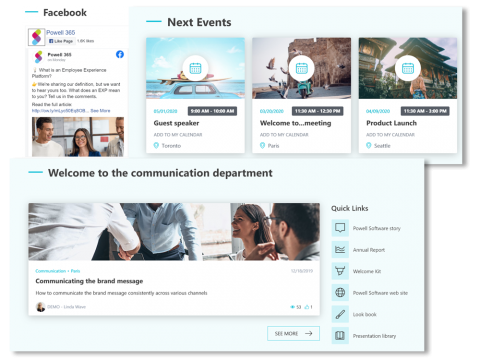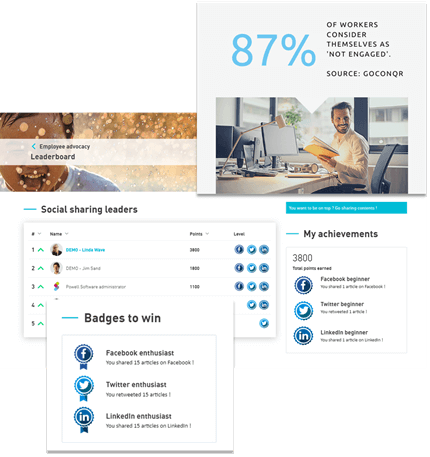 Designed for Employee Engagement
Highly engaged employees bring invaluable benefits. Create an employee experience platform that inspires employees to get involved in internal initiatives. Motivate employee engagement through gamification. Reward, recognize and bring some fun to the company intranet.
• Build deeper connections throughout the company
• Promote employee advocacy and teamwork
• Engage people through motivating content & gamification
• Connect your intranet and Teams for more engagement and user-centricity
An Inclusive Employee Experience
Diversity in the workplace starts with an inclusive culture. To ensure all employees are involved, make sure everyone from desk workers to those on the field has access to the company intranet.
• Our mobile intranet app makes communications easily accessible and shareable from any device
• Connect everyone from those in the office to the field, regardless of location
• Ensure everyone receives messages and gets the same information
• Incorporate inclusive and social communication features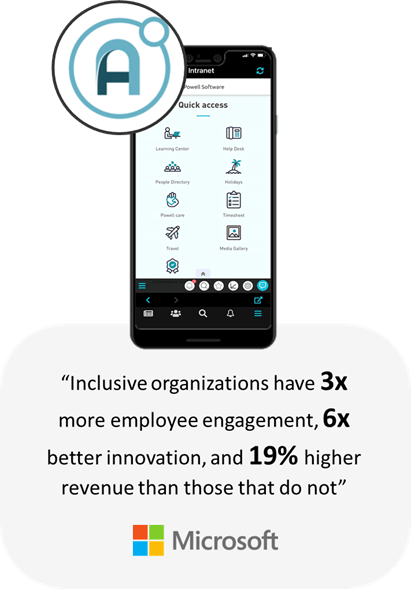 Connect Your Employees with the Right Intranet Platform
Find out about how to take corporate communication and employee engagement to the next level.
Resources for Building Your Company Intranet
Follow the Powell Software blog to helpful resources like best practices, tips, and guides.
Discover 'Flex Desk': a new, free Powell 365 widget allowing employees to book a room or office so that organizations can control and optimize the use of their workspaces. Easy to use and install, the tool is available now in Powell Manager!
Improve internal communications with 13 tips you can easily implement into your organization. Build on what works for more engaged employees.
Powell Software is delighted to have won the award for Best Customer Success Story together with Endress + Hauser at Intra.Net Reloaded 2021 Berlin.