Empower employee engagement by creating the best digital employee experience
Designed to help HR fuel a positive company culture supported by the digital workplace.
How can Powell Software help HR?
We develop digital workplace solutions that improve the employee experience, helping you write your own "future of work" by leveraging the talent of your entire workforce.
Provide the right employee onboarding experience
The employee experience starts from a newcomer's first day on the job whether they walk into an office or open a laptop.
Onboard remote and in-office employees smoothly and effortlessly, while providing everything they need with our easy-to-use templates. Using the complete digital workplace, the company intranet, and Microsoft Teams, HR can create dedicated spaces for new employees. Easily add essential documents, create a 30-day task plan and allow instant collaboration.
Create social interactions with the Virtual Coffee Machine
Today's digital workplace is a complete employee experience platform that goes beyond pure productivity to focus on connections.
With our Virtual Coffee Machine employees can come together for a casual coffee chat no matter where they are. In just a few clicks HR can schedule automated meet-ups that bring people together for a few moments, at a time that suits them. The Water Fountain animates the conversation by suggesting topics and getting people talking
Facilitate a flexible hybrid work model
The future of work is hybrid, flexible, and happening now.
Employees want to move between in-office and remote work with ease. Our FlexDesk widget for the company intranet allows employees to hot desk and book their space before coming into the office. HR can control staff presence, ensure social distancing and respond to employee needs.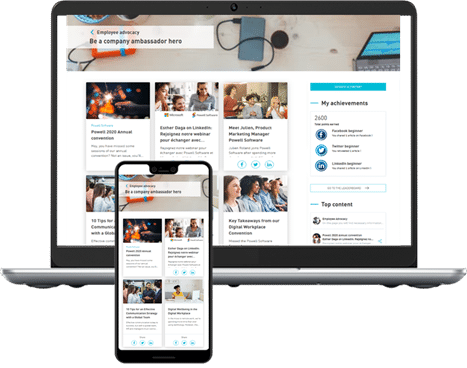 Attract and retain talent with employee advocacy
Finding new talent is a challenge, but everyone can help.
With an employee advocacy tool, like Powell Software's, staff can share job openings with their network. Gamification, with a leader board and badges, rewards them for doing so. HR increases the chance of finding the best candidate, and employees become more engaged, which in turn reduces staff turnover. It's a win-win.
Manage crisis situations head-on
There's no way to predict how or when a crisis will hit but it pays to be prepared.
Having a tool like the digital workplace, and in particular, a company intranet will allow you to get information to employees fast. Our crisis management site template is pre-built and ready to be deployed, so when a crisis hits you're ready.
Design an inclusive workplace
48% of frontline workers are not digitally empowered!
Unlike desk workers, those on the field often don't have access to digital communication and collaboration tools, like a company intranet. They miss internal news and events, making it harder to feel part of the company culture. Powell Software equips frontline workers with a mobile intranet app to boost feelings of belonging, helping foster inclusivity.
Powell Software resources for HR
Keep up to date with the latest articles, guides, and digital workplace insights for HR and Internal Comms.
Join over 1.5+ million global users improving their employee experience
"We are delighted with how empowered our employees now feel; they can quickly and easily add content to the new site and share news and knowledge. Everyone now feels more connected… This is especially true of our remote workers who now have access to the same information as those who are based in the office"
Silva Homes
"An important cornerstone of our strategy is to connect TEAM ZEISS and activate colleagues worldwide… Through this project, we've removed redundant tools, enforced and adjusted a global company perspective, and quickly implemented more modern, more digital, and truly global tools for communicating and sharing information."
ZEISS Group
Engage and empower employees with the digital workplace
Interested in learning more about improving the employee experience?