The future of work is defined by flexibility. Gone are the days of the 9-5 in office, replaced by more inclusive and hybrid workplaces embracing flexible working.
What is the hybrid workplace?
One key trend in the modern workplace is hybrid working, where employees are split between remote work and in-office days. It's a best of both worlds system catering for employees who like to work from home or be present a few days a week. It also provides a compromise for management who fear a full transition to remote work.
Hybrid work is revolutionary but it is limited to employees who can do their job from home and in-person, usually office workers. Yet over 50% of the workforce don't have this luxury, frontline or deskless workers need to be physically present to do their job. Adding flexible working arrangements to the discussion when we talk about the future of work is crucial for inclusivity.
What is flexible working?
Flexible working refers to an arrangement that gives employees more autonomy over their workday, from where they work, to when, and how.
In a flexible workplace, people are no longer tied to desks in an office.
Hybrid working: Allowing employees to spend some days in the office and others at home. Nearly 95% of companies plan at least some form of hybrid work post-pandemic.
Across offices: Facilitating employees to work in different offices or through the use of co-working spaces.
From anywhere: Some companies, like Spotify and Zapier, are allowing employees to work from anywhere in the world.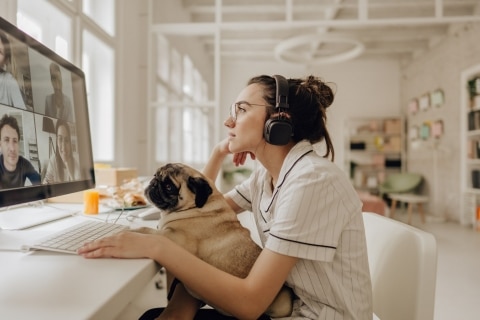 The days of the traditional Monday to Friday 9 – 5 are over.
Flexitime: Employees can alter their start and finish times while working a set number of hours a week. They can start early and finish early or vice versa.
Work done: Some organizations go further, by not measuring hours spent but trusting people to get their work done whenever they want.
Four-day weeks: More and more organizations are moving to a four-day week, knowing that the 5 day week isn't necessary for productivity. In 2020, Buffer moved to a 4 day week for 6 months and found it resulted in lower stress levels increased happiness.
In the UK employees who have been with a company six months have a right to request flexible working agreements.
What does it require?
The way people worked throughout the pandemic cemented new ways of working, but they weren't built with flexibility in mind. Those who could work remotely did, those required on the frontline did, and those who couldn't do either were laid off temporarily or permanently. Decisions were taken out of people's hands and enforced by regulations and top-down rules.
Now it's time to design a workplace where flexibility is the default, not an afterthought.
Culture change
Some companies, like Hubspot, have long been advocates of hybrid and flexible work. The secret to their success is creating a culture that supports people to work in a way that suits them.
Digital tools
Yet, culture relies on ensuring that every employee is supported. Allowing people to work remotely but not providing the right collaboration tools is a recipe for disaster.
Beyond the basics of a computer and head-set, employees need to be able to access documents and information, collaborate with colleagues, work on projects, and feel part of the company. A digital workplace becomes a necessity in a hybrid workplace. One that can be accessed from anywhere and any device, or on a mobile app, is crucial in an inclusive, flexible workplace.
What are the benefits?
Investing in communication and collaboration tools as part of a flexible work strategy brings invaluable benefits to organizations and employees.
Improved engagement
The Chartered Institute of Personnel Development found in a study of 300 people, that flexible working had a positive impact on workers' engagement and behavior. It's no secret that highly engaged employees bring invaluable benefits to organizations.
Improved productivity
Over a year after the first lockdown and with time for people to settle in the new normal way of working, 33% of employees say they are more productive at home. Leaders tend to agree, with only 23% of employers judging remote workers as less productive.
Read more about the hybrid work debate
Wider talent pool & better retention
92% of millennials and 80% of women prioritize flexibility in their job searches. Flexible working not only helps attract these groups but retain them.
Work-life balance
In the US, the average commute is 26.1 minutes, each way. That's nearly one hour a day spent traveling to and from work. When employees have more flexibility in where they work from they save valuable time.
For employees who need to be present being able to alter their start and finish times offer a better work-life balance. It allows people to fit life commitments, like dropping kids to school, into their workday.
What are the barriers to flexible working?
No understanding or buy-in from senior leadership
In the UK, where workers have the right to request flexible working, one-third of requests are denied. This is due to a lack of clarity around how different profiles of workers can implement flexible arrangements.
Lack of digital tools
Employers need to have some overview of where employees work from and be able to connect with them easily. Employees need access to information, documents, and spaces to work with colleagues. A digital workplace solution that is accessible to everyone from those in the office to those on the field is crucial.
Closed culture
Company culture needs to be reimagined to support new ways of working. After providing employees with flexible work options and the tool to support them, open and transparent internal communication is key. Employees need to know how they can avail themselves of flexible work options, and what is expected of them when they do so. A company intranet that acts as a centralized information source is ideal for this.
What are the dangers?
Overworking & overcompensating
During the pandemic, remote workers spent an extra 2 hours a day on average working. People tend to overcompensate, fearing that employers don't believe they working hard enough when they are 'invisible' at home.

Difficulty switching off
Given the long hours, it's unsurprising that those working from home are 1.4 times more likely to be unable to disconnect at the end of their workday.
Disconnection
When employees start to feel overworked they can start to disengage and disconnect from their work. Only 14% of employees feel connected. Connecting employees relies on shared spaces for collaborating and sharing.
Missing out on promotions
When some employees work from the office and others stay remote, there's a danger of one group being favored. Less visibility and our ingrained idea that presence equals commitment would explain why remote workers are 38% less likely to receive a bonus.
What's the secret to making flexible work for your business?
Flexible working, or providing employees with choices in where, when, or how they work builds a more inclusive workplace. It ensures that people can balance life and work, and accommodates employees' needs.
The secret to making flexible work is ensuring you have an employee experience platform that supports everyone's needs.
Powell Softwares digital workplace is an inclusive employee experience platform. We offered tailored solutions to support all your workers, from desk workers to those on the frontline or in the field. Talk to our team about how Powell Software can support your flexible working needs.