Understanding Intranet Adoption
Adoption can mean many things but it is generally straightforward. For some, it involves tracking the first visit of users, to help build analytics particularly when an intranet platform has just been launched. For others, it has to do with the number of clicks, page visits, contributions, or even the amount of employees that have personally configured their homepage.
Why mention the intranet when talking about employee engagement? The corporate intranet is a typical engagement platform as it is the go-to source within an organization for top-down communication. It is where an employee can find anything from current news about the company to an HR policy or even a leave request form. If an employee isn't connecting to the intranet then they are missing out on the important information and communications coming from the company. Information that could make their day-to-day experience easier.
How can organizations ensure an employee is engaged in the intranet? A great way to ensure employee engagement is to track platform adoption. This means that if the right analytics have been incorporated within the intranet platform it's possible to track whether or not employees are digesting the right information. It's possible to track whether or not employees are adopting the platform. Plus if a good adoption strategy is in place to begin with, there will be analytics to help you continuously shape the intranet over time and ensure all new employees embrace the tool.
Defining Successful Intranet Adoption
It is important to define how a company measures successful adoption. A great place to start is to consider the different roles of employees. Depending on whether the employee is a part of HR, communications, or even sales reflects directly on how they will adopt the intranet. Therefore it is important to create comprehensive metrics to track the adoption of these individual profiles.
This may seem like a challenge but luckily Powell Software is here to help. We provide the templates for the employee profiles you would like to track. These templates are stocked with the business tools needed for the different departments, making it their go-to place to find helpful information for their roles. Within each of these templates, we provide real-time analytics to track the visits to these targeted pages. Allowing you to have an overview of how different employee profiles are adapting to the new intranet.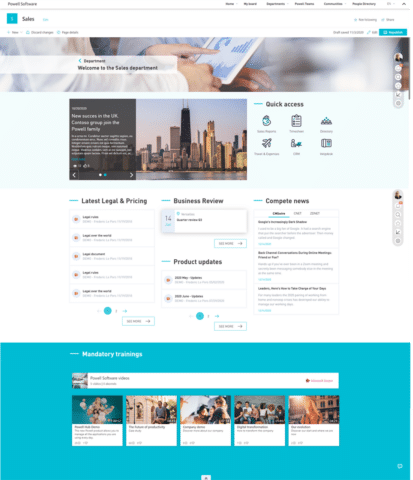 Best Practices for Leveraging People to Ensure Success
Onboard the Internal Comms Team First
Once a company has defined what a successful intranet adoption looks like, it's time to ensure success. One of the best ways to ensure this is by leveraging people. The goal of the intranet is to communicate throughout an organization, so the first people that need to be onboarded are the internal comms team. They must be ready to highlight the corporate intranet as the go-to place for important information.
Encourage Employee Advocacy
A great way for an internal communications team to promote the intranet is through empowering employee advocacy. Encouraging employees to share corporate information that commences within the intranet platform is a great way to engage them. Powell Software is here to assist with our employee advocacy templates to help the internal comms team boost adoption.
Create an Internal Champion Network
Another way to leverage people to ensure success is by creating an internal champion network. Having internal sponsors as people to reference when getting comfortable with the intranet is key. These people should be approachable and the intranet enthusiasts in the corporation.
Set an Example from the Top
When the CEO and senior management go out of their way to show their successful adoption of the intranet, the rest of the organization doesn't have any other choice but to follow. Those who follow this example should be praised on the portal itself to encourage healthy intranet adoption.
Make the Intranet Easily Accessible
However, the absolute best way to encourage intranet adoption is to incorporate the intranet into the digital workplace. Bring the intranet to employees through a platform that they are already using every day. If the organization is using Microsoft 365, Microsoft Teams will be the main application that employees connect to every day across all roles, especially in the current climate. So why not bring the intranet directly into Microsoft Teams? Luckily Powell Software has an app for that, Powell Teams. From our experience, we know that the best way to encourage adoption is by making the intranet easily accessible for employees of all types.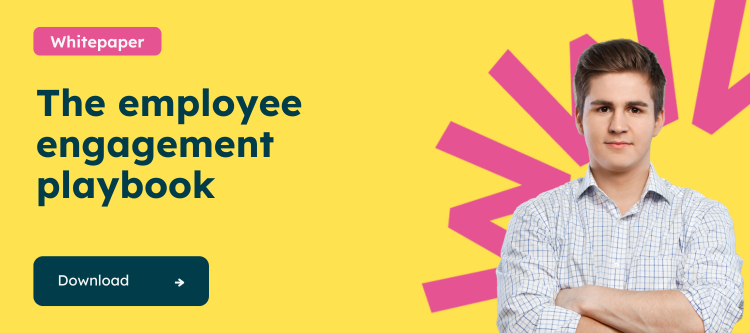 The Link between Intranet Adoption and Engagement
It is important to track intranet adoption because there is an immediate connection between employee engagement and overall company performance. This is why companies want to encourage employees to communicate and engage as much as possible with their digital workplace or intranet. Ensuring the intranet is relevant and up to date is the most effective way for an organization to ensure employees have an easy way to access important company information and a collaborative ecosystem. A good way to confirm this success and subsequently the intranet ROI is through the adoption rate.
How to Track Intranet Adoption: Best Practices
Tracking adoption varies depending on the company strategy. However, there are two main types of indicators.
Quantitative Indicators
Quantitative indicators provide analytics and measurements to better understand user behavior on the intranet. To gain these insights companies can use apps, external tools, or in-app tools. For example in the Microsoft ecosystem, companies can use SharePoint statistics. It's also possible to leverage external tools like Google Analytics.
The metrics used depend on the company strategy. For example views, unique visitors, segmentation metrics, search metrics, and user flow metrics.
Tools to Gather Quantitative Insights
First, make the most out of the in-app statistics already available in the ecosystem. SharePoint has some good analytics about the usage of the site and Powell Intranet enables organizations to leverage these more efficiently. Powell Analytics allows organizations to easily see the traffic per page. For example, focusing on the homepage, the front door to the intranet, gives a good indication of usage simply by checking the number of connections.
Strategic Decisions Based on Analysis
A good analysis of connection trends can help companies adapt to certain strategies. For example, if Mondays are usually high connection days, it could be a good day to launch a communication campaign. On the opposite side, low peak days could be chosen for intranet updates.
Knowing which type of device employees access the intranet through, helps when planning a continuous development strategy. For example, if users favor desktop access, consider optimizing the content for large screen devices like laptops. If users are accessing through mobile, it may be a good idea to address mobile work first and track the adoption for field workers.
To go further in the analysis, external tools can also be used. For example, use Google Analytics or any integrate this data into Power BI. Push the quantitative data further by having advanced KPIs such as the average time per page, user segmentation analysis, or even some navigation trends on the site. Powell Software provides an easy way to integrate external analytics like Google Analytics.
Tracking adoption with figures and statistics is a start but it's also crucial to understand the end-user experience, and how employees perceive the tool. This is why qualitative analysis is also key.
Qualitative Indicators
The second type of indicator is qualitative, which gathers feedback from users to identify changes to drive overall intranet adoption. To sound out employee's opinions use surveys, workshops, and leverage tools like user's voices.
Its crucial organizations are connected to the needs of employees and understand their pain points, then they can choose how to address these needs in the digital workplace.
These challenges can be summarised into four topics:
Employee Engagement: Are employees are engaged with the intranet?
Communication Relevancy: Is the right content available on the intranet?
Employee Processes: Are you pushing the right apps, business tools, and processes, to make life easier for employees?
Employee Productivity: Are employees saving time thanks to the intranet?
Powell Software helps address these challenges by providing templates like employee advocacy, ideation, gamification, or employee onboarding.
It's also important to focus on the future of the intranet, seek evolution and ways to improve. A digital workplace is not supposed to be stagnant, it should be consistently improving. By capturing qualitative indicators, an organization can identify which challenges can be improved and how to address them. Then they can measure the current situation based on those metrics e.g. what business value the intranet delivers.
Lastly, to make an intranet successful it is important to include management and make them ambassadors for the intranet. It's only when management is involved that intranet adoption will be a real success.
Conclusion
Successful adoption of an intranet starts with defining an adoption strategy, updated and adapted to the organization, to leverage both quantitative and qualitative indicators, as well as tracking adoption as a key indicator for the success of the intranet, and then finally to use those insights as an adoption booster.