Recent events have resulted in a shift in workplace culture towards the hybrid workplace. Today's employees split their time between the office and their home workspaces and with this becoming the standard, organizations must adapt working habits and policies to become more agile and resilient. One challenge organizations are facing for the first time in this new environment is remote employee onboarding. Welcoming onboard new hires who have never stepped foot in the office is a challenge for HR managers, but one which can be overcome with Powell Software templates.
Remote employee onboarding with Powell Software
To illustrate how Powell Software templates help HR managers adapt to the new hybrid workplace, take the concrete example of remote employee onboarding. The onboarding process needs to be adapted to hybrid work where most new employees will be working and onboarded remotely.
To illustrate this, imagine the task for Linda, a HR Manager who regularly has to onboard new employees. This week she onboards Frederic, a new recruit to the company. She wants to create a personalized and adapted experience for him to welcome him to the company.
Linda's company uses Microsoft 365 and to onboard Frederic efficiently and effectively, she chooses to use two tools from Powell 365: Powell Intranet and Powell Teams.
Powell Intranet – the company intranet for corporate information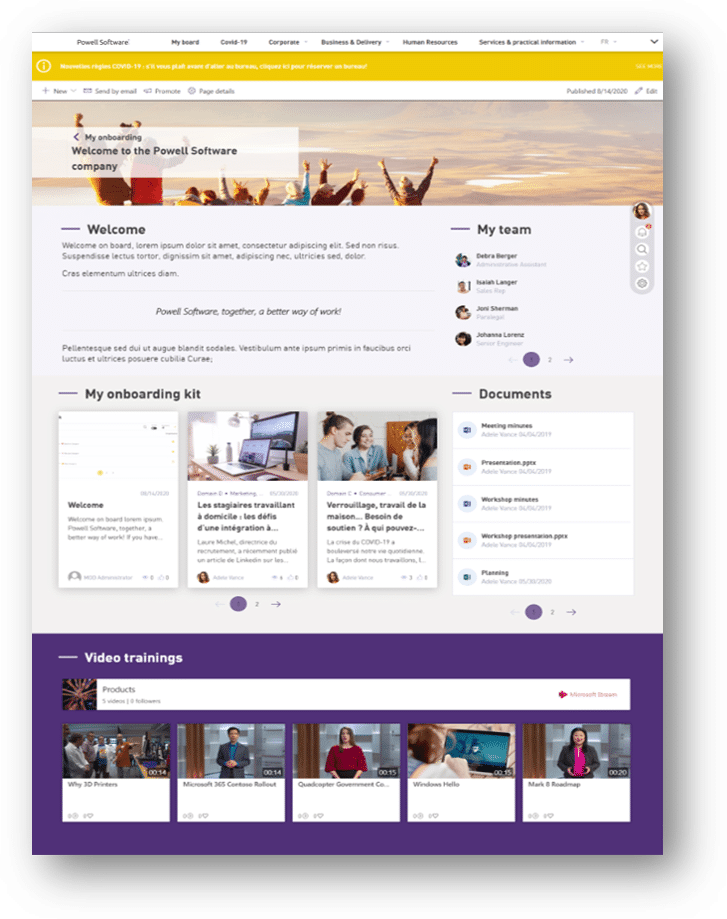 Powell Intranet is fully personalized and intelligently pushes targeted content for each department. When Powell Software templates are used, Frederic will find a dedicated HR space with an employee onboarding section. Here he will have access to resources specific to his role and everything concerning corporate and top-down information.
More specifically, Frederic will find:
Words from the CEO about the company's mission vision and strategy
Documents regarding his onboarding as well as a training video library common to its department
Key contacts in the company and his department
The corporate intranet onboarding space is easy to use, fully personalized and the contents will be filtered so Frederic doesn't have to look for information.
Powell Teams for Microsoft Teams –personal space and team collaboration
The intranet linked to Teams
Linda knows that during his first weeks, Frederic will have a lot of questions with answers not found in the intranet. For these questions, he will need to communicate with his manager, his buddy, and his HR contact. Frederic will also need to access his onboarding documents and have an understanding of what he needs to achieve in the coming weeks
Linda would also like to provide a richer experience adapted to the hybrid environment with a private and customized space for Frederic and his key contacts. They can use this space to exchange information and personal documents that should not be on the intranet.
To provide this space, she can create and personalize a Microsoft Team but wants it to be quick. Normally she would have to create the team, the channel, add the different tabs, and configure everything.  It would be time-consuming for her as she regularly onboards new employees and would have to repeat the process each time.
Fortunately, Linda is using Powell Teams so she will be guided through the team creation process and have a dedicated onboarding Teams template allowing her to create the Team in less than 3 minutes.
This Team will have:
Pre-defined channels and pre-configured tabs for training and resources
Pre-loaded onboarding documents
Automated approvals for Frederics first documents
Direct links to the intranet with targeted role-based content
Customization with Office 365 apps like a 30 days task plan and video channel dedicated to business onboarding
Simplified remote employee onboarding in the digital workplace with templates
Linda is happy now – repetitive processes like employee onboarding are simplified with Powell Teams, saving her time and ensuring every new employee has a pleasant and straightforward onboarding experience. Linda is also working on other business processes, as are other departments such as marketing, finance, sales…  Imagine now how many processes could be digitalized.
Explore how Powell Software can help your organization adapt to the hybrid workplace and facilitate remote employee onboarding. Watch the video below to experience the Powell 365 remote employee onboarding process in action.
See the full onboarding process in action in this video.