THE BEST COMMUNICATION SOFTWARE FOR YOUR DIGITAL WORKPLACE
READY-MADE TEMPLATES,
YET COMPLETELY TAILORED
Customize your Powell Intranet without code, simply drag and drop what you want into our designer and click deploy.
Direct access from Microsoft Teams
Unleash the power of the Intranet from your Teams. Simplify the user journey and get the most from your Digital Workplace.
Direct access to the intranet in Teams
Bridge your collaboration and communication spaces
Powell Intranet has over 60 languages out-of-the-box and more available for implementation. Engage and support employees no matter what language they speak.
Improve internal communications with multilingual content management
Publish language-specific content
Provide 1:1 page translation and interface language preferences for each end-user. On the spot content translation for users
Access Powell Intranet from anywhere, across any device, thanks to a completely responsive design. The personalized mobile app offers instant access to intranet features. Easily consume and share information on the go.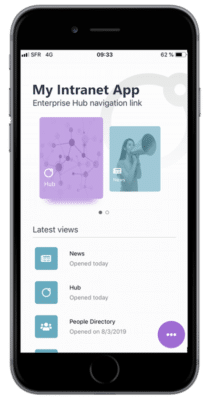 Powell Apps
Boost collaboration and simplify internal communications for your mobile workforce. Get the power of the Powell Software digital workplace in your pocket, anywhere and anytime. Download for Android and IOS today.
YOUR INTRANET, YOUR WAY
Online, On-Premises or Hybrid solutions
Powell Intranet produces a seamless experience that makes the transition between Cloud features and On-Premises applications effortless and subtle. Our dynamic site design tool can simplify the design and provisioning of your digital workplace. You control your SharePoint infrastructure, whether that is in the Cloud, on-premises or a hybrid solution. 
Finding the Right Path to Your New Corporate Intranet
The process of setting up an intranet may seem daunting at first – and it should certainly be approached with care and consideration. But with the right steps and a trustworthy partner, your new corporate intranet is just on the horizon. Get our guide for more information on setting up a corporate intranet and following the right steps to a successful implementation.
You'll learn:
What exactly is a corporate intranet?
The benefits of an intranet for a company and its employees
Steps to selecting the right corporate intranet software
An easy to follow intranet set-up guide
SIMPLIFIED PORTAL CREATION
Pick and choose workplace collaboration tools in line with employee needs. Powell Intranet includes a library of beautifully designed templates, features, and office 365 connectors that are all available out-of-the-box.
DEDICATED MICROSOFT TECHNOLOGIES

The Powell Intranet portal seamlessly integrates with all Microsoft 365 features. With Powell Intranet you can fully embrace Office 365 services and increase employee usage up to 90%. This out-of-the-box portal helps companies take full advantage of their Microsoft investment and is automatically updated with the latest Microsoft 365 evolutions. Powell Intranet is perfectly aligned to Microsoft technology.
Your information will only be used to contact you about our products and services. For information, please read our Privacy Policy.