Corporate Communication & Employee Engagement
Powell Intranet is a ready-to-use, fully customizable, and inclusive intranet solution. Built on Microsoft 365, it offers security, an interactive employee experience, and updates to leverage the full potential of your digital workplace.
Designed for corporate communication success
Benefit from a company intranet with an interactive employee experience that delivers communications and drives employee engagement.
Attractive
Make communication impactful with engaging content and an appealing experience. 
Simple
Provide easy access to corporate information, resources, and business applications to improve the way people work.
Inclusive
Everyone should have access to information from field workers to office workers.
Engaging
Engage people in company goals and culture through interactive content & gamification.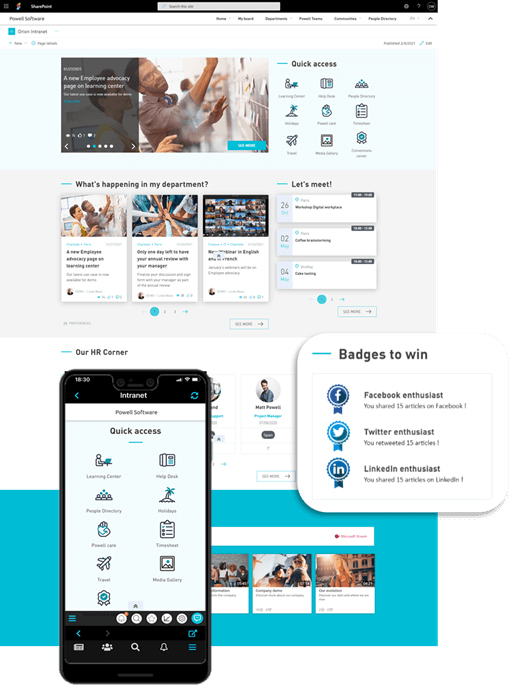 Tailored, scalable, and open to contributors
Your company intranet is fully customizable, easy to manage and update at scale.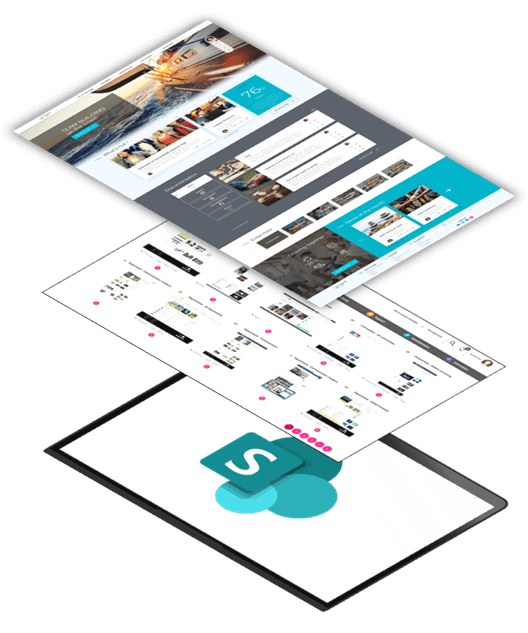 Ready-to-use
Create stunning intranet sites without code from a rich catalog of premade templates.
Customizable, scalable & open
Our core engine makes it easy to customize, deploy and update at scale with your evolving needs, even for multi-lingual organizations. Connect your 3rd party apps (ServiceNow, Workday, SAP…).
Built on Microsoft 365
IT managers can rely on Microsoft security, modern experience, and updates. Maintain it and natively connect Microsoft 365 services with no costly custom developments.
Available everywhere employees need it
Your intranet platform is everywhere you need it to be. Access Powell Intranet from anywhere, across any device to easily consume and share information.
In your browser
Your corporate information and resources are accessible anywhere, at any time from the browser of your choice.
Direct access in Microsoft Teams
Bridge your intranet in Teams. Take advantage of its centricity to maximize employee engagement.
On the go & on the field
Offer instant access to intranet features from your pocket, whether you are on the go, working remotely, or on the field, with a mobile application.
Finding the Right Path to Your New Corporate Intranet
The process of setting up an intranet may seem daunting at first – and it should certainly be approached with care and consideration. But with the right steps and a trustworthy partner, your new corporate intranet is just on the horizon. Get our guide for more information on setting up a corporate intranet and following the right steps to a successful implementation.
You'll learn:
What exactly is a corporate intranet?
The benefits of an intranet for a company and its employees
Steps to selecting the right corporate intranet software
An easy to follow intranet set-up guide
Trusted by companies of all sizes