Microsoft Teams problems identified
The ever-increasing number of Teams being created contributes to the proliferation of workspaces. It also brings increasing complexity to managing these shared workspaces which, without a well-defined framework, can cause long-term Microsoft Teams problems for IT and users.
The overload and dispersal of information in Teams also hinder the collaborative teamwork experience, making it difficult to find, consult and share information. This is all the more worrying when the vast majority of companies are driving change management plans to move users away from email to Teams spaces.
A lack of framework and organization can leave users lost in a haze of messages and documents. IT teams are faced with increasingly complex management. All this is indicative of a real need for management tools on both sides.
Simplifying and organizing the experience – A priority
We know that organizations working with efficient collaboration tools and methodologies are more resilient and productive.
An effortless and organized Teams collaboration experience for users as well as framed and governed environment for IT teams is a key success factor.
Improving the experience for both business and IT teams is fundamental to ensuring the sustainability of the Digital Workplace, and ensuring a high level of adoption.
Powell Teams solves these Microsoft Teams problems and improves teamwork with a simplified user dashboard and pre-designed Teams templates. It also enables IT professionals to set up a framework with governance to easily control and manage Teams spaces while securing best practices.
5 Common Microsoft Teams problems users face, that Powell Teams solves
1. Organizing Teams
The ever-growing number of Teams to which we belong can be detrimental to effective collaboration and degrade the individual experience. Juggling each Teams and several collective tasks is a perilous exercise if not well organized.
Without real organization, carrying out daily tasks can be time-consuming and users get tangled up in managing their MS Teams' environment.
2. Navigating in Teams
It's common to be confronted with an endless list of Teams and struggle to quickly find a Teams, then a channel, then a message, or a document. The native experience of Microsoft Teams makes navigation, access, and consultation of MS Teams complex.
This can hinder the adoption of Teams spaces and lead users to favor classic tools such as email, going against digital transformation plans.
3. Finding specific information
The growing adoption of Teams can quickly turn into indigestible information overload. Finding information nested within a channel or a tab becomes another obstacle course. Offering users cutting-edge technology, that is hindered by difficult navigation is an avoidable Microsoft Teams issue.
Powell Teams addresses these first three Microsoft Teams problems with an intelligent dashboard that organizes the collaborative environment and gives a clear and concise view of all Teams.
Classification of Teams into categories so that they can be easily found according to personal or company criteria
A filtering system to create a funnel for more efficient searches
A search engine for keyword searches
Stickers of teams highlighting important information and the latest changes made
4.  Creation of time-consuming Teams
Creating Teams is a time-consuming job when you consider the number of tasks and repetitive processes for which Teams must be recreated each time.
Creating an advanced team can take on average up to 23 minutes per user. 
When it comes to creating a Team, it's important to think about its structure to ensure its longevity. It also requires a knowledge of technological tools to add business applications that will simplify processes. All of this can be complex, time-consuming, and repetitive, but the efficiency of Teams starts precisely where they can save time.
Powell Teams allows you to stay focused on your business tasks without worrying about the rest and collaborate instantly and effortlessly with ready-to-use team templates for all day-to-day scenarios and repetitive team tasks: employee onboarding, recruiting, Request for Proposal, and many more.
5. Making Teams a real hub and facilitator of daily life
When Microsoft Teams arrived in the business world, it was first perceived as a new unified communication tool that would primarily allow video calling and chat like Skype Enterprise.
However, Microsoft Teams offers a richness of use that goes beyond the simple unified communication with its Teams spaces for real-time collaboration. As Skype Enterprise reached the end of its technical support in July 2021, many companies have anticipated digital transformation plans to encourage users to take advantage of all the functionalities offered by Teams.
The exercise is more complex than it seems – changing entrenched work habits is a long and tedious process. It takes patience and effort on the part of users to transform Teams into a real hub of daily life.
Yet it shouldn't be a luxury to make employees work easier by grouping their everyday tools on a single platform.
Powell Teams brings more user-centricity and simplifies the overall experience with
Team models that already integrate business applications – there is no longer any need to know the application ecosystem for your business or to ask security questions (Microsoft 365 applications such as Planner, OneNote, or Power BI – or third party applications such as Trello, GitHub…).
An intranet is already present in each team with the page corresponding to the job, department, or use case – An intranet that is even automatically based on its role to filter relevant information from others.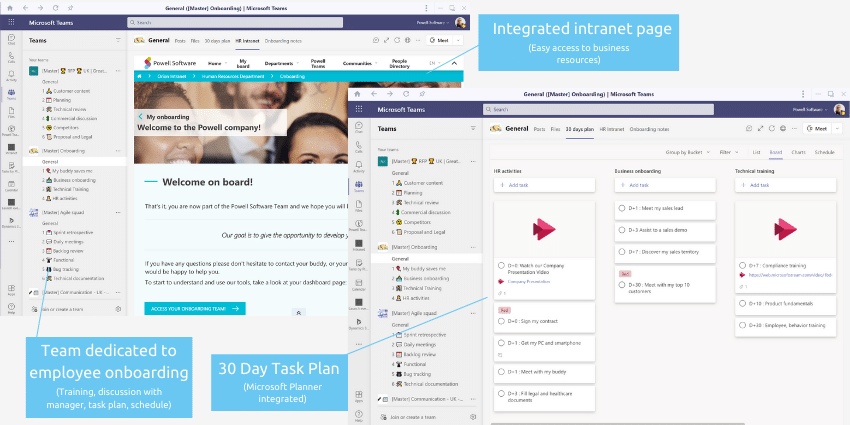 3 Microsoft Teams problems IT faces that Powell Teams solves
 1. Controlling team proliferation
When Microsoft Teams is first implemented, curious users, try out new ways of working naturally by creating their workspaces in Teams. However, a lack of frameworks, rules, and support often leads them to make mistakes: duplicated teams, poorly constructed teams, structures that are too different from one another, poorly connected technologies, or rules that are not respected… all criteria that can jeopardize the sustainability and security of the Digital Workplace.
This lack of framework leaves IT teams with the complex management of Team spaces and more globally of the Digital Workplace.
In the long term, free team creation is beneficial for adoption but a real danger for IT departments that will face management headaches.
2. Securing IT best practices
IT departments always define usage rules and best practices to be respected. Yet, often users are not fully aware of these rules when they use the technologies and it is complicated to enforce them.
This is why it is essential for IT teams to set up governance by simply defining rules and good practices and then be able to apply them to the whole company.
Powell Teams enables IT teams to provide a framework for secure and effortless IT collaboration and ensure compliance with policies and best practices by enabling them to:
Choose, define and apply best practices directly in the tool
Ensure consistency in Team structure through pre-built Team templates
Submit the creation of each Team to an automated approval system held by Powell Teams administrators (Microsoft 365 Admin, Business Leader, Digital Champion, IT…)
A team creation path that guides users through the creation process by asking them to fill in the information associated with each team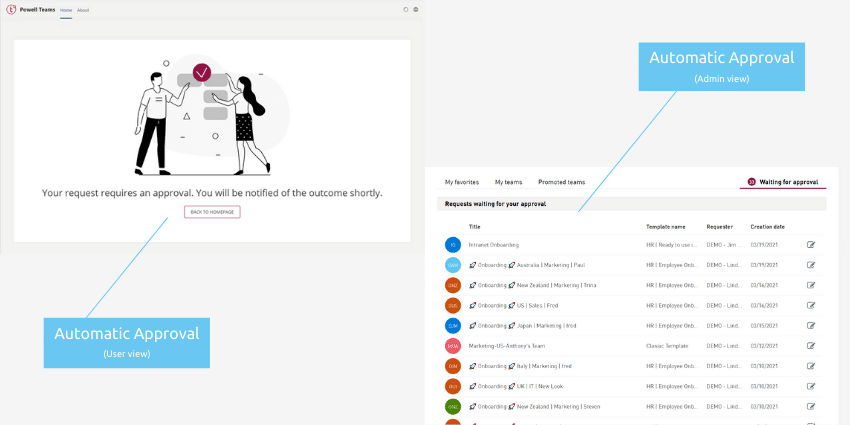 3. Managing teams
Are you able to list all the teams you have in your company? It is rather complicated for administrators to keep track of team creation and usage, which leads to complex and time-consuming management.
With Powell Teams, administrators have access to:
A dashboard giving a clear view of all teams, and their key information with the ability to edit it
Management and administration reports (activity logs, external users, insufficient owners, expired teams, missing members)
Powell Teams helps IT and end-users overcome common Microsoft Teams problems while at the same time providing an improved and engaging collaborative experience. Discover more about how to take your Microsoft Teams collaboration experience to the next level for both IT teams and users with Powell Teams.