Teamwork culture. Enhanced collaboration.

 
Building a teamwork culture in the hybrid workplace relies on having the best digital collaboration tools. Employees need to be able to collaborate remotely or in person, so whether they're in the office or on the field, collaborative teamwork is possible.  
Foster a Teamwork Culture
For collaboration success
Enhance Remote Collaboration
Productivity from anywhere
Bring Hybrid Teams Together
Foster a Collaborative Teamwork Culture
Collaborative teamwork is the secret to success, creating happy and resilient employees, but it relies on having the best collaboration tools available to all.
Promote collaboration from the top down and bottom up by providing employees with the right tools, like Microsoft Teams. Make it engaging, easy to use, and inclusive with Powell Teams.
Simplify collective tasks with automated Team spaces

Bridge the company intranet with Teams for seamless teamwork

Make it easy to search and gather collective intelligence
Enhance Remote Collaboration
To ensure high productivity from anywhere remote teams need instant access to information, and to communicate with their colleagues as easily as if they were sitting next to them.
Powell Teams lets hybrid workers collaborate on projects and tasks instantly by giving teams access to the information and tools they need.
Respond to the needs of hybrid work with Powell Teams
Automated creation of Team spaces in a familiar collaboration tool

One easy, friendly open space to share & work with colleagues

Dedicated templates for various business scenarios like employee onboarding
Bring Hybrid Teams Together
Collaborating remotely goes deeper than working on projects. Online collaboration tools should bring people together and create social moments to connect everyone.
With the Powell Software Virtual Coffee Machine, your employees can gather for a coffee break, wherever they're located. The Water Fountain animates conversations further.
Connect remote workers in the Virtual Building
Automatically gather colleagues from any department or location

Participate in coffee breaks at times that suit

Animate conversation with suggested topics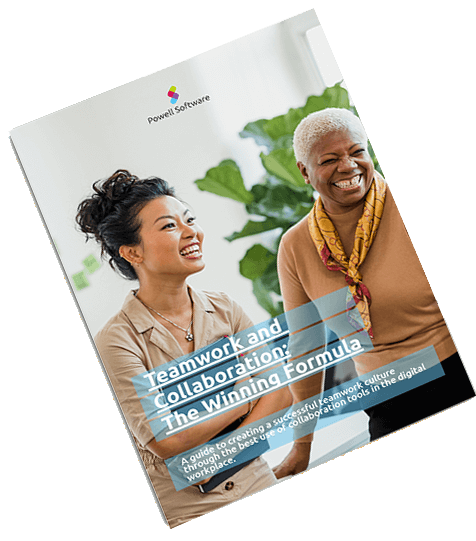 Teamwork and Collaboration: The Winning Formula
Fostering teamwork success relies on a company culture shift, and it starts by understanding the barriers to teamwork, its benefits, and the tools that can be used to enhance collaboration. Download this whitepaper, and learn how to build a company culture that fosters teamwork and collaboration.
Enhance collaborative teamwork in the workplace with the best collaboration tools for hybrid workers
Powell Software resources for collaborative teamwork
Keep up to date with the latest articles, guides, and digital workplace insights for HR and Internal Comms.
Join over 1.5+ million global users improving their employee experience
"We are delighted with how empowered our employees now feel; they can quickly and easily add content to the new site and share news and knowledge. Everyone now feels more connected… This is especially true of our remote workers who now have access to the same information as those who are based in the office"
Silva Homes
"An important cornerstone of our strategy is to connect TEAM ZEISS and activate colleagues worldwide… Through this project, we've removed redundant tools, enforced and adjusted a global company perspective, and quickly implemented more modern, more digital, and truly global tools for communicating and sharing information."
ZEISS Group
Keep up to date on our blog