The Twelve Intranet Challenges Every Organization Faces
Not Adopted by End-Users : If an intranet isn't intuitive or useful, employees are less likely to adopt it, leading to low engagement and minimal participation.
Not Engaging Enough: An intranet should be more than just a repository of information; it needs to capture the interest of its users to maintain high levels of interaction.
No Focus on Usability: An intranet that lacks user-friendliness can deter employees from using it, ultimately negatively impacting its ROI.
Poor User Interface (UI): A confusing or outdated UI can significantly prevent employees from accessing the information they need efficiently.
Outdated or Inaccurate Content: Stale or incorrect content can reduce the intranet's usefulness and undermine employee trust.
Insufficient Search Functionality: Limited search capabilities can frustrate users and decrease productivity as they struggle to find necessary information.
Limited Mobile Access: An intranet without mobile-friendly options restricts flexibility and availability for remote or on-the-go employees.
Lack of Personalization: An absence of personalized content based on roles, interests, or preferences can overwhelm users with irrelevant information.
Inadequate Collaboration Features: Without effective document sharing, messaging, or project management tools, an intranet can impede rather than foster collaboration.
Security and Privacy Concerns: Inadequate security measures expose intranets to potential data breaches, posing a risk to organizational integrity.
Poor Performance and Slow Loading Times: Performance issues can be a significant source of frustration, discouraging frequent and effective intranet use.
Lack of Integration with Other Systems: Failure to integrate with other essential organizational tools, like HR software or email systems, can lead to inefficiencies and duplicate efforts
Introducing Powell Intranet: The Comprehensive Solution
Powell Intranet is an innovative digital workplace platform designed to meet and overcome these challenges. With its extensive features, robust security, and adaptable architecture, Powell Intranet aims to revolutionize your internal networking experience.
12 Intranet Problems Powell Intranet Can Solve
Not Adopted by End-Users
Solution: User Engagement Features
Powell Intranet redefines engagement by integrating dynamic elements like discussion boards, polls, comments, and likes. This interactive environment fosters a sense of community and belonging, and it doesn't stop there.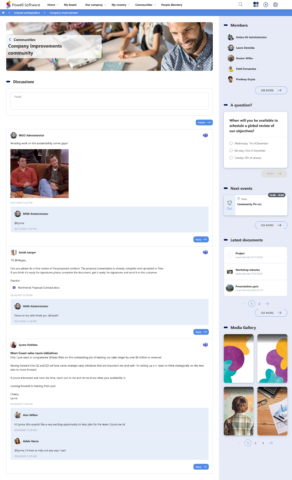 Powell introduces gamification, rewarding each employee's intranet actions with points, badges, or kudos,' cultivating an engaging and motivational experience.
Not Engaging Enough
Solution: Social Features and Ideation Box
Within Powell Intranet, the Ideation Hub is the central hub for creativity and innovation, transforming your intranet from a mere communication tool into an incubator for groundbreaking ideas.
To complement this creative atmosphere features such as the Water Fountain and Advent Calendar foster a sense of community and social interaction among employees.
To further elevate the user experience, Powell Intranet also offers Seasonal Themes. These themed layouts can be put in place to coincide with various seasonal events and festivities throughout the year, adding an element of fun and visual excitement to the platform. This enhances aesthetic appeal and fosters a dynamic, engaging environment that keeps users actively involved.
No Focus on Usability
Solution: User-Centric Design
The Powell Intranet adopts a user-centric approach, fundamentally altering how employees interact with their corporate network. Recognizing the importance of providing relevant information to its users, the platform automatically targets news based on an employee's role and geographical location. This ensures that employees are not overwhelmed with irrelevant information and can focus on what truly matters for their job functions.
Furthermore, the platform offers user-centric tools designed to streamline user experience, like the Search Center. This Powell Intranet Advanced Search capabilities allow employees to effortlessly locate necessary information through refiners and filters, making searching for data or resources quick and intuitive.
Additionally, the intranet boasts quick links that serve as shortcuts to vital information, pages, and apps, enabling users to access what they need in seconds.

Poor User Interface (UI)
Solution: Advanced UI
With Powell Intranet, you're not just getting a customizable platform but an advanced user interface and user experience that can be further tailored through Seasonal Themes. Moreover, the platform offers seamless integration with Microsoft 365 services, further enhancing its capabilities.
For instance, you can incorporate Yammer services as a Discussion panel that maintains the same look and feel as your customized intranet environment.
Built on SharePoint Online and Microsoft 365, Powell Intranet combines the best of both worlds to deliver an unparalleled user experience. From effortlessly changing themes to designing content with visually appealing layouts, Powell offers a spectrum of options for making the intranet truly your own.
Templates and web parts come preconfigured and are readily accessible through Powell catalogs, enabling rapid page construction without the need for coding.
For those who are tech-savvy and wish to build their own templates, our designer tool allows you to design, deploy, and customize your pages to your heart's content. The platform even supports custom CSS, JavaScript, and HTML, granting you complete control over your intranet's appearance.
Outdated or Inaccurate Content
Solution: Simplified Content Management
Powell Intranet revolutionizes content management, slashing the chances of outdated or inaccurate information hosting. It introduces contribution boards for content tracking and preconfigured forms that guide contributors through content creation.
This simplified approach streamlines content lifecycle management, making updates, deletions, or archiving effortless. Powell's intuitive interfaces and automated workflows minimize the time and effort required to maintain current and accurate content.
Insufficient Search Functionality
Solution: Advanced Search Features
Finding the right information at the right time can be challenging in traditional intranet systems. Powell Intranet addresses this with its robust search functionality. This search tool covers the entire Office 365 space, such as SharePoint, OneDrive, and Teams, to give users the most appropriate results.
Advanced filtering options help narrow down results, ensuring that employees find precisely what they need when they need it.
Limited Mobile Access
Solution: Going Mobile: Accessibility On-the-Go
Powell's mobile intranet app focuses on a superior user experience, enabling employees to easily access company-wide information while on the go. The app allows users to personalize content based on their role, department, or interests for employee engagement, which keeps information relevant. It also offers real-time alerts and notifications, particularly useful for urgent updates.
From a user experience perspective, Powell Intranet provides sophisticated mobile analytics that help administrators understand the most engaging content for employees.
Lack of Personalization
Solution: Customizable User Experience
Powell Intranet takes user personalization to the next level by offering customization options, including Notifications, Preferences, and Personal Favorites.
Users can tailor their experience by subscribing to notifications that align with their specific interests, whether departmental updates or location-specific news.
A dedicated Preferences button, particularly displayed alongside News Content, empowers users to fine-tune their news feed. This allows them to filter and prioritize articles and updates based on department, location, or other relevant criteria.
Lastly, the Personal Favorites feature allows users to curate a personalized menu of their most-used business applications and pages. By placing their favorite links at their fingertips, this feature helps employees streamline their daily tasks and become more efficient in their digital workspace.
Altogether, these customization options make Powell Intranet a digital hub and a personalized digital workspace where each user's experience is uniquely tailored to their roles and preferences.
Inadequate Collaboration Features
Solution: Robust Collaboration Tools
Built on Microsoft 365, Powell Intranet is an all-encompassing platform designed for exceptional collaboration and heightened productivity. The platform is deeply embedded with Microsoft 365's suite of essential applications, offering seamless access to tools ranging from office staples like Word, PowerPoint, and Excel to specialized business applications such as Power BI.
Additionally, Powell Intranet goes beyond standard collaboration by incorporating advanced sharing capabilities. Users can effortlessly share files, documents, and news externally via email and directly to targeted Teams channels. This unique feature amplifies real-time engagement, allowing immediate conversations within a team or with specific colleagues.
Personalized workspaces and the convenience of bookmarking frequently used applications further elevate the user experience.
Expanding upon its robust feature set, Powell Intranet also offers a dedicated template for project management. This template can be deployed to create specialized spaces for each project your team is working on.
Within these dedicated project spaces, you'll find an organized framework that enables you to track the project's progress, gather team members for collaborative efforts, and access ongoing Teams discussions directly on the page. The project space is designed to centralize coordination, making files and resources easily accessible while also allowing for the addition of essential business applications to manage the project effectively.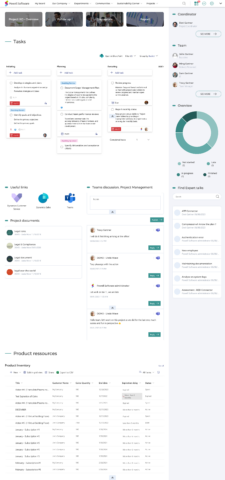 Security and Privacy Concerns
Solution: Compliance & Security
Leveraging the security infrastructure of Microsoft 365, Powell Intranet prioritizes data security and privacy by integrating Microsoft's robust authentication mechanisms for secure sign-ins. All data housed on the intranet resides within your own Microsoft 365 tenant, aligning with Microsoft's stringent security certifications.
Moreover, Powell Intranet also supports an extra layer of security by enabling conditional access features, which can require multi-factor authentication for accessing certain sensitive content. This holistic approach to security ensures data integrity and restricted access to confidential information.
Poor Performance and Slow Loading Times
Solution: High-Performance
Powell Intranet is built on the robust architecture of Microsoft 365, ensuring fast load times and optimal performance. It also offers advanced analytics to measure and improve your communications initiatives.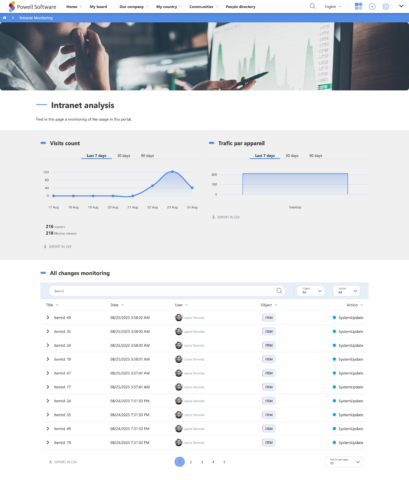 Lack of Integration with Other Systems
Solution: Seamless Integration
Powell Intranet integrates well with other business systems like ServiceNow, Workday, and SAP. It allows content from the current or an external tenant to be displayed, reducing duplicate efforts and improving efficiency.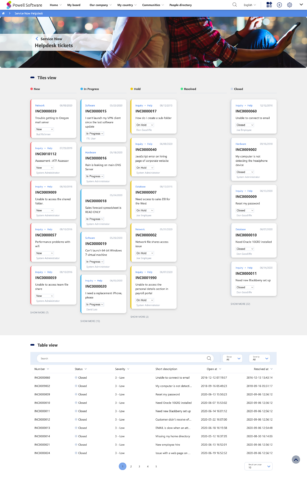 Powell Intranet: The Comprehensive Solution to All Your Intranet Challenges
Undoubtedly, Powell Intranet is the go-to solution for common intranet challenges. From its focus on user engagement to robust security features, Powell Intranet covers all the bases. Built on the rock-solid foundation of Microsoft 365, it offers excellent performance and a personalized experience that will even win over the tech skeptics on your team.
Powell Intranet is the all-in-one solution you've been searching for in a world where an efficient intranet can be a game-changer for your business.
Ready for Transformation?
Empower your business with Powell Intranet's innovative solution. Experience engagement, efficiency, and evolution – all in one place. Discover the future of intranet today.