Introduction
An intranet is a crucial tool for organizations, serving as a centralized platform for communication, collaboration, and information sharing. As the intranet is used to store more and more data, it becomes essential to have a good search system in order to find the information quickly. With Powell Intranet, users can conduct searches across their entire O365 space, including SharePoint, OneDrive, Teams, and more.
Why easy search and finding relevant content are essential elements of a successful intranet
Improved Productivity: A well-designed intranet search feature can streamline employees' work by providing quick access to the required information. By reducing the time spent searching for information, employees can shift their focus to more productive tasks, resulting in improved efficiency, higher productivity levels, and increased job satisfaction.
Improved Information Management: An intranet that allows users to find and access relevant information easily helps ensure that information is properly organized and managed. This minimizes the risk of information becoming outdated or lost, improving the overall quality of information stored on the intranet.
Improved User Experience: A user-friendly intranet equipped with robust search capabilities can significantly enhance the user experience. When users can easily access the information they need, they are more likely to use the intranet regularly and view it as a valuable resource.
Simplifying Intranet Search: How Powell Intranet's Advanced Capabilities Enhance User Experience
The Powell Intranet offers a seamless and efficient solution for finding information. Its advanced search capabilities make it easy for employees to access the information they need, improving their overall experience.
The Powell Intranet search engine utilizes both the SharePoint Search API and the Office 365 Graph API to give users access to a broad range of content related to their queries, such as news, documents, websites, and people.
Having strong search capabilities is of utmost importance on an intranet. As an intranet user, having the ability to conduct searches from any location within the network is essential.
The Powell Intranet offers a search bar that enables users to search from anywhere on the intranet. The search bar is included in the Powell intranet header, and therefore, it remains visible even when navigating across different pages and departments.
The Powell Intranet search feature can help users find relevant content by simply entering a keyword or letter in the search bar. This search tool covers the entire Office 365 space, such as SharePoint, OneDrive and Teams, to give users the most appropriate results.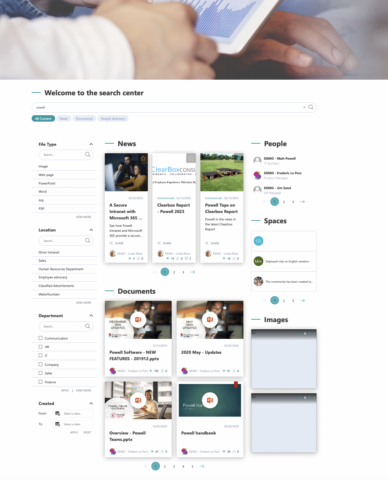 The Powell Intranet includes a Search Center, which gives users the ability to refine their search results by applying criteria such as file type and date. This helps users find any content they need more quickly and accurately.
Search Documents
Powell Intranet provides a practical and streamlined solution for managing and finding documents within an organization. As the number of documents and information grows, the challenge of efficiently searching for and locating relevant documents increases. However, Powell Intranet offers a dedicated document storage and management space equipped with intelligent refiners that allow users to easily filter and find the information they need quickly and efficiently.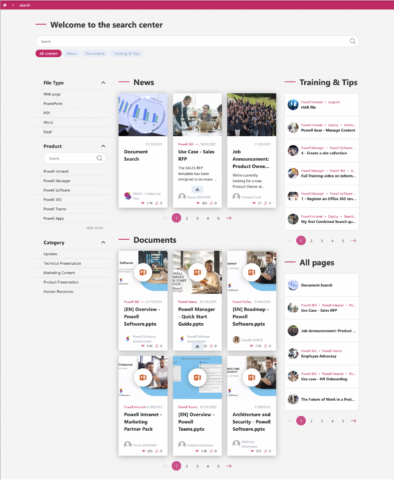 Powell Intranet is an incredibly useful tool that allows users to search for documents across not just Powell Intranet but also SharePoint and OneDrive – essentially the entire Office 365 tenant. It is designed to improve productivity by decoupling the search function from just the intranet.
When search results are displayed, users can refine them further using Powell Intranet's powerful refiner capabilities. These refiner tags can be leveraged to filter document searches based on various criteria, including file type, date, product, and more. With the ability to create any filters, users can tailor their searches to their specific needs.
Overall, Powell Intranet is a highly effective document management and search solution. Its robust search capabilities and advanced tagging features enable users to quickly find the information they need to be productive and successful in their work.
Search People
Finding the right individuals within a large organization can be challenging, so having a reliable search system is crucial. An intranet search function that allows employees to connect with the right people easily can significantly improve communication and collaboration within the organization. This leads to faster resolution of technical issues, better project outcomes, and a more efficient work environment.
When employees have quick and easy access to the right individuals, it saves valuable time and resources that can be redirected towards more productive tasks. The Powell Intranet tackles this issue with its People Directory Page, allowing users to swiftly and efficiently connect with the relevant individuals.
The People Directory Page on Powell Intranet is an essential tool for finding information about employees within the organization. Company employees are displayed on profile cards that display their roles, departments, and contact information.
The People directory page is equipped with an extensive search system, consisting of a search box and filter menu, to quickly and accurately filter through a large list of employees. Different criteria, like job title, location, department, and keywords, can be used to refine the search.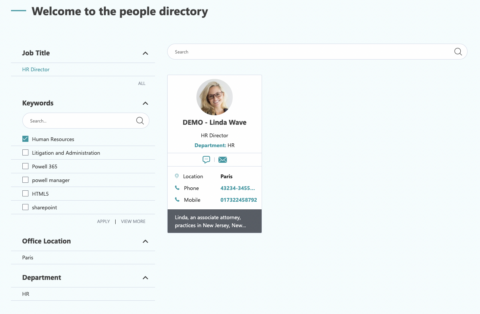 Microsoft Delve provides a great advantage by making use of the existing office directory, eliminating the need for a separate one. With the filters on the People Directory Page, finding the right person for the job is made easy – such as an IT manager with SharePoint expertise based in the United States. The user can choose the necessary criteria, and the result will appear quickly.
But what if you're looking for someone based on their hobbies or interests? That's where the "My Board" page comes in! Every Intranet user has access to their own "My Board" page, where they can complete their profile with information about their education, work experience, professional skills, and hobbies. The People Directory Page leverages the information from the "My Board" page to allow searching for employees based on interests and hobbies.
So, the People Directory Page on Powell Intranet offers a mix of searching based on pre-defined properties in the directory and those defined by the employees themselves on their "My Board" page. To encourage employees to complete their profiles, Powell Intranet has also included gamification features, such as gaining points and badges, to make the process more fun and engaging.
Search Business Applications
In today's fast-paced workplace, employee productivity is essential for the success of any organization. As technology advances, companies continually search for new ways to increase their employees' productivity. One such way is to provide employees with quick and easy access to essential business tools via the intranet.
Ensuring employees can conveniently access critical business tools through the intranet maximizes organizational productivity and efficiency. By providing employees with immediate access to the appropriate tools, companies can save valuable time that would otherwise be wasted searching for the tools they require to perform their duties.
This helps employees work more effectively and streamlines workflow by keeping all necessary tools in one easily accessible location. As a result, employees can collaborate more efficiently by sharing information and resources in real-time without searching for apps throughout the intranet.
Powell Intranet offers Quick Links, a feature enabling users to swiftly access the most commonly used employee sites and tools to optimize employee productivity. In addition, company managers can push mandatory links such as the Booking Desk Tool, Learning Center, and Leave Request Tool to all employees.
With Powell Intranet,
you can easily display these apps, or quick access links, anywhere within the intranet, improving their accessibility for all users.
If many apps are available, it can be difficult for employees to find the right tools for their tasks. Fortunately, Powell Intranet comes equipped with filters that make it easier for employees to find what they need.
The preferences button is a handy tool that employees can use to filter their business apps according to their preferences. By clicking on this button, users can access a menu of filters that allow them to select or deselect specific
categories of apps based on what they want to have displayed. For example, if an employee is looking for HR tools such as Vacation Leave, they can select the HR category and deselect all others only to show HR-related apps.
This feature is handy for employees who are new to a company or are unfamiliar with the apps available. By filtering out apps that aren't relevant to their tasks, employees can save time and increase their efficiency. It also ensures that employees are using the correct apps for their tasks.
This button can make a big difference in how employees use business apps. By allowing users to customize their app experience according to their preferences, this feature can help to streamline workflows and increase productivity.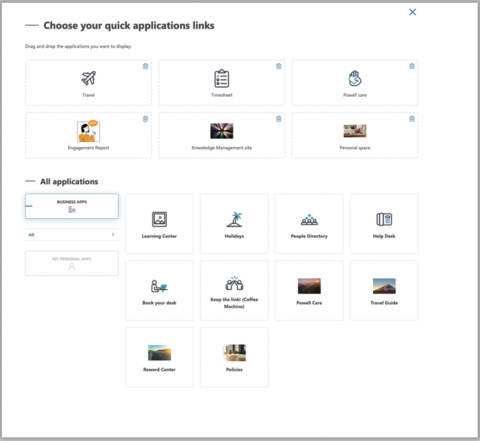 Additionally, employees can customize their apps and links, ensuring they can easily find and easily access the resources they require. Employees may have different preferences and work styles, and allowing them to choose their own apps can give them more flexibility to work in a way that suits them best.
When employees have control over their work environment, they are more likely to be engaged and invested in their work. Powell Intranet gives its employees the power to choose and display their favourite apps and take ownership of their workspace, and personalize it to meet their unique needs.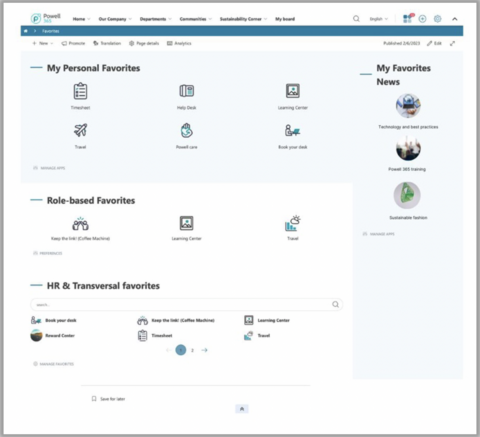 Managing personal apps has never been that easy. They can drag and drop the applications and links they want on their pages. These links can be business apps but also users' favourite pages or even news items.
Providing easy access to essential business tools through the intranet is crucial for enhancing productivity, efficiency, and employee engagement. This approach saves time, encourages collaboration, and empowers users to perform their tasks effectively.
Conclusion
In today's fast-paced business world, time is a valuable resource. That's where Powell Intranet's search capabilities come in to help you efficiently store and find relevant information, saving you precious time and increasing productivity.
With Powell Intranet's unique ability to search across various platforms – including the entire O365 space, such as SharePoint, OneDrive, and Teams, on top of the intranet – you can easily locate the information you need, regardless of where it's stored. Our powerful filtering capabilities further enhance your search experience, allowing you to refine your searches and quickly find the exact information you are looking for.
Don't waste any more time searching for documents, people and apps – let Powell Intranet do the work for you. Download the ebook discover how Powell Intranet can benefit your organization.