Unfortunately, employees often feel under-appreciated, which strongly influences their level of commitment. Undermining individual employee satisfaction could significantly affect company goals.
Why does employee appreciation matter?
Today, managers are having trouble managing high employee turnover and retaining employees. There is an obvious correlation between employee satisfaction and employee retention. Employees who do not feel valued quit jobs easily and are less invested in their work. According to Glasdoor, 53% of employees say they will stay longer in a company if they feel appreciated. The study conducted by  SurveyMonkey, also confirms this claim: "63% of people who are "always" or "usually" recognized at work consider themselves "very unlikely" to seek a new job in the next 3-6 months, whereas 43% of the unrecognized group are "extremely likely" to seek work elsewhere." People want to be rewarded for a job well done, and it doesn't always need to be financial. One study found the number one driver of employee engagement was recognition.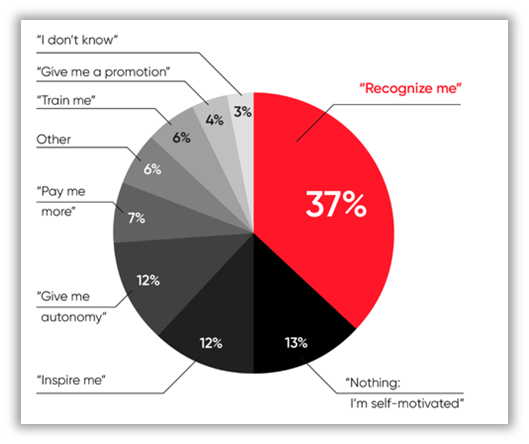 Given all the research done on the relationship between employee engagement and organizational success, it is essential to consider how employees feel at work. According to the study made by Gallup, If companies double the number of employees they recognize every week, there will be:
24% improvement in work quality
27% reduction in absenteeism
10% reduction in staff shrinkage
How do you appreciate staff for good work – from afar?
With the Covid-19 pandemic and the growth in home offices, motivating employees from afar is becoming increasingly difficult. We need to ask what practices we need to internalize to help employees feel more motivated and valued at work? "90% of HR respondents said that an effective recognition program drives business results". Internal communication teams are already trying to build a better company culture and engagement in the intranet by implementing gamification programs to motivate and engage employees digitally.
Our employee appreciation solution for the company intranet
At Powell Software, employee engagement is one of the core values ​​which guides our business goals. We have introduced various employee engagement strategies and gamification programs on Powell Intranet to ensure employees stay connected and engaged in company life and culture. For example, our employee advocacy tool to build internal advocacy programs for marketing. Find out more about our engagement practices.
Now, we're bringing the "Kudos" functionality to the Powell Intranet to improve employee engagement further through employee appreciation. We have discovered the need to add this feature to the intranet after lengthy discussions with our clients who expressed a desire for employees to be recognized by their managers and colleagues. While it's important to be recognized by managers, today's employees also feel the need to be celebrated and seen by their peers.
What is the Kudos feature, and how does it work?
The "Kudos" feature comes as standard in Powell Intranet and is available to current and future customers. It allows employees and managers to praise and congratulate each other for their actions, whether it's good teamwork, a successful project, or any activity related to company life. The Digital Communications or Human Resources managers predetermine the topics for which employees can get praised. Users can then select the "Kudos" topic and send it to a specific person.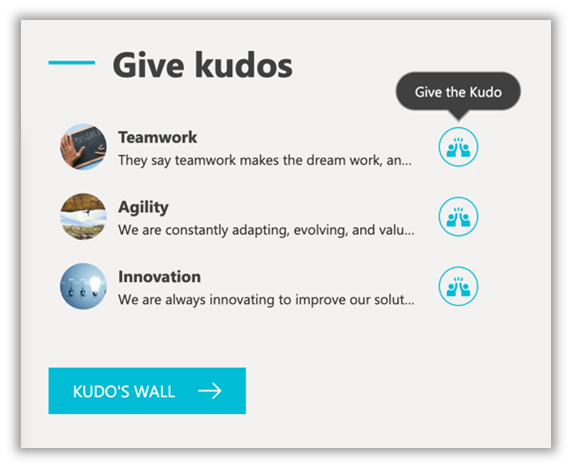 To create a deeper connection between colleagues and boost morale, we've added a way to personalize messages when sending Kudos. For example, Linda from Sales congratulates Marc on his excellent teamwork on his latest marketing project, as Marc has shown a fantastic ability to keep team members' spirits high throughout. Marc receives a personalized message in Microsoft Teams from Linda. He will feel valued and appreciated by his peers, but he will also be more inclined to collaborate with Linda on future projects. This will create deeper bonds between these two employees. It also contributes to greater digital wellbeing.
The "Kudos" can be displayed anywhere on Intranet pages as a web part. However, we also offer "The Kudos wall" – a dedicated Kudo page letting intranet users view all the Kudos given and received by employees & managers. This will spark healthy competition and engagement.
How can you get the new Kudos feature from Powell Intranet and start showing employee appreciation?
Kudos are included by default on our standalone Gamification center template on Powell Intranet, and a space administrator can define them. On a user's gamification profile, employees can view all their latest actions and points & badges earned for their participation.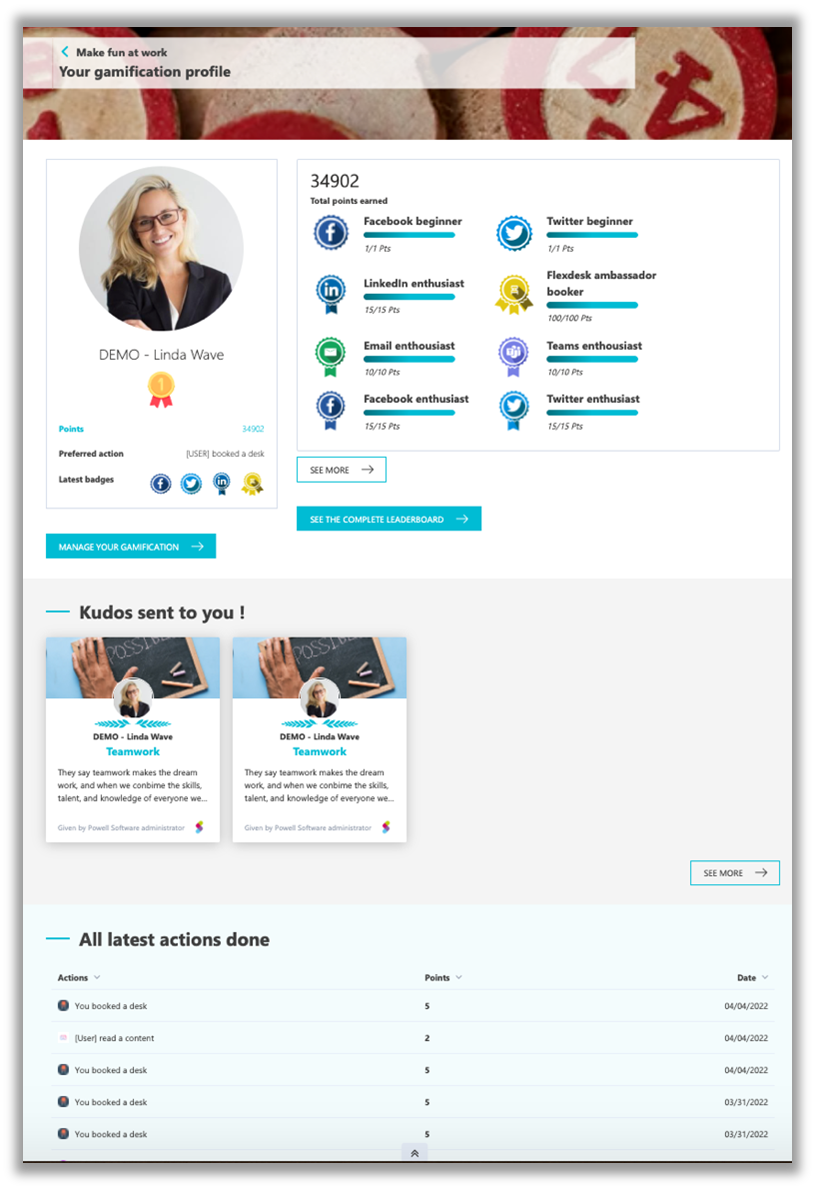 *The Gamification center is required to use this web part.
To add the Kudo web part to SharePoint, follow these instructions to deploy it on your page.
No settings are required. Thanks to the Gamification center, it'll directly display the available Kudos and allow you to give them to your colleagues. Deploy the Kudos functionality on your intranet and start showing employee appreciation. Explore the full process in our Help Center.
Employee appreciation is just one arm of your employee engagement strategy! Download our whitepaper to improve employee satisfaction for a connected and engaged workforce.