Enhanced Collaboration Tools & Teams Governance
Powell Teams improves teamwork in Microsoft Teams to make it a collaboration experience that's effortless, organized, easy to manage and governed.
Teams efficiency starts with simplicity. Collaborate instantly and effortlessly on your collective and repetitive activities through ready-to-use team spaces.
Teams templates & automation
Teams templates – Powell Teams offers a catalog of ready-to-use and customizable templates to collaborate instantly and effortlessly on repeatable activities like Sales RFPs. Templates are predefined, preconfigured, and preloaded with documents for you.
Automation – Powell Teams make collaboration straightforward and can even get things done for you. Automatically create Teams on receipt of an email or through a specific action triggered in a business application like the CRM.
Don't get lost in information overload. Simplify navigation, visualization, and search to quickly find what you're looking for in Microsoft Teams.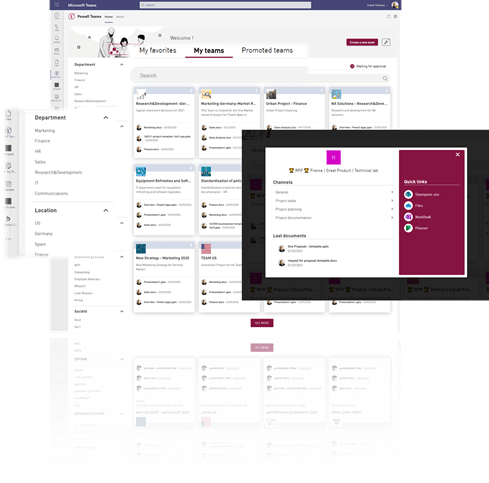 Teams dashboard
Find teams & channels – overcome Teams sprawl and a complex display with a smart dashboard. Filter your Teams and navigate easily to quickly find what you're looking for.
Find information & documents – remove information overload with quick access to the latest information and documents through Team cards and a powerful search engine.
Learn how to overcome Microsoft Teams problems with Powell Teams
Microsoft Teams Governance
Prevent Teams sprawl and bad habits forming. Monitor Team creation with a ready-to-use approval system and secure your workplace with governance.
Teams governance & management
Governance – all the rules you need to implement are there. Define your strategies and simply apply your policies to secure best practices. Ensure Teams are properly created with an assisted experience for end-users through a framework.
Controlled team creation – Get all created teams approved. Let users create the Teams they need and get them approved by a Powell Admin to overcome Teams sprawl.
Teams Management – More than just governance, Powell Teams allows admins to manage and edit Teams and their information through a dedicated dashboard and advanced reports.
Discover 10 Microsoft Teams Governance best practices every organization should implement
Works with your company intranet
Get direct and quick access to corporate resources and information with your intranet in Teams. Drive more employee engagement.
Virtual Coffee Machine & Water Fountain Cooler – Help employees keep social interactions through a virtual coffee machine that automatically schedules coffee meetings. Our water cooler feature animates conversation by suggesting topics for discussion.
Théa Achieved Collaboration Success for IT & Users with Powell Teams
When Théa made the switch from Skype to Microsoft Teams they wanted to make the transition as smooth as possible. They also wanted to get the most from their investment and improve the Teams experience for both IT and end-users. So Théa chose to implement Powell Teams.
Download the success story to learn more about Théas project.
Interested in learning more about Powell Teams?
Contact us for a demo and start your collaboration experience now.
You're already ready.