Microsoft has recently placed a focus on enriching the Teams platform with better functionality and integrations. This means workflows that once required multiple applications can now be completed right within a conversation. While this is improving day-to-day efficiency, it also means that companies are faced with a surge in the volume of information passing through Teams.
For those that aren't prepared with a Microsoft Teams governance plan, this can quickly lead to uncontrolled sprawl and disorganization that hinders productivity. The best solution is to stay on top of governance before it becomes an issue – which requires defining the Teams lifecycle and putting management processes in place.
The typical lifecycle of a Team
While every team has its own unique lifespan, most share a similar pattern of progression. Microsoft defines the Teams lifecycle in three stages that constitute a clear beginning, middle, and end. Each stage requires a different type of management from those in charge of overseeing governance.
1. Departure stage – Team creation and channel setup
Team Creation
Every team is created for a purpose with a specific goal in mind. When and how your company adds new teams will depend on your predefined organization plan, whether it's a new project or business function. The team should be named according to a standardized naming scheme to keep things organized and avoid the creation of duplicate teams.
Key points to consider when defining Teams:
What is the purpose of the Team?
Who belongs on the Team?
Will the Team be private or public?
Can new members add themselves or do Team owners add them?
Who will have permission to create channels or add tabs, bots, and connectors?
Channel setup
In addition to the General channel included with each Team by default, the Team administrator will also set up channels within the Team. Again, these channels should generally follow a company-wide structure that defines how channels are organized. You may decide to create a separate channel for each topic or project and to choose whether you need public or private channels.
Key points to consider when setting up channels:
What channels should be added to the Team and what will its' structure be?
What guidance, if any, will be provided for adding new channels?
Does the channel need to be public or private, and who should be added?
How can you customize channels and add everyday applications?

Creating Teams templates and setting up channels in the Powell Teams admin center: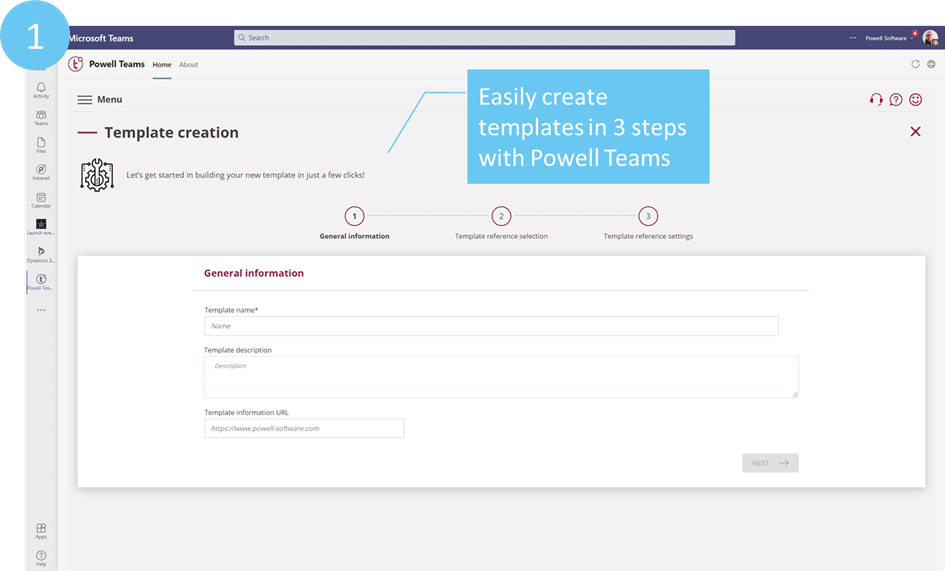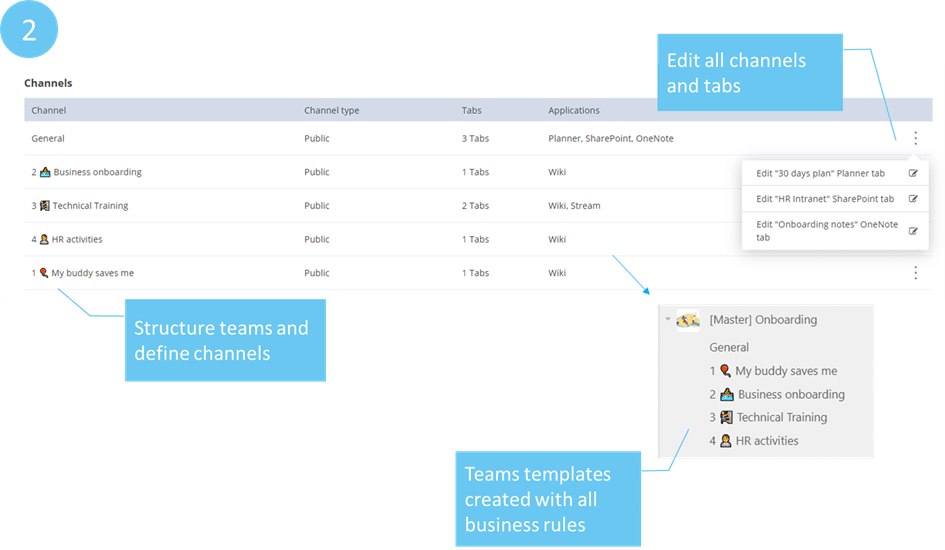 2. Ongoing stage – Monitor Teams workspaces
The second stage is the longest in the lifecycle of a team. This is the stage during which employees use the team for its intended purpose, members are added, and additional channels are created as needed as teamwork makes projects and topics evolve along with Teams structures and hierarchy.
But just because a team is in use doesn't mean you can just let it run on autopilot. The lifecycle of a team is not linear, and your needs within the team may change as the project or function it serves progresses. Make sure to check in regularly to see whether the activity is still taking place if any users should be added or removed and if any channels have become defunct or any new ones need to be created and manage the ongoing use of all your created teams.
Key points to consider when monitoring existing teams:
What metrics will be used to determine whether a Team is healthy or not (external users, minimum owners, expiration…)?
Identify Teams coming to the end of their life.
Identify unhealthy Teams that need revitalizing.
Identify usages to know whether a template is relevant or not
Dedicated admin reports identify Teams that do not follow governance rules.
Use the Powell Teams admin center to visualize all your existing teams.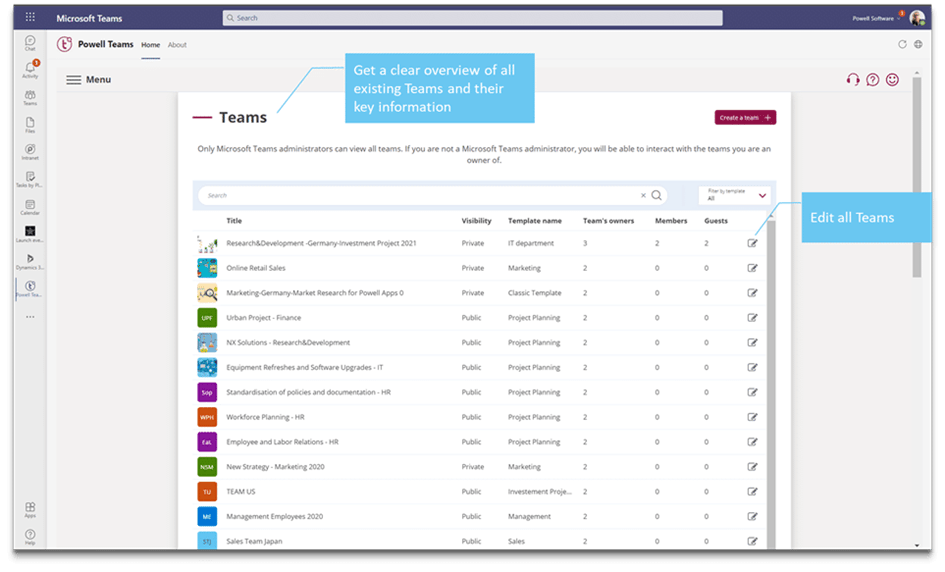 And access admin reports to manage your ongoing Teams.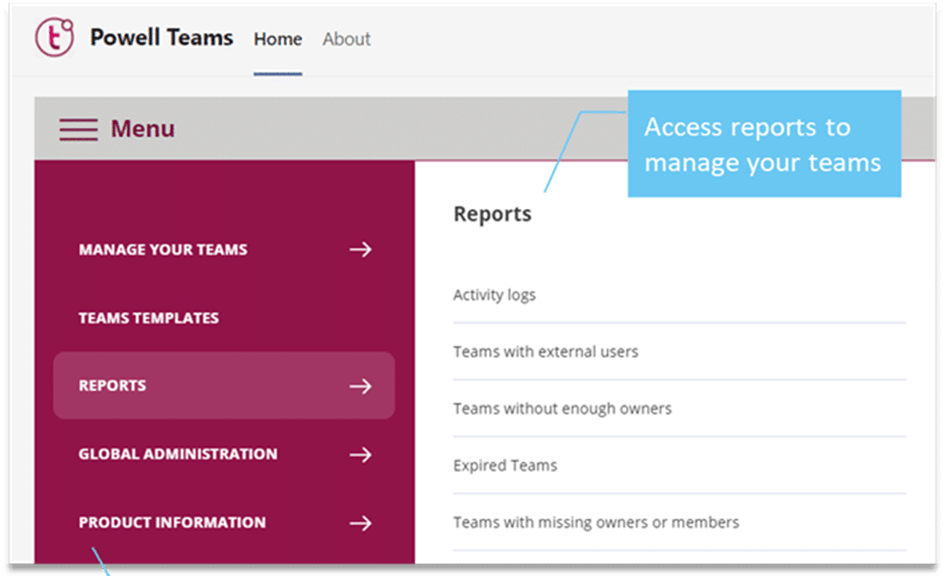 The admin reports will allow IT Teams to quickly identify Teams:
With missing owners & members
Inactive
Expired
Non-compliant with privacy rules
With external users
Unmanaged (not associated with a template that includes governance rules)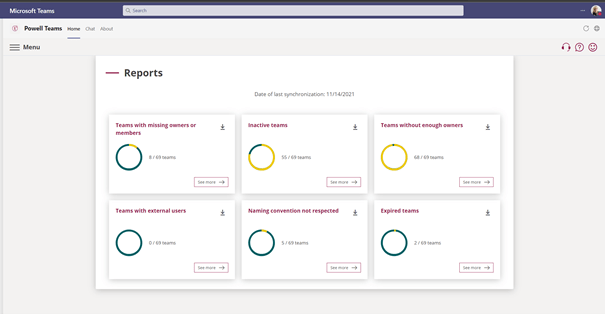 By clicking on a report you have access to the corresponding Teams list
Go further with the Powell Software Power BI report
With the Powell Software Power BI report – categorize all Teams easily. Apply a template to the Teams you need to manage and tag it for a better follow-up process.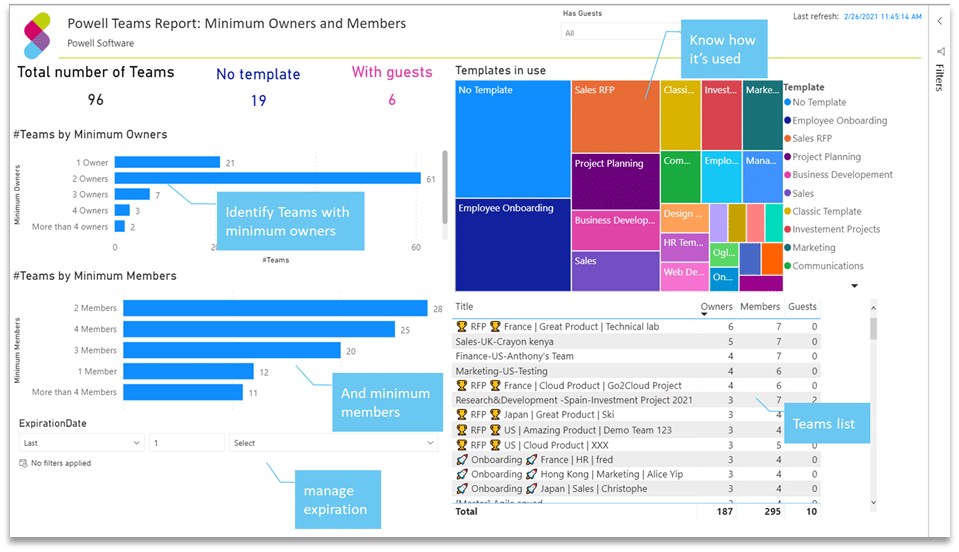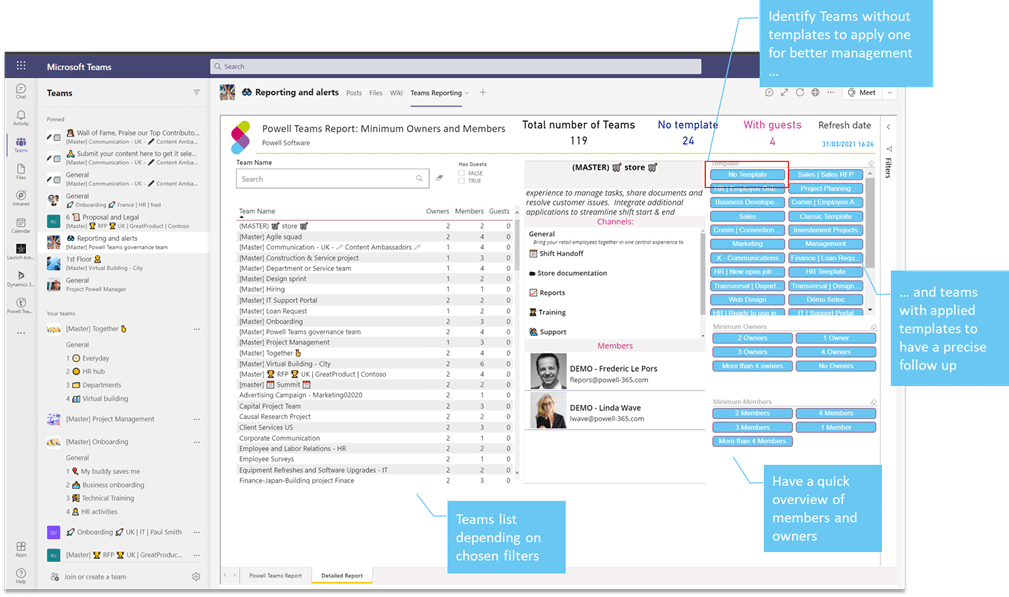 3. End of life  – Abandonment, and deletion
Eventually, most teams fall out of use and are no longer needed. Sometimes there may be a clear end date; for example, if a project is completed, it's easy to pinpoint when the team's lifecycle will come to an end and schedule it for deletion.
Frequently, however, the team will enter a slow decline that may pick back up several times before activity dies completely. In these cases, how do you know that a team should be archived without closing it prematurely? This is one of many pain points that companies face in Teams lifecycle management. In a bit, we'll get into how to define the lifecycle of a team internally and eliminate the uncertainty.
Key points to consider when monitoring Teams end-of-life:
Set expiration dates upstream.
Define what the end of a Team is and when it occurs (end of the project, too few members…).
Decide whether to keep the existing content of a Team available and for how long.
Decide when archiving teams and their data is necessary.
Identify and follow expired Teams in Powell Software Power BI dashboard:
Take advantage of automated Teams lifecycle management and save 80% of your time with the Powell Teams Bot.
Managing the Teams lifecycle doesn't need to be a manual process. Powell Teams is a platform that enhances your organization's Teams experience with predefined processes for lifecycle management.
Save 80% of time spent by IT admins managing Microsoft Teams environments.
Your IT Department is in charge of this governance but can quickly be overwhelmed by a heavy workload making Teams difficult to manage. Powell Teams will allow IT Teams to reduce their time spent managing Microsoft Teams environments by 80%. How does it work? IT can define the criteria to be tracked and analyzed, Powell Teams will then automatically scan for governance breaches by screening the admin reports and send actionable messages through the Powell Teams Bot to each owner in charge of non-compliant teams.
In the Powell Teams menu you can access the global administration portal and set Bot Notifications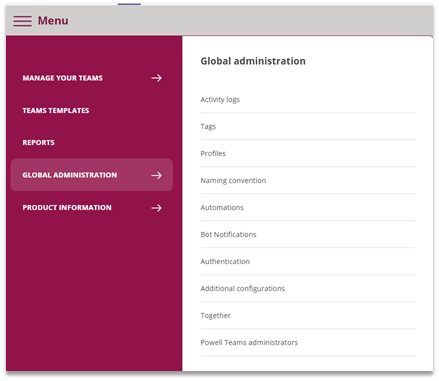 By activating the Bot Notifications – you can automate the full Teams life cycle management.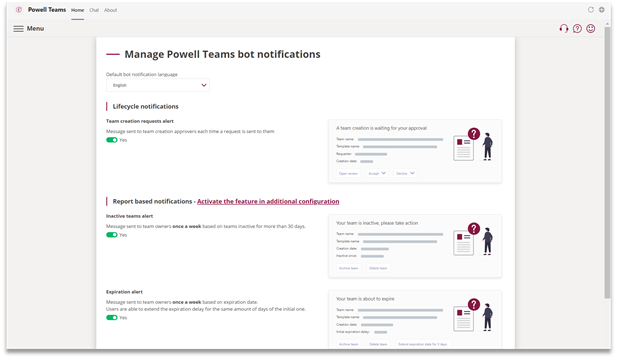 Automate management of the following scenarios:
Teams approval
Teams with missing owners & members
Inactive Teams
Expired Teams
Teams non-compliant with privacy
Teams that include external users
Unmanaged Teams (non-associated to a template that includes governance rules)
The Powell Teams Bot will automatically contact teams owners by private chat. Action buttons allow IT, admins and employees, to directly take action through the chat to make the necessary changes.
Common Microsoft Teams lifecycle management issues
If you haven't yet laid out a clear Microsoft Teams lifecycle management process, you may find that certain challenges arise related to the lifecycle of teams. These issues can put a damper on productivity as employees struggle to sift through antiquated information and turn to their own solutions to organize the mess.
Teams don't follow a standard naming convention
One of the first steps to Microsoft Teams governance is creating a naming scheme that includes key identifying information such as location, department name, and function. By setting teams up with standardized names, it's easier for employees to quickly locate the team they need. You'll also eliminate the chance of someone accidentally creating a duplicate team because they can't find the one that already exists.
Defining a naming convention to apply for all Team creation:

Inactive members remain in a team
Throughout the lifecycle of a team, new members are often added as they join the associated project or function. However, it's also common for users to leave the group for which the team exists. Over time, the team may accumulate several members that simply don't need access anymore. Businesses should remove these users regularly to prevent security issues and help employees keep their own list of teams free of impertinent information.
Removing users from the organization in Microsoft 365 deletes their presence in Teams: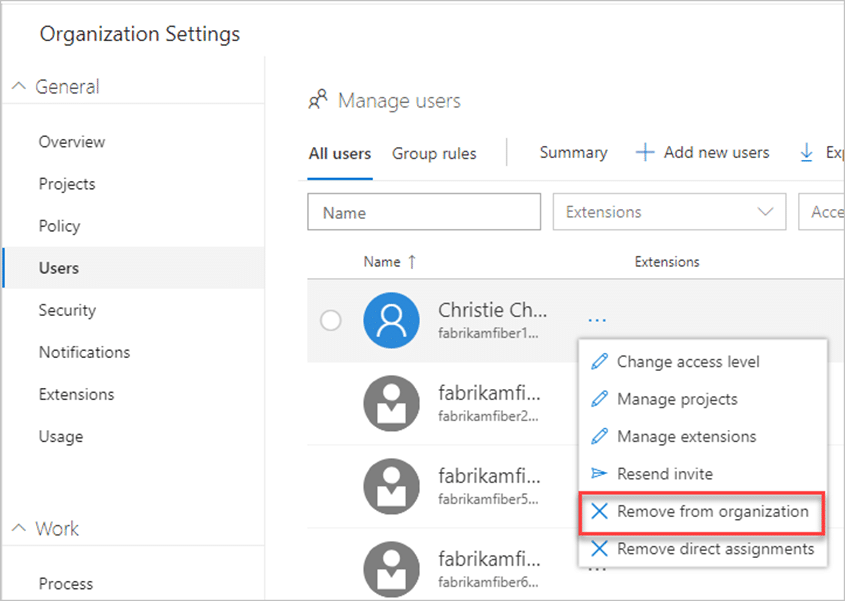 Teams and channels are left open long after they fall out of use
The last thing you want to do is continue adding to your organization's network of teams and channels without deleting old ones. Over months and years of use, this will create an overload of information that no one can manage. By regularly cleaning up obsolete teams and channels, you'll help employees work faster within the ones they use currently.
One potentially disastrous side effect of failing to define the end of the Teams lifecycle is that employees may take matters into their own hands and delete teams or channels without realizing the potential consequences. If IT doesn't catch the mistake within 30 days, the information will be lost forever.
Simplified Teams channel management for improved usage:

Planning the lifecycle management process
To get ahead of Teams sprawl and organization woes, you should create a plan for Teams lifecycle management that clearly outlines when to perform certain governance tasks. For example:
1. Define the team creation process
Your Teams lifecycle management plan should dictate the creation process for teams and channels, including:
Who can create new teams and channels
What events warrant the creation of a new team or channel (for example, a new project or functional team)
How teams and channels will be named
Which teams will be public and private
Who will add and approve new users
Define a clear Team creation process with rules and templates: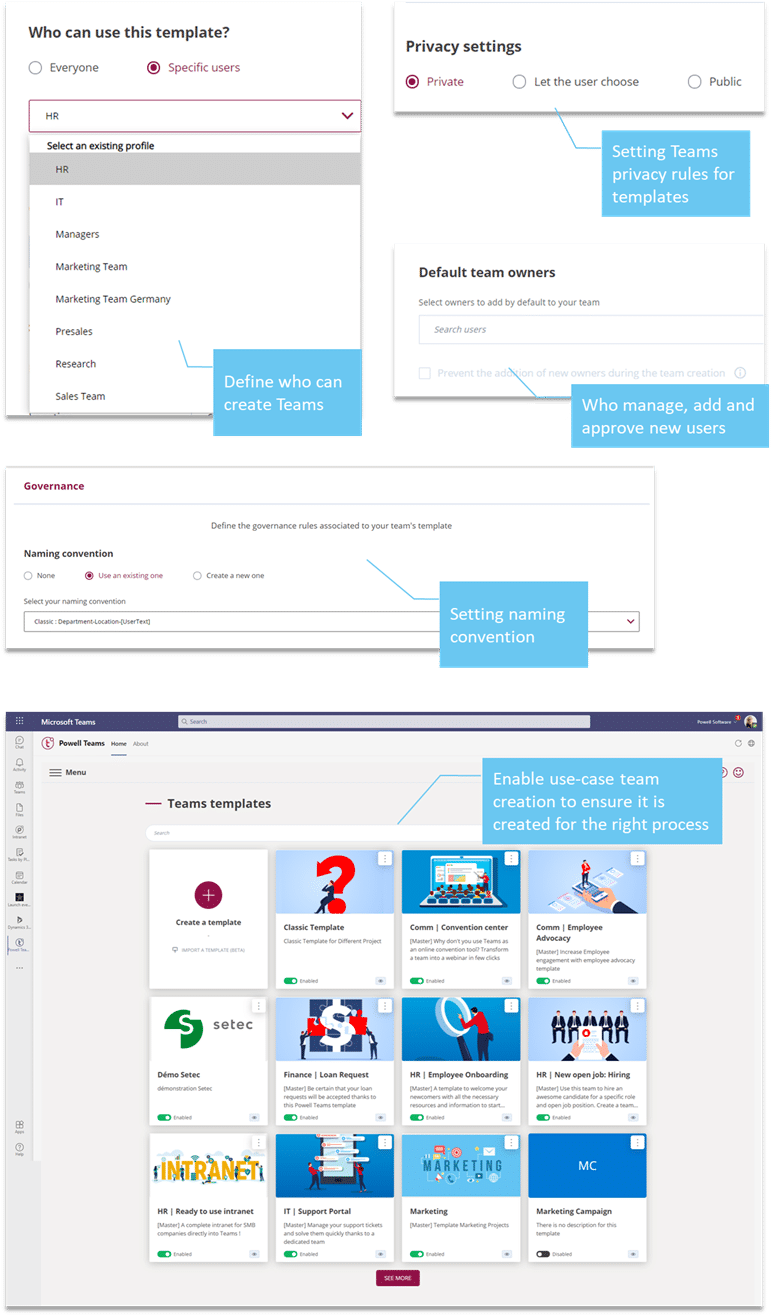 2. Set up checkpoints for ongoing management
As the Team evolves, it should undergo routine maintenance to help keep things running smoothly. For example:
How long should a channel remain inactive before it is scheduled to be archived or deleted?
Who will remove inactive users and how frequently?
If and when larger Teams should be divided?
What methods will be used to spark new activity in Teams that should remain active?
3. Create a team end-of-life plan
Once a Team is no longer needed, it can either be archived or deleted. Archiving a Team simply moves it out of sight while it's inactive, retaining all the messages and information within it. Deleting a Team is permanent, although it can be reversed for up to 30 days. With this in mind, you should decide:
When Teams and channels will be archived or deleted
Who will decide whether a Team will be archived or deleted
How long a Team should remain inactive before it is scheduled to be archived or deleted
When and why archived Teams can be reinstated
How long to retain information once Teams have been closed
In the template settings from Powell Teams you can set an expiration delay for the created team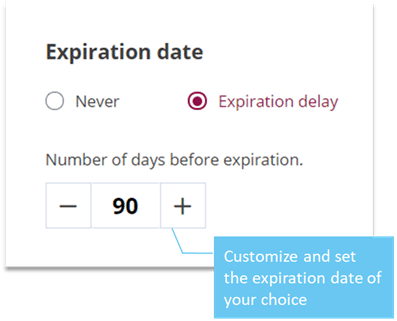 Access the list of all expired teams in Powell Teams admin reports and make the modifications you need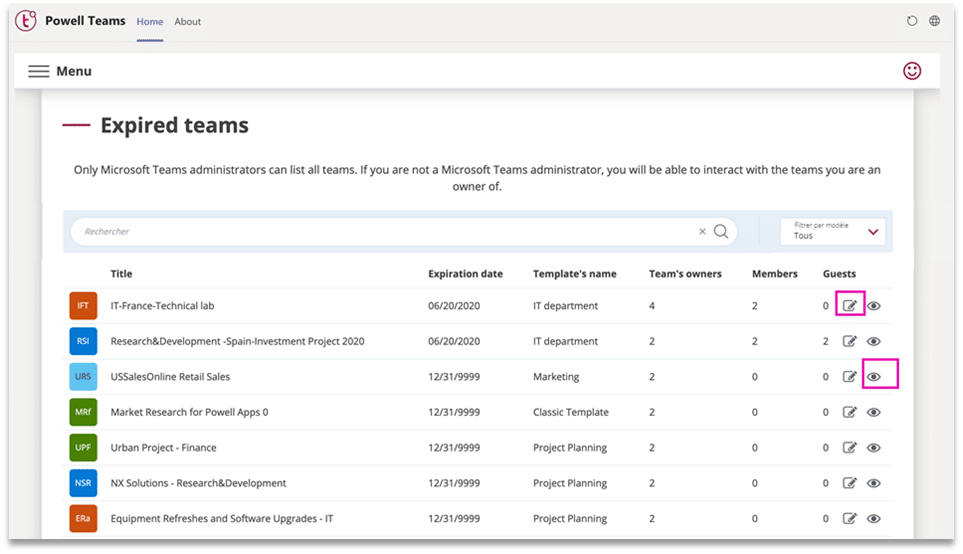 Take advantage of automated Teams lifecycle management processes
Managing the Teams lifecycle doesn't need to be a manual process. Powell Teams is a platform that enhances your organization's Teams experience with predefined processes for lifecycle management, including built-in naming templates and governance tools. Schedule a demo to find out how easy it is to automate your company's Teams lifecycle.