Regain control on Microsoft Teams
& Improve User Experience
Enhanced Collaboration Tools
& Teams Governance
Powell Teams improves teamwork in Microsoft Teams to make it a collaboration experience that's effortless, easy to manage and govern.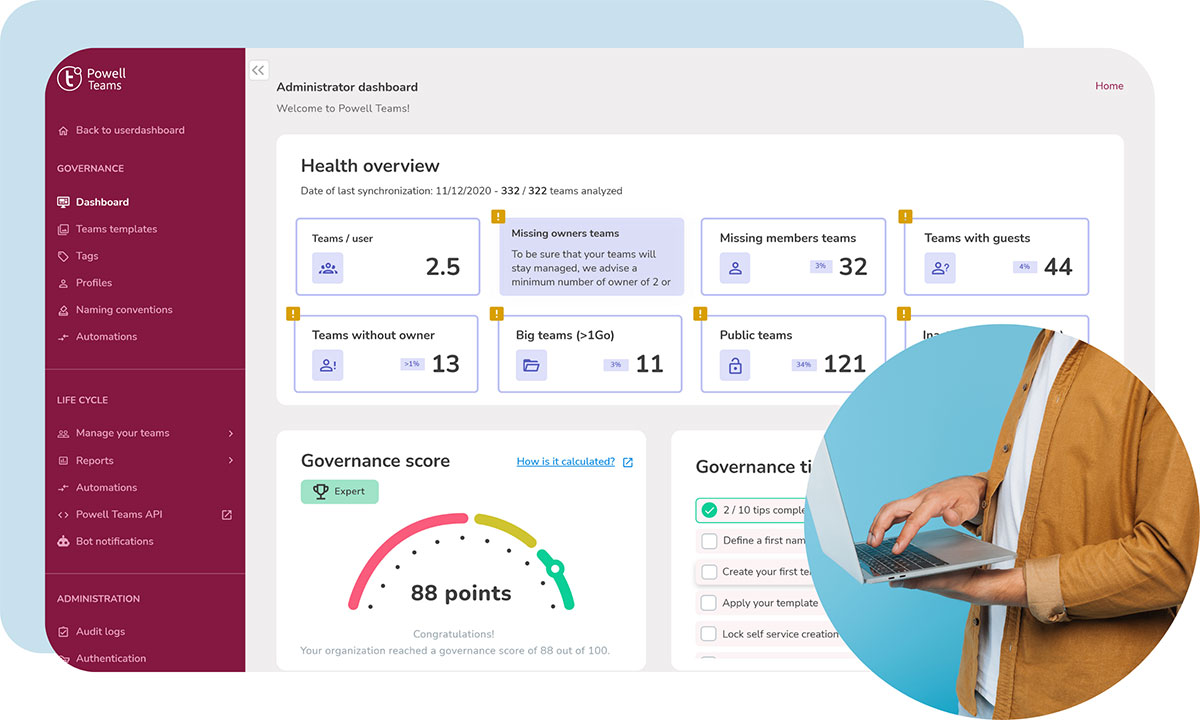 For IT 
IT teams loves Powell Teams for its governance framework to secure best practices, and for its administration dashboard to control teams creation and manage life cycle.
For Employees
Enhance employees experience with a dashboard to quickly find teams, a Virtual Coffee Machine, ready-to-go team templates and simplified navigation.
Divide by 2 ​harmful teams
​
Divide by 3 ​the number of teams created per employee
80% less time on lifecycle management
Find teams in 3 clicks​
Microsoft Teams under control
Prevent Teams sprawl, security breaches and bad habits forming. Manage Microsoft Teams life cycle from creation to end-of-life.
TEAMS GOVERNANCE & LIFECYCLE MANAGEMENT
Ready-to-set governance
All the IT rules you need to implement are in there. Choose and apply predefined strategies and policies to secure your Microsoft Teams environment and its best practices.
Life cycle management
Manage existing teams through an admin dashboard that includes a governance score, advanced reports and guiding tips to take quick and efficient actions.​Reduce unnecessary teams and non-compliant teams by 2 and save 80% of your time through automation.​
Controlled Team Creation
Easily approve all Teams. Let users create the Teams they need and get them approved by a Powell Admin to overcome Teams sprawl.
Organized Teamwork
Don't let employees get lost in information overload. Simplify navigation and search to quickly find what they are looking for.
USER DASHBOARD
Find Teams & Channels
Overcome information overload with a smartuser dashboard. Filter your Teams and navigate easily to quickly find it.
 Find Information & Documents
Give employees quick access to the latest information and documents through Team cards and a powerful search engine.
Effortless Collaboration
Efficient collaboration starts with simplicity. Collaborate instantly and effortlessly on collective and repetitive tasks with ready-to-use team templates.
TEAMS CREATION
Teams Templates
Powell Teams offers a catalog of predefined, preconfigured and customizable templates to collaborate instantly on tasks like Projects management, Sales RFPs or new employee onboarding. Easily create a Team that's predefined, preconfigured, and preloaded with everything you need.
  Automation
Powell Teams simplifies collaboration and can even get things done for you. Automatically create Teams on receipt of an email or through an action triggered in a business application like the CRM.
Works with Your Company Intranet
Get direct access to corporate resources and information with your intranet in Teams. Drive employee engagement and productivity.
YOUR INTRANET IN TEAMS
Bridged Intranet
Take advantage of Microsoft Teams user-centricity and incorporate your company intranet in Teams to better connect employees. Build smart bridges to quickly access corporate resources and information, boosting productivity and engagement.
Discover what you can do with Powell Teams
IT teams appreciate Powell Teams for governance and lifecycle management, employees and HR love our social and collaboration tools
Virtual Coffee Machine & Water Fountain Cooler
Stay social in the hybrid workplace with the Virtual Coffee Machine. Bring people together in Teams at a time that suits everyone, with minimal planning. Allow teams that wouldn't usually meet to gather and share social moments. Get the Microsoft Teams coffee break app you've been searching for.
Worried that teams will have nothing to talk about? We've got you covered. The Water Fountain Cooler suggests topics for conversation and is accessible in your channel during a coffee call.
How it works:
Add the Virtual Coffee Machine to the Teams channel
Choose the days and times for the coffee break
Channel members are randomly assigned to a break at a time that suits their calendar
Animate conversation with suggested topics from the Water Fountain Cooler
Bring remote teams together from around the world, Powell Teams does the planning for you
Remote Employee Onboarding
Onboarding new hires who have never stepped foot in the office is a challenge for HR managers, but one which can be overcome with Powell Software templates for your intranet and Teams.
Intranet templates allow admins to easily create a dedicated HR space that regroups all the information employees need in their first few days. When your company is scaling quickly, onboarding new hires fast is critical.
What you can do:
Create a dedicated onboarding space in the intranet with all the information newcomers need
Create a private Microsoft Team linked to the intranet
Connect HR, the newcomer, their manager, and buddy in a Team
Provide new hires with everything they need to get started
Sales RFPs
Requests for Proposals (RFP) are a common sales process involving intense collaboration between sales, technical, and legal teams to identify the right opportunities and win business. It's also time-sensitive and repetitive!
Save time and take the complexity out of the Sales RFP process with Powell Software templates.
What you can do:
Automatically trigger an RFP Team on receipt of an email
Integrate the sales intranet into Microsoft Teams
Manage opportunities in a dedicated channel
Set up automatic approvals
Access a preconfigured task plan
See Powell Teams In Action
Get started today!
Interested in learning more about Powell Teams? Contact us for a demo and start improving your Microsoft Teams experience now.
Resources
Latest articles & downloadable content

Teamwork and collaboration is a winning formula.
Get the guide and foster collective success.
Download the whitepaper and learn: 
Benefits of and barriers to teamwork & collaboration
Best practices to fostering a culture that encourages people to work together
Collaboration tools to facilitate and enhance teamwork

Retaining customers and enabling communication with Microsoft 365
Opaa! Food Management specializes in serving the nutritional needs of 250,000 K-12 school-children in the Midwest, USA. Founded in 1978, Opaa remains a family-owned business that has expanded to employ over 3,500 staff. When Opaa! realized their on-premises, email reliant workflows were not scaling with company growth they decided to leverage the power of Microsoft 365 cloud technologies.
Improve your employees experience with Powell Software's digital workplace