Powell Teams: Microsoft 365 Governance for Smarter Collaboration
Elevate your Microsoft Teams management
and boost user experience
Advanced collaboration tools & Microsoft Teams governance for cutting-edge collaboration
Powell Teams improves teamwork in Microsoft Teams to make it a collaborative experience that's effortless and easy to manage and govern.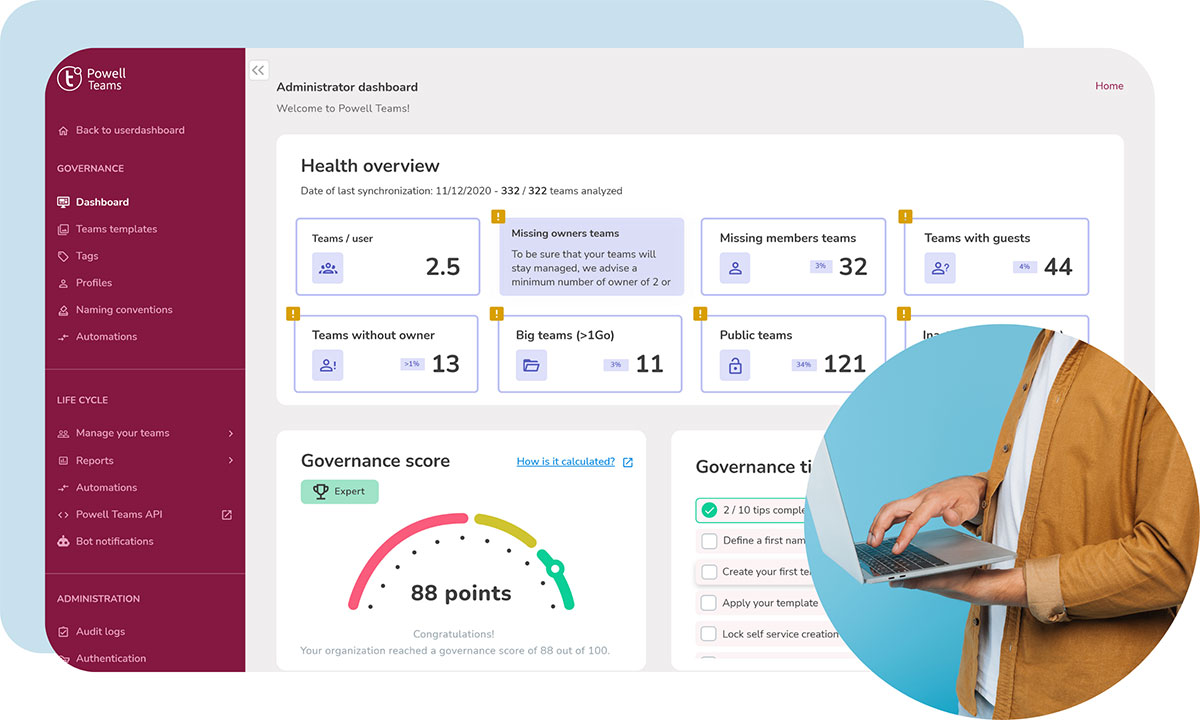 For IT 
Powell Teams' governance framework and administration dashboard make it the go-to for IT teams looking to secure best practices, control Teams sprawl, and manage life cycles.
For Employees
Boost employee productivity and experience with Powell Teams' team dashboard to quickly find teams, a Virtual Coffee Machine, ready-to-go team templates, and streamlined navigation.
Cut ​harmful teams in half
​
Divide the number of teams created per employee by 3
Shrink lifecycle management time by 80%
Find teams in just 3 clicks​
Keep Microsoft Teams in check
Ensure proper Microsoft Teams management to prevent Teams sprawl, security breaches, and bad habits while managing the entire Teams life cycle.
Microsoft Teams governance & lifecycle management
Ready-to-set governance
Simplify IT rules implementation for secure Microsoft Teams management with our predefined templates and policies.
Manage the Teams lifecycle 
Optimize team management with an administration dashboard that includes a governance score, advanced reports, guiding tips, and automation for reducing non-compliant and unnecessary teams, saving 80% of your time.
Control sprawl
Effortlessly manage Team creation and prevent sprawl with our user-friendly approval system for all teams.
Customized policies and classifications
Set custom policies and classifications with team templates to meet your specific business needs or regulatory requirements.
All-in-one monitoring
Monitor suspicious activity through a single dashboard with best-in-class practices, scanning historical data, and controlling access to sensitive information.
Time-saving automation
Manage Microsoft Teams, and M365 features through a single platform, free up administrators with bot-driven remediation, alerts for team owners, and automate complex tasks using Powell Teams API & Power Automate.
Simple and organized Teamwork
Prevent information overload with simplified navigation and search functionalities that enable quick and easy access to the right information.
USER DASHBOARD
Find Teams & Channels
Tackle information overload head-on with a smart dashboard that simplifies filtering and navigation, allowing you to easily find the team or channel you need in only 3 clicks.
 Find Information & Documents
Boost employee productivity with fast access to the latest information and documents, made possible by Team cards and a robust search engine.
Effortless Collaboration in Teams
Simplify collaboration and increase efficiency with ready-to-use team templates that enable instant and effortless collaboration on collective and repetitive tasks.
TEAMS CREATION
Microsoft Teams Templates
Collaborate instantly on projects, sales RFPs, and new employee onboarding with Powell Teams' catalog of predefined, preconfigured, and customizable templates. With everything you need preloaded, creating a Team is easy and efficient.
  Automation
Automate Team creation with Powell Teams for simpler collaboration via email or business application triggers, even with your 3rd party CRM or ERP, like Salesforce, Dynamic 365, ServiceNow or SAP
Works with Your Company Intranet
Maximize productivity and engagement with direct access to corporate resources and information through your Teams intranet, streamlining collaboration and facilitating greater efficiency.
YOUR INTRANET IN TEAMS
Bridged Intranet
Take advantage of Microsoft Teams user-centricity and incorporate your company intranet in Teams to better connect employees. Build smart bridges to quickly access corporate resources and information, boosting productivity and engagement.
Discover what you can do with Powell Teams
Enjoy the best of both worlds with Powell Teams, which provides IT teams with governance and lifecycle management features, while employees and HR benefit from our social and collaboration tools.
Virtual Coffee Machine & Water Fountain Cooler
Stay social in the hybrid workplace with the Virtual Coffee Machine. Bring people together in Teams at a time that suits everyone, with minimal planning. Allow teams that wouldn't usually meet to gather and share social moments. Get the Microsoft Teams coffee break app you've been searching for.
Worried that teams will have nothing to talk about? We've got you covered. The Water Fountain Cooler suggests topics for conversation and is accessible in your channel during a coffee call.
How it works:
Add the Virtual Coffee Machine to the Teams channel
Choose the days and times for the coffee break
Channel members are randomly assigned to a break at a time that suits their calendar
Animate conversation with suggested topics from the Water Fountain Cooler
Bring remote teams together from around the world, Powell Teams does the planning for you
Remote Employee Onboarding
Onboarding new hires who have never stepped foot in the office is a challenge for HR managers, but one which can be overcome with Powell Software templates for your intranet and Teams.
Intranet templates allow admins to easily create a dedicated HR space that regroups all the information employees need in their first few days. When your company is scaling quickly, onboarding new hires fast is critical.
What you can do:
Create a dedicated onboarding space in the intranet with all the information newcomers need
Create a private Microsoft Team linked to the intranet
Connect HR, the newcomer, their manager, and buddy in a Team
Provide new hires with everything they need to get started
Sales RFPs
Requests for Proposals (RFP) are a common sales process involving intense collaboration between sales, technical, and legal teams to identify the right opportunities and win business. It's also time-sensitive and repetitive!
Save time and take the complexity out of the Sales RFP process with Powell Software templates.
What you can do:
Automatically trigger an RFP Team on receipt of an email
Integrate the sales intranet into Microsoft Teams
Manage opportunities in a dedicated channel
Set up automatic approvals
Access a preconfigured task plan
See Powell Teams In Action
Get started today!
Interested in learning more about Powell Teams? Contact us for a demo and start improving your Microsoft Teams experience now.
[FAQs]
You've got questions. We've got answers.
Governance in Microsoft Teams refers to the process of managing and controlling how teams are created, used, and maintained within an organization. This includes setting up policies and procedures, defining roles and permissions, and monitoring usage to ensure compliance with organizational guidelines and best practices. Proper governance helps ensure the security and privacy of sensitive information, promotes efficient collaboration, and reduces data loss or misuse risks.
A Microsoft Teams governance solution can provide various benefits, including:
Enhanced security and compliance by setting up policies, roles, and permissions to control access to sensitive information.
Improved collaboration and productivity by providing ready-to-use, customizable templates tailored to specific roles and requirements.
Streamlined administration and management through a centralized platform, saving time and effort for IT and SecOps teams.
Better visibility and control over team usage, with monitoring and reporting tools to identify suspicious activity and ensure compliance with best practices.
Integration with Microsoft 365 services (Planner, OneNote, Power BI) and third-party tools, enabling a comprehensive and efficient collaboration environment.
Microsoft Teams' native console is not enough to handle organizations' governance and lifecycle management challenges while using it for day-to-day work. According to a Gartner study, the increase of collaboration spaces in Microsoft Teams, SharePoint, and other Microsoft solutions puts organizations at risk of compliance issues, poor user experience, and increased storage costs in SharePoint. Gartner acknowledges that various mature solutions today significantly expand the capabilities natively offered by Microsoft 365, including Powell Teams. Powell Teams provides a comprehensive solution to the problem of Teams sprawl, enabling IT teams to maintain control while giving end users the flexibility of self-service.
Microsoft Teams governance solutions provide heightened security and compliance, improved collaboration with role-specific templates, streamlined administration, increased visibility and control over team usage, and seamless integration with Microsoft 365 services and third-party tools, resulting in a more efficient and comprehensive collaboration environment.
Resources
Latest articles & downloadable content

Teamwork and collaboration is a winning formula.
Get the guide and foster collective success.
Download the whitepaper and learn: 
Benefits of and barriers to teamwork & collaboration
Best practices to fostering a culture that encourages people to work together
Collaboration tools to facilitate and enhance teamwork

Retaining customers and enabling communication with Microsoft 365
Opaa! Food Management specializes in serving the nutritional needs of 250,000 K-12 school-children in the Midwest, USA. Founded in 1978, Opaa remains a family-owned business that has expanded to employ over 3,500 staff. When Opaa! realized their on-premises, email reliant workflows were not scaling with company growth they decided to leverage the power of Microsoft 365 cloud technologies.
Improve your employees experience with Powell Software's digital workplace