The importance of defining a Teams governance strategy
Governance strategies can be user-led or IT-led. For an IT Department, setting a governance policy for Teams is essential to ensure that content access, and shareability is properly controlled and secured.
Yet with the sudden adoption of Microsoft Teams by millions, many organizations neglected governance and now face an uncontrolled sprawl of teams. With over 115 million daily active users, organizations have an overload of Teams and a lack of organization leaving IT and users lost in a haze of workspaces, messages, and documents.
From a user perspective, having rules set by the organization helps employees to work without worrying about risks. It also enables them to easily create the workspaces they need that meet their expectations. Finally, it helps them to quickly find, access, and share the relevant information and documents they are looking for and working on.
Setting a Teams governance policy helps IT departments to solve and prevent information overload and end-users to simplify their digital workplace experience.
Want to know more about Powell Teams' ability to manage team governance and why it's critical to implement specific policies for Microsoft Teams in your Digital Workplace? Contact us for a demo.
10 common Teams governance best practices every organization should implement
Despite each Microsoft Teams governance strategy being unique and based on organizational structures, there are common governance best practices that everyone should consider. Setting these allows for enhanced security and a better user experience.
The following is a list of the most common Teams governance rules everyone should implement and includes examples of how Powell Teams can help through team templates and admin configurations.
1.      Tagging policy
Applying a tagging policy across the whole organization is key to overcoming Team sprawl and information overload. Organizations can use it to significantly improve navigation and search and allow employees to quickly find their teams.
Several tags can be set:
Location – assign a location, so users can focus on Teams from the country they are in.
Department – associate the Team to a department (HR, Finance, Marketing…).
Shared with – employees are often lost when it comes to knowing which documents can be shared internally or externally with partners or customers. Tags can solve this problem.
Tasks – working smarter starts by working faster. Filtering teams using a tasks tag will allow employees to get fast access to their daily tasks. For example, an HR Manager could filter an Onboarding Team to follow a newcomer's integration.
How Admins can set a tagging policy in Powell Teams

Users are guided and must fill in tags during Team creation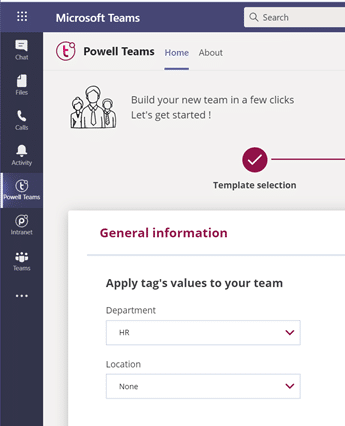 Results for the end-user experience
2.      Define a naming-convention
Defining a naming convention is essential to provide a uniform experience across the entire company. It will help to structure the digital workplace with a common layout and experience.
To create yours, identify the key characteristics you would like to use. For example, attributes such as location, department, or task.
Users set Teams name with an applied naming convention policy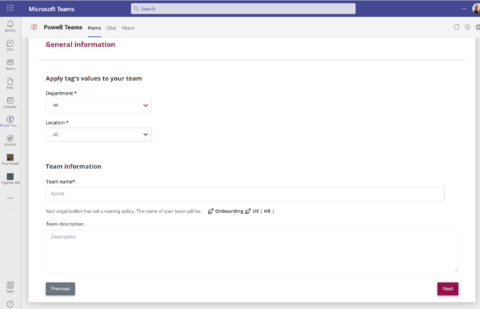 Results in end-user experience
3.      Secure ownership
It has happened to everyone, a Team owner leaving without assigning another owner to the Team resulting in management issues for users and IT. It can also result in a duplication of teams. Securing ownership will help to better manage Teams and secure their lifecycle.
In Microsoft Teams, ownership can be set with a user profile, a distribution list, or a security group. It can also include users outside your organization as guests using their email addresses.
Here are three ways to manage ownership
Setting a minimum owner's policy, for example, requiring a minimum of three.
Defining role-based default ownership – if using a Powell Template department representatives can be automatically added as owners. For example, HR onboarding would integrate an HR Manager).
Set default owners.
How Admins Can define an ownership policy in Powell Teams

Users are guided and asked to add the minimum number of members required
End-user experience – as an HR Manager, Linda is a default owner in the onboarding team
4.      Set a minimum number of users policy
Following the logic of ownership, a minimum number of users required is a simple way to avoid feeding the Team sprawl. It also ensures that users only create Teams for specific collaboration scenarios.
Define the number of users of your choice and apply the policy to each Team creation
How Admins can require a minimum number of members policy in Powell Teams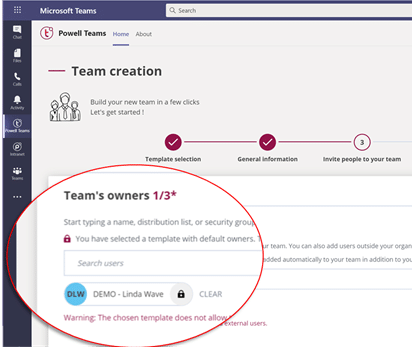 Users are guided and asked to add the minimum number of members required


5.      Automate a Privacy Policy
Controlling the Microsoft Team workplace is key to ensuring that information accessibility and shareability are secured. The privacy option in Teams lets users choose whether they want to create a public or a private Team. An automated privacy policy can be applied to Team templates so that IT is safe, and users do not have to worry about their choices.
How Admins can choose a privacy policy in Powell Teams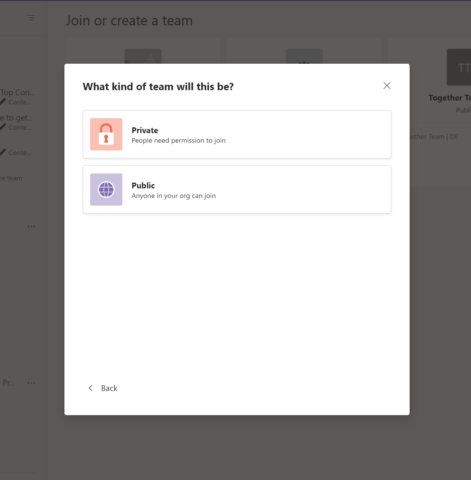 What users see when they create teams through Powell Teams templates

6.      Set Teams security classification
Setting a team classification is a best practice to ensure data security and to limit its useability, accessibility, and shareability depending on its information impact level.
How Admins can set a classification policy in Powell Teams

7.      Decide who can create Teams
Deciding who can create Teams is a best practice to control the number of Teams created in the Microsoft 365 environment. It can be achieved through Team templates which ensure that users focus their Team creation based on their roles and daily tasks.
Admins interface policy settings

8.      Set a Team creation approval workflow
One of the major Teams governance challenges is that, by default, every employee can create new Teams. While some believe that this will improve user adoption, it has led to significant Team sprawl and duplication.
One way to overcome this problem is to set an automatic approval workflow for each Team creation. The Team can then be approved by an IT admin or a Digital Champion.
End-user team creation experience in Powell Teams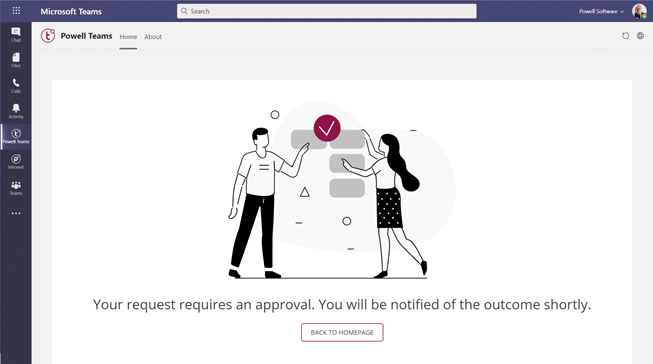 What Admins will see to approve teams creation in Powell Teams

9.      Control external access
Employees also collaborate externally with partners and customers. So preventing access and data leaks in the workplace is a major IT concern. Setting an external user policy helps secure this by allowing employees the ability to add, or not to add, external access to the Teams they create.
How Admins could set this policy with Powell Teams

10. Set an expiration date (automate lifecycle)
Organizations with a large number of Teams often have Teams that are never actually used. This can happen for several reasons including product experimentation, short-term team collaboration, or Team owners leaving the organization. Over time, such Teams can accumulate and create a burden on tenant resources.
To curb the number of unused Teams, admins have to manage the Teams lifecycle.
How Admins could manage Teams lifecycle with Powell Teams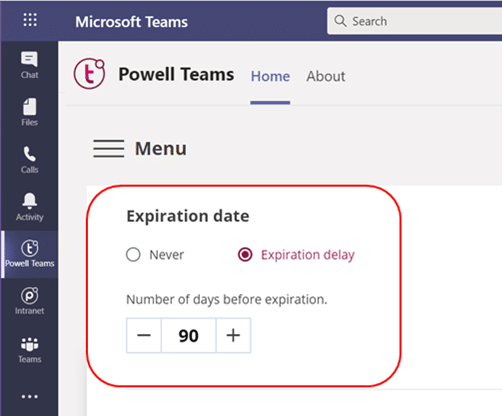 If you want to know more about Powell Teams' ability to manage Governance and why it's critical to implement specific policies for Microsoft Teams in your Digital Workplace – contact us for a demo.