However, COVID led to a major shift in remote working. When the pandemic forced many national economies into a near-total shutdown, triggering mandatory stay-at-home orders across the globe, companies found themselves with no choice but to transition to a digital workplace – often with just hours or days to prepare. Experts now say that the crisis was the turning point companies needed to fully appreciate remote working as the new way to do business. While it's not the end of the office it is the beginning of a new way of working.
That being said, this transition from the traditional workplace to the home office hasn't been without challenges, especially for those companies and employees who didn't already have experience working from home. But even though most companies have now had time to prepare, there are still some remote work tips companies can put into place to make remote working easier and more efficient for everyone.
The challenges of remote working
Whether working remotely is a long-term plan for your company or just a temporary solution, the adjustment period can introduce hurdles for everyone involved. Here are some of the challenges impacting employee productivity you might notice managing remote teams:
Staying connected
In many ways, remote work allows employees to stay connected better than ever. This is thanks to the many forms of communication available through the digital workplace, such as instant messaging, video conferencing, and project-specific threads.
But those who work from home might feel like they're missing out on the meaningful connections that come from working in a shared office. Science tells us that many nonverbal components of in-person communication are essential to building trust and conveying emotion. In fact, one researcher found that 93% of all communication is nonverbal. To give one example, a study by Harvard and the University of Chicago found that business negotiations resulted in better outcomes when the parties involved shook hands.
On the other end of the spectrum, some remote work employees might feel like they're staying too connected. It's hard to draw the line between work and home life when both activities take place in the same space. This can lead to stress and burnout if emails, instant messages, and other communications are coming in at all hours of the day.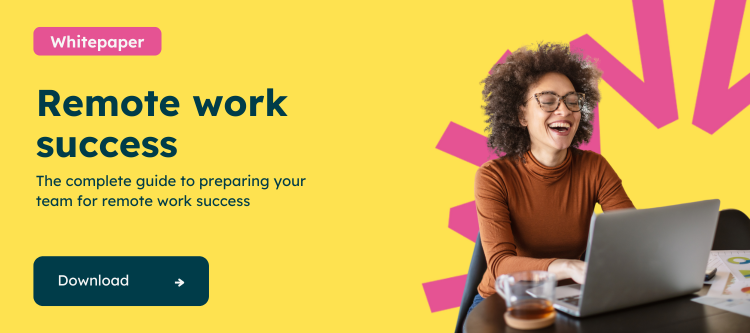 Collaborating effectively
Learning new ways of communication also creates challenges for a remote working team in collaborating effectively. The Harvard Business Review identifies three types of distance to overcome in order to improve collaboration among a remote team: physical, operational, and affinity. Physical distance, of course, refers to the geography and time between team members, while operational distance is used to describe varying team sizes and capabilities. Distance of affinity is related to values and trust.
Between these three types of distance, you may notice that employees have a more challenging time than usual collaborating on projects. This can be overcome with the right systems and protocols, which we'll get into in a little bit.
Locating the right information
One major benefit of a virtual workspace is that it allows you to compile all company information, documents, and communication in one place. However, as time goes on, the company grows, and new information is added every day, the sheer volume of items to sift through can make it extremely difficult for remote workers to find what they need when they need it.
How can you ensure that your remote workforce will be able to locate the right information? It all hinges on establishing governance policies early in the process. These organizational protocols will make sure that all new information is added in a strategic way where it can be accessed again by anyone who needs it.
Managing security
Your company's proprietary data and information is its greatest asset. When your organization works out of a physical location, it's easy to contain private materials within office walls. But remote working takes this information out into the world, severely limiting the control you have over every device used by remote teams.
Security features are one of the most important things to look for in remote working tools. Employees who work from home should have protocols in place in case their devices are lost or stolen, especially when these devices frequently leave the home office and are carried to places like public transportation, cafes, and coworking spaces.
Remote work tips: Making the home office solution work
Now that we understand the challenges of remote working, we can begin to address the different solutions that can help overcome them. Here are remote working tips you can put into place right away to make teleworking more successful:
Tip #1: Choose the right tools
Our number one remote work tip is to invest in the right digital tools. Remote working tools are your greatest asset in overcoming the challenges associated with work from home. The right remote work solution will have built-in features that make managing communication, collaboration, and security simple, even for those without any IT training. They should also be accessible to everyone regardless of their digital dexterity level.
Different communications tools allow your team to collaborate via instant message, voice or video call, and even directly on project-specific documents. This gives you flexibility in choosing the most efficient type of communication for each scenario. For example, team meetings that would typically take place in person can easily be conducted via video call, allowing members to visualize and communicate with each other as if they were in the same room. On the other hand, less urgent messages can be posted in a group chat for members to respond to at their convenience.
Tip #2: Stick to a schedule
In an office, you most likely have a general schedule that most employees stick to: arrive at 9:00 AM, take an hour lunch break around noon or 1:00 PM, and leave for the day at 6:00 PM. Different teams may have daily or weekly meetings scheduled at set times, or specific blocks of time in their calendar dedicated to separate tasks throughout the day.
A great tip for remote working is to implement some structure. While remote working allows employees more flexibility in creating a schedule that works best for them and their work-life balance, sticking to some form of a schedule is still a good idea to help create a structure for those who work from home. As an idea, you might designate a certain window of working hours during the day when all employees in a team need to be online and available to answer calls or messages.
When creating a schedule for your remote team, make sure to keep it minimal and limit it to items that are absolutely necessary. Too much scheduling is likely to make your remote employees feel micromanaged and take away from the benefits of working from a home office. Of course, make sure you're clear in setting expectations for all employees involved.
Tip #3: Facilitate company culture
Office camaraderie and leadership demonstrated values both play an important role in company culture.  Once your company shifts to remote working, there are many ways to continue to facilitate and develop great remote work culture.
The experience employees get when accessing your virtual workplace are a major part of bringing company culture into the home office. Customizing your corporate portal with a company logo and color scheme is a great way to make the digital workplace feel like a physical one. You can also take advantage of widgets to display company updates and messages directly from leadership, providing encouragement and reinforcing company-wide goals.
How you use your remote working tools also makes an impact on company culture. During the coronavirus pandemic, for example, many teams have used group video calls to host company-wide coffee breaks or virtual happy hours that would normally be held in the office. You can also designate channels in communication tools like Microsoft Teams to the off-topic discussion, giving employees a place to bond over personal anecdotes, shared interests, or even funny memes. Your remote working tools could also offer hot-desking or flex-desk booking so employees have the option to work remotely, in-office or hybrid.
Tip #4: Communicate, communicate, communicate
As your company continues to embrace remote working, we have one final remote work tip: communicate. Remote work communication is critical. Check-in regularly with your team, asking for updates on how work from home is going for them. Dedicate time to gathering suggestions and implementing new policies based on the feedback you get. Recreate water cooler chats. Don't be afraid of over-communicating; it's far better to communicate too much than too little.
At the end of the day, remote working is all about putting the employee first. The efficiency of your work from home initiative is linked directly to the satisfaction of the employees involved. By having the right tools and structure in place, you'll provide your team with the resources they need to communicate and do their job more efficiently.
The 2020s have been a catalyst for remote work, and many organizations are now making the switch to remote full time. We've put together this comprehensive guide to help you make the move to remote work a success.