The new remote work environment
While the ongoing pandemic continues, there is doubt over how long full remote work will last. However, it seems near-certain that hybrid work will become a long-term strategy for many companies. A hybrid work model gives employees flexibility in where they work from and usually means employees spend some days in the office and others working from home.
This part-remote set-up relies on having digital tools and a remote work solution so when employees are away from the office they can stay connected and productive.
The question however arises of how to make sure this digital space, the digital workplace, is inclusive of all employees? How can HR improve the employee experience,  build the company's culture, values, and mission?
Without addressing these points, a digital divide can form, between those who have access to information, who are always connected to the ''heart of decision-making'' and others. To bridge the divide organizations must provide a space that facilities: remote and in-office employees, those with high and low levels of digital dexterity, and extroverted and introverted personalities.
Staying connected for day-to-day work
No matter where employees are working from, video calls have become an essential tool, necessary for completing daily tasks. Yet, the use of tools like Microsoft Teams shouldn't be limited to video. It is a powerful platform where projects progress, documents are worked on in real-time and social moments are shared.
Yet collaboration tools aren't a full remote work solution and they don't replace the traditional digital workplace or the corporate intranet portal, which remains the go-to communication platform. This is where information and documents are stored and made available to employees.
Now more than ever, remote work requires a digital workplace that incorporates both communication and collaboration accessible to employees from anywhere. Teams and the intranet don't compete but rather complement and offer employees a full suite of remote work solutions that suit different needs.
Finding the right information with the right tool
Productivity is too often hindered by lengthy searches for information. Employees spend too much time looking for the right version of a document, meeting minutes, and more.
Remote workers, in particular, need a homogeneous digital workplace based on a single infrastructure with a search capability supported by artificial intelligence.
A digital workplace built on Microsoft 365, like Powell Intranet, makes it possible to search for documents, whether they have been shared in Teams or on the intranet since they are ultimately stored in the same Office 365 environment.
The digital portal also needs to be where employees can access applications, something that is becoming easier as most are based in the cloud and have an API interface that allows them to be integrated natively. This also favors the cross-referencing of data, avoiding information silos.
Digitalizing daily processes for remote teams
Being able to collaborate remotely, communicate important information and interconnect business applications are the first steps in allowing companies to digitize business processes, especially the most repetitive tasks.
A good example of this is the onboarding of new employees. Since many employers have gone remote, trying to welcome new employees and integrate them into the company has to be done remotely. With Powell Software remote onboarding template, HR can create a private area within Teams for newcomers to connect with their team, ask everyday questions, and follow an action plan set out by HR. It also creates a space in the intranet for access to online training and administrative documents.
Another example is the management of requests for proposals by the sales teams. With the Powell Software Sales RFP template, a sales manager can systematize the creation of a Team every time they receive a customer RFP. This will enable them to ensure the sales team responding to the RFP has the documents they need, access to the CRM, and a space to collaborate and co-construct a personalized response.
Company culture, sense of belonging
HR and internal communications teams can help create a feeling of belonging within a digital portal through gamification which encourages participation and the emergence of collective intelligence.
This involves, for example, earning points and badges for participation. Powell Softwares employee advocacy templates reward employees for sharing content created by the marketing team on their personal social networks.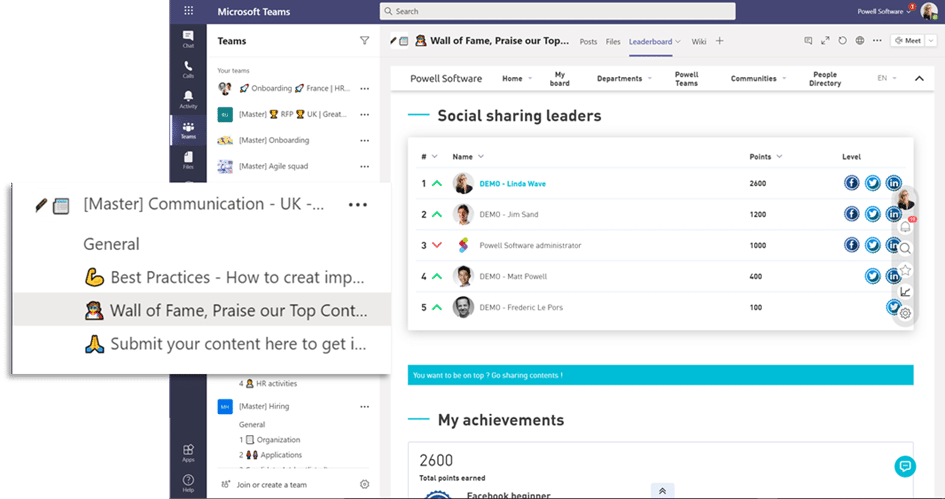 Keeping motivated, recreating social moments
Beyond employee productivity, companies need to make sure the chosen remote work solutions support employees' mental and digital wellbeing. Employees need to feel a sense of belonging and team spirit. This should be supported at several levels: by HR and internal communication within the digital portal, but also by each team leader. In the digital environment, this involves recreating some of the social moments from the office to strengthen team bonds. Moments like the coffee break are universally missed by remote employees.
To break the monotony of online meetings, applications in the digital workplace like Powell Software's Virtual Coffee Machine help managers organize meetings within Microsoft Teams that leave room for serendipity: an algorithm forms small groups according to people's availability and the Water Fountain Cooler suggests topics.
Adding digital wellbeing and social aspects to the digital workplace contributes to the fight against stress ("I am not able to achieve what is expected of me") and isolation ("I have become a machine, I no longer have social interactions with my colleagues") felt by some employees with telework in recent months.
Create an inclusive digital workplace
The digital workplace is an essential part of the workday for remote "information workers", i.e. those who work mainly behind a laptop. However, field teams shouldn't be left out i.e. the employees who are on the front line, meeting customers in front, or on an assembly line.
These employees, who do not have an assigned professional PC, also need to feel a sense of belonging, access information, and feel part of the company culture.
To include these workers, companies can now make their digital workplace available from a smartphone within a dedicated mobile app, like Powell Apps. Field workers will have access to company news, important events, documents, and online training in their pocket and can even be notified in case of an emergency. Having an app also means remote workers can be more mobile.
Including all employees also means not forgetting those who are less comfortable with digital tools. The digital workplace should be accessible from all channels: Teams, the browser, or a mobile phone.
Geographical diversity
A flexible hybrid workplace means that companies are no longer restricted by geographical location in hiring criteria. HR can now recruit talent on the basis of its suitability for the position without geographical limits, thereby promoting diversity in hiring. Since the company provides a complete remote work solution, employees don't have to live a few kilometers away from the company site.
It also helps retain talent who may want to move out of the region or to an area where the cost of living is cheaper.
Diversity of profiles
The digital workplace, which combines varied communication channels and agile collaboration, allows everyone to access key company information, express themselves, and propose innovative solutions to transform the organization's products or processes: it promotes collective intelligence, made possible only by encouraging diverse profiles to express themselves outside the company's traditional channels and by "breaking silos". More and more organizations are thus setting up innovation programs or hackathons in their digital space where each employee is led to propose their own ideas and develop them with colleagues.
Conclusion
The digital workplace has become the ultimate remote work solution. Yet, it's clear its capabilities stretch beyond those working from home or at a desk. Embracing a hybrid or remote workplace necessitates flexibility. So the digital workplace should embrace and facilitate this flexibility by being available to every type of employee across various types of roles.
Powell Softwares digital workplace is hybrid and remote work-ready. We provide communication, collaboration, and engagement tools to connect employees wherever and however they work.
If you're interested in making the move to remote work more permanent we've put together a guide covering everything you need to consider. Make your remote or hybrid environment a success from the start.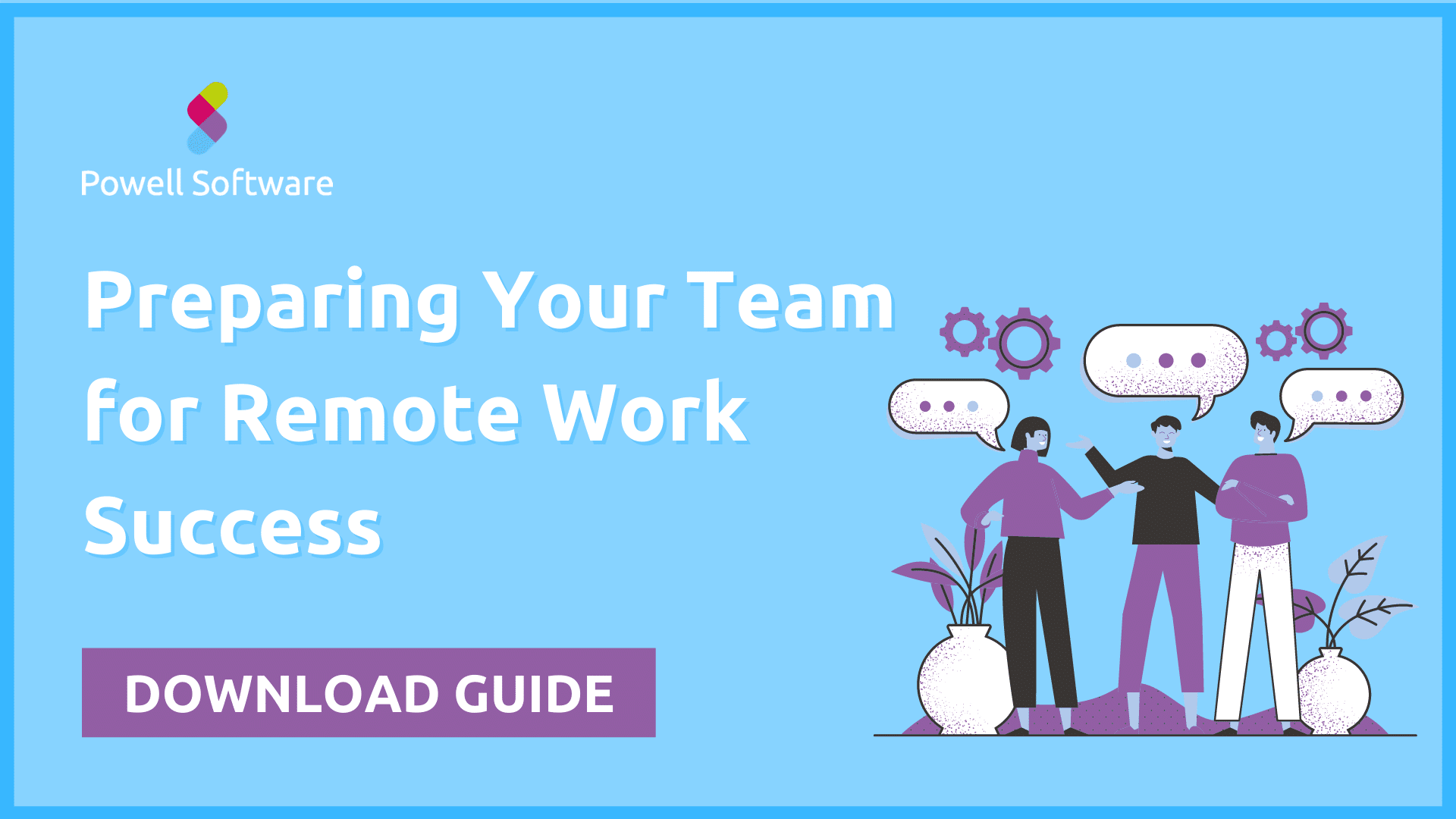 Written by Matthieu Silbermann