What is employee productivity?
The Covid-19 crisis started a revolution in how people work, and its impact will be felt for years. Measures adopted as a short-term coping mechanism for the pandemic have changed the future of work. In many ways, these changes are for the better, such as the shift to remote or hybrid work. Now that employees and organizations have discovered its benefits, they are determined to continue.
However, for this to be a long-term change, decision-makers need to see measurable effects, an important one being improved productivity.
Definition of employee productivity
Employee productivity is a measure of employee output. It's often confused with efficiency but there is a crucial difference:
 'Effectiveness is how much effort an employee puts in, whereas productivity is how much work is completed.' (BizFluent)

Definition of hybrid working

A hybrid workplace is one in which employees have the option to work physically in an office or remotely from wherever they want. It's a relatively new term and not strictly defined. So it will be up to organizations to implement guidelines. However, generally speaking, it means giving employees flexibility in where they work.

Does research support hybrid work productivity?

The employee productivity debate infiltrates every discussion around the hybrid workplace. One question always comes up: Are in-office or remote workers more productive?

The mass move to remote work has been a blessing in disguise for this debate, providing a huge subject pool and research opportunities. While a pandemic is not the ideal time to measure employee productivity, it has allowed people to test working from home. So which do the statistics favor; remote or in-office employees?

Employee Productivity Key Figures

A study by the BCGfound that 75% of employees surveyed from across three countries considered their working from home productivity equal to pre-pandemic productivity.
CoSo Cloudsimilarly found 77% of respondents reported greater productivity working from home.
Atlassianreports 76% of people avoid going into the office when they have something they need to get done.

There are strong indicators to suggest that remote and hybrid work help employee productivity. However, at the end of the day, some employees are more productive at home, others in the office. In both cases, employee productivity can be improved by identifying the challenges each are facing and providing the right tools to overcome them.
What are the productivity challenges facing remote workers?
For employees to work and be productive, certain steps must be taken. Beyond noisy neighbors and barking dogs, remote workers face obstacles that organizations can help overcome with a few fundamental changes.
Challenge: Unclear rules and processes
Guidelines for in-office workers have existed for decades. While in many organizations, remote work guidelines were created only a few months ago. Work-from-home policies adopted at the beginning of the crisis have naturally had less time to develop. This impacts workforce productivity, as nobody can be expected to be at their best if they don't know what is required.
Solution: Develop guidelines and store them on your intranet
Employees must know when they are expected to be available and through what mediums. There should be clear rules and processes so employees know who to report to and for what. Communication channels should be clearly defined; for example, outline when to use Yammer over Teams, or email instead of chat. Providing remote work tips and guidelines will overcome confusion and allow employees to focus on the task.
Communicate these guidelines and best practices to employees somewhere they will see them. A SharePoint intranet is a perfect remote work solution to ensure top-down communications get to employees. An effective intranet will store important remote work guidelines, highlight updates to employees and act as a centralized document management system.
Challenge: Outdated employee success measurements
Gone are the days when employee productivity was measured by the number of hours employees sat at their desks. The hybrid workplace is more flexible, so appraisal processes should recognize this.
Solution: Update employee KPIs
Measuring performance and productivity by tasks completed, targets reached, or goals met provides much better insight into productivity.
Challenge: Not having the right tools
The biggest challenge impacting both in-office and work-from-home productivity is not having the right digital tools. As employees continue to split their time between the office and home, they will need to be able to collaborate and receive communications. Just as a painter needs a brush, your employees need a digital workplace.
Solution: A complete digital workplace
The most crucial tool employees need in a hybrid workplace is a digital workplace. Somewhere, both remote and in-office employees can collaborate and communicate to work effectively. However, putting too many new tools in front of employees will only confuse them and can actually decrease employee productivity. It can also cause extra struggles for those with low digital dexterity. The key is to have a digital workplace that bridges collaboration and communication tools and makes them accessible from one location. It's no wonder, improved productivity is one of the key benefits of SharePoint.
An intranet informs and engages employees by providing a space where they can receive company news, apply for internal job postings, access guidelines on hybrid work, easily view colleagues' profiles, and much more. Both remote and in-office workers need this information but may want to access the portal differently. Remote employees should be able to access the intranet on their mobile devices from anywhere.
Why are organizations going hybrid?
In a study by Buffer, 99% of respondents said they would like to work at least some of the time remotely for the rest of their careers.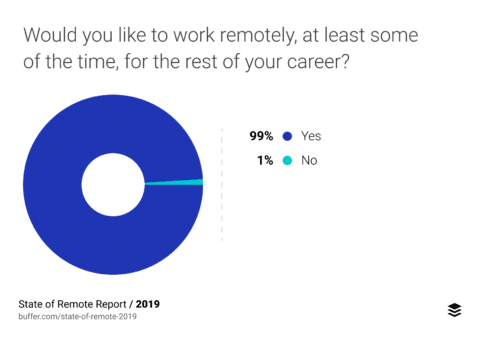 There are many reasons organizations may want to switch to the hybrid workplace model, some are linked to the pandemic, and others are more long-term.
Employee Safety
Social distancing, a term unknown in 2019, has become an important part of working life to safeguard employees.  Ensuring a 6-foot gap between staff members affects office organization. The result is that employees have to alternate the days they are in the office. Booking desk space in advance can help document who is in and ensure everyone has a workspace. Hot desking, like with the FlexDesk widget from Powell Intranet, provides safety and is key to the hybrid workplace.
Flexibility
Before 2020, physical offices were the go-to workplace. There was a presumption that workers needed to be in the office to be productive. This way of thinking doesn't accommodate different types of employees and doesn't consider working style and personal situations. In fact, over 40% of employees want to work remotely more often. Why? 91% want a better work-life balance, 79% want increased productivity. Employees also want less stress and office drama. Some have childcare responsibilities or disabilities. Beyond employee productivity, hybrid work takes a more holistic view of employee needs and wellbeing. It's also a good compromise for those that fear full remote and the 'end of the office'.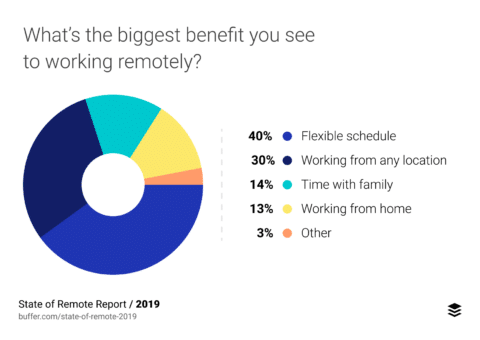 The Complete Guide to Preparing your Team for Remote Work Success
Whether you decide to make the move to full remote or choose a hybrid work set, we've put together a guide to help ensure long-term success. Download the complete guide to remote work success and help employees be productive wherever they work from.