The 100% Partner-Driven Approach at Powell Software
At Powell Software, from day one, we strategically chose to be fully "Partner Driven." This partnership strategy of Powell Software is embedded in our company's DNA, underlining our belief that collaboration and mutual support are vital to succeed in today's market. As a software publisher, we rely on our service partners to support our mutual clients throughout the deployment and utilization of our solutions.
By collaborating closely with our partner ecosystem, we can offer innovative and complementary solutions that cater to our clients' advanced and specific needs. We take pride in our ecosystem, which boasts over 80 active partners representing over 750 certified employees worldwide.
Our 80 partners come from diverse backgrounds: from global partners with rapid and powerful scaling capabilities to local, boutique partners with in-depth expertise, as well as service companies, managed service providers, consulting firms, and resellers. This diversity signifies the richness of our ecosystem.
A Vital Partner Program for Powell Software
Here's why establishing a coherent and effective partner program is paramount for Powell Software:
Access to New Market Opportunities: Collaborating with partners possessing local expertise and presence allows us to penetrate new markets and expand our client base, which currently includes over 500 organizations of various sizes. Our geographical footprint has grown due to our partners' offices in Australia, Germany, France, North America, and MEA. Thanks to this collaboration, 50% of our revenue now comes from abroad.
Enhancing Customer Satisfaction: Offering cutting-edge, customizable solutions based on Microsoft technologies allows us to meet our clients' expectations and provide an optimal experience, making the digital workplace a central platform for employees worldwide.
Reducing Acquisition and Sales Costs: Collaborating with partners enables us to pool resources and efforts, decreasing customer acquisition costs and enhancing profitability.
Company Growth: This strong and structured partnership strategy of Powell Software lets us expand our business and meet our growth objectives.
Opportunities and Advantages for Our Partners
By associating with Powell Software, partners can unlock myriad opportunities and receive support to grow and bolster their businesses. Joining Powell Software's global partner network introduces new revenue streams centered on the Digital Workplace. Powell Software's mission is to connect employees in the hybrid workplace. Together, partners and Powell Software can achieve this goal more efficiently.
One of the main benefits for partners lies in the added value provided by Powell Software's solutions. By offering innovative and efficient products, partners can deliver genuine value to their clients, solidifying their market position.
This partnership also presents lucrative opportunities for a direct and indirect positive impact on the partner's outcomes. Combining strengths, both partners and Powell Software can create synergies, resulting in mutual growth and success. For every €1 of Powell licenses sold, our service partners generate an average of €3.5 in additional services (Proof of concept, deployment, managed services, user training…)
Pillars of an Effective Partnership Program
To ensure the effectiveness and profitability of our partner program, we lean on several fundamental principles:
Communication and Transparency: To build long-term trust.

"There's genuine mutual trust between our companies. We've succeeded in creating intimacy between Powell Software's technical and sales teams and Talan. To ensure the success of a project, it's essential to nurture this closeness with the partner." – TALAN, Fernande Meftah (Alliances Manager)

Listening and Feedback Integration: To shape our strategy.

"This partnership is founded on mutual trust. It's not just words. It's crucial to discuss both successes and challenges. By communicating transparently and openly, we lead our teams towards greater joint successes." – EXPERTIME, Dominique Darras (Consultant Manager)

Adaptability and Flexibility: To foster unique relationships with each partner based on their specific needs.

"The success of our collaboration stems from a privileged relationship we maintain with Powell Software, marked by the efficiency and responsiveness of their marketing, technical, and sales teams. Together, we form a strong duo to address our clients' projects." – NEOS SDI, Julien Gey (Consultant Manager)
"There was excellent synergy between our technical teams and Powell Software's sales teams. Powell Software clearly stands out as a high-value solution." – CLARANET, Matthieu Vany (Microsoft 365 Practice Lead)

Support and Mentorship: To assist our partners in their growth and help them reach their goals.

"Working with Powell is about collaboration and support, always aiming for the best solution for our clients." – NET AT WORK, Dirk Schmidtpott (Sales Director)
"We bring our knowledge of context and the trust our clients place in us, which we couple with Powell Software's expertise and perspective. Hand in hand, with a trusting relationship, both parties contribute genuine added value in responsiveness and complementarity." – MOCA by ASI, Arthur Mallison (Consultant Manager)
We firmly believe that the success of our company hinges on developing and strengthening the partnership strategy of Powell Software. Through our partnership program and the support of robust platforms, we can offer innovative solutions and maximize our relationships for the benefit of our clients and partners.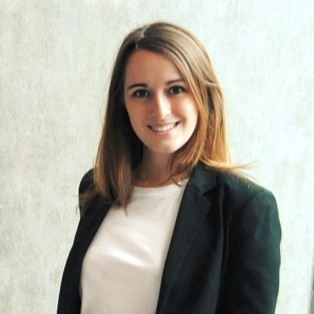 Mathilde Plas
Global Channel Program Lead