A digital transformation journey that began with an intranet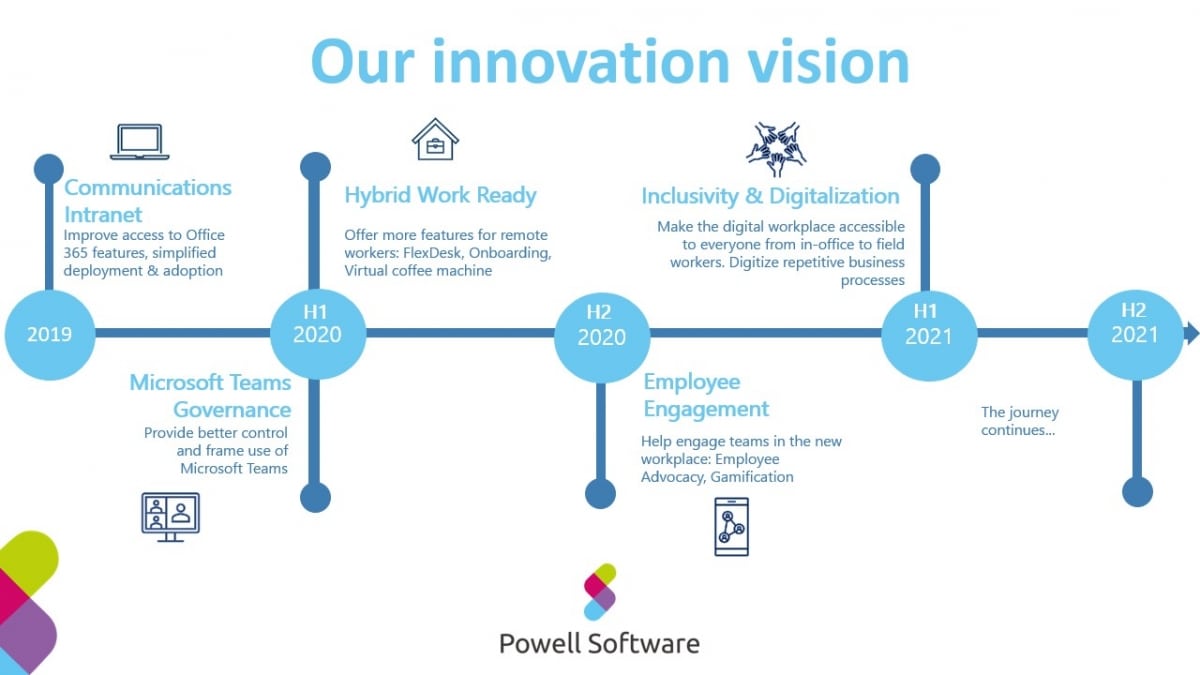 In 2019, our customers trusted us for our ability to deploy a dedicated corporate intranet that improved access to Office 365 features: simplifying deployment for IT teams and adoption for employees and contributors. Powell Intranet has continued to evolve with more and more capabilities added over time. Our intranet solution now leverages your Microsoft 365 investment to the maximum.
Stopping the sprawl with Microsoft Teams governance
At the end of 2019, we decided to integrate Microsoft Teams into our offering and create a governance solution. We sensed that Teams would become a must-have tool but its potential for sprawl meant it needed to have better control and its use framed for both IT teams and users.  We have seen a real need for solutions to simplify the management of Teams and their lifecycle. With over 135 million daily active users worldwide workers across the globe are creating new Teams daily and for large organizations, the sheer number can grow out of control. Powell Teams was designed to simplify governance for IT, improve the end-user experience and enhance collaboration.
Adapting to the hybrid workplace
The pandemic in 2020 pushed us to offer functionalities adapted to hybrid work: an office reservation functionality with Flex Desk, an application for onboarding new employees, and another for gathering employees for a virtual coffee break. These new functionalities are designed to improve the employee experience whether employees are in the office or working remotely. Flex Desk allows hybrid employees to book their desks in advance for hot-desking, controlling staff presence, and social distancing. Remote onboarding templates help HR create the best first impression for new joiners who often start their job remotely. The Virtual Coffee Machine, and now the Water Fountain Cooler, further bring employees together for the social moments' remote workers miss from the office.
1 – Engaging employees in the future of work
Our clients, and in particular Comms, HR and Digital Departments told us of their need to engage their teams in this new working environment which is here to stay. So we designed an employee advocacy module in the digital workplace for sharing articles on social networks. The demand for a social link, especially when working remotely, led us to propose "Gamification" programs that encourage employee participation in the company's activities by rewarding them with points, and a place on the leaderboard.
2 – Including every employee in the digital workplace
In 2021, our clients also told us that we needed to include every employee, not just those with PCs who use digital tools all day, but also field teams. They asked us to make sure that access to the company's communications, sense of belonging and corporate culture was available to all. That's why we now offer access to the digital workplace to everyone, even frontline workers who are equipped with just a mobile phone.
3 – Digitizing business processes for better collaboration
The perpetuation of remote working has accelerated the need to digitize business processes and optimize repetitive activities requiring advanced collaboration. We have therefore improved the use of Microsoft Teams with a gallery of ready-to-use business scenarios such as the management of Sales RFPs, marketing activities, and projects in general. Aware that these scenarios require applications beyond Microsoft 365, we opened our digital workplace with APIs to automate the collection of information and the management of our models from third-party applications such as ServiceNow, Workday, Dynamics, or Salesforce.
Our innovation journey continues
Our ambition is to support our customers by constantly enriching our solutions with new features adapted to the requirements of the future of work. Every year we are adapting our digital workplace solutions, updating our technology to support organization and employee needs. Our platform embodies an ambitious vision of putting technology truly at the service of companies, their employees, and their partners.
Written by Jean-Pierre Vimard, COO at Powell Software – first published on Linkedin
Want to work with us? Whether you're a customer looking for a digital workplace solution or a partner looking to join our journey, our team would be happy to connect and discuss your project. Contact us.