From conversations, the Powell Software team has realized that there is one thing nearly all employees miss from being in a physical workspace, the coffee machine chats. With the Virtual Coffee Machine and the Water Fountain, Powell Software is bringing this moment to the digital workplace. 
More than just an opportunity to get a caffeine fix, the conversations that happen during a coffee break are key moments in the workday. Humans are social creatures who crave interaction, discussions, and connection. While employees are at home, their coffee machine might be closer but colleagues and moments to connect can feel out of reach.  
A long term move to remote work and the opportunity to reinvent the workplace
During the first lockdowns, employers were forced to introduce remote work fast and swift decisions were made to protect employees' physical health and safety. Months on and many organizations are choosing to make the move to remote more permanent. Yet with all the benefits this offers, there is one serious concern, employees' mental and digital wellbeing.  
Matthieu Silbermann, Chief Product Officer at Powell Software says: "The effects of the Pandemic have reshaped the Digital Workplace and research has found that three–quarters of employers intend to shift some employees to remote work permanently. However, with one in five remote employees naming loneliness as their top complaint regarding work from home, reinforcing togetherness needs to be a top priority." 
Loneliness and a sense of isolation can be damaging to anyone's mental health, but when employees also have a pandemic to deal with, the effect is even worse. Combatting these feelings starts with bringing people together, safely for a few moments a day or a week. Employers need to create a space and opportunity for people to converse and focus on something other than work for a short time.  
With employee wellbeing at the top of the global workforce agenda for 2021, Powell Software's Virtual Coffee Machine positively connects employees through virtual chats to maintain a culture of togetherness, even when apart.  
Powell 
Software's
 Virtual Coffee Machine
To bring the in-person coffee chat online, Powell Software's Virtual Coffee Machine feature lets HR or admins set up coffee breaks directly within Microsoft Teams. In only a few minutes, the Team admin can set up a regular coffee machine chat that brings together colleagues at a time that suits everyone. People are randomly assigned to a coffee chat depending on their availability. For example, if the Virtual Coffee Machine meeting criteria were set at a maximum of five people and ten people are available to join then two meeting invitations would be sent.  This means that the chance encounters that normally happen at a coffee machine, can also happen online. Of course, if the time doesn't suit users can easily decline the invite and join another time.  
The Virtual Coffee Machine is designed to bring together small groups of people, to allow real conversation. However, it also avoids creating a one on one meeting, which some employees might find awkward. The focus is on creating short social breaks where employees can take time out to engage with colleagues in a positive digital space.  Colleagues can also 'travel' virtually to visit their colleagues in different virtual offices across their organization. 
When joining a coffee chat, employees don't know who else will be there, just like when they go to the office coffee machine. This helps remote workers meet new people that they wouldn't get a chance to talk to otherwise.  
See the Virtual Coffee Machine in action. 
Using the Digital Workplace to Improve the Remote Employee Experience 
Silbermann continues – "Powell Software is passionate about connecting employees to their organization and each other, ensuring that they have a positive and stimulating experience at work, every day.Remote workers need to be connected, they need to feel part of the company, the culture and feel able to socialize in the hybrid or remote workplace. 

"Powell's new Virtual Coffee Machine app is all about the employee. We all miss the little social moments at the office, whether they be at the coffee machine or the cold water fountain. Coffee Machine allows us to progressively see our workplaces positively come to life again in a virtual way, promoting connectivity, collaboration, and employee wellbeing. It's part of a bigger goal and series of initiatives to bring the virtual building to life."
Never be Stuck for Conversation Topics with the Water Fountain from Powell Software
The Virtual Coffee Machine gathers colleagues for coffee but if the conversation starts to run a little dry, we've got a solution. With the Water Fountain, we give you all the conversation starters you need to really engage with colleagues. Simply pick a topic and the Water Fountain suggests a question sure to get people talking. 
Fear of awkward silences can put some people off joining a coffee call with co-workers from various departments. Others will join and instantly turn to work subjects that don't provide a real social break people need. Then there are those who want to chat with colleagues but hesitate to join a live call because they're new or work in a different time zone which means they're not available during everyone else's workday.  
How does the Water Fountain work?
Powell Software's Water Fountain forms part of our Virtual Building for the digital workplace. It can be added as a page to Powell Intranet and then simply integrated as a tab in Microsoft Teams.  
Employees can interact with the conversation topics by liking, adding comments, and starting conversations.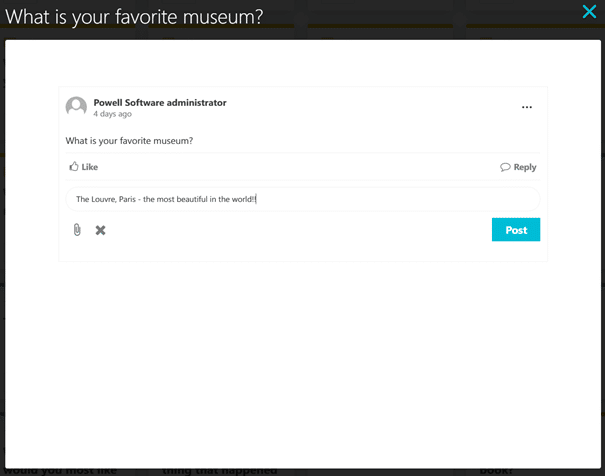 During a Virtual Coffee, the Water Fountain Cooler can be instantly added into the call to get people talking about a chosen or randomly selected topic.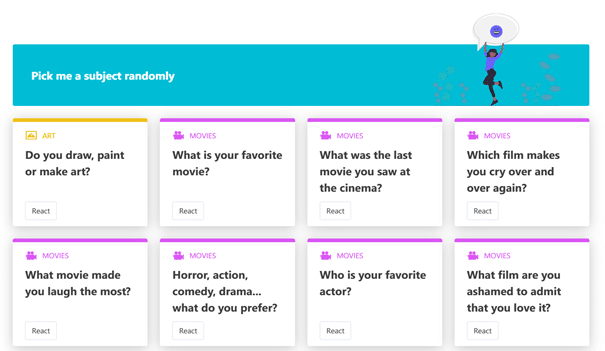 A digital workplace should be inclusive and social, to encourage engagement, participation and build a collaborative teamwork culture. The Virtual Coffee Machine and Water Fountain from Powell Software are designed to bring people together, get people talking and create an environment where everyone can be involved. Technology like the digital workplace is powerful and is a great productivity tool, but its potential goes much deeper.  
The Virtual Building has the employee experience at its heart and is designed for the flexible hybrid workplace that is here for the long term. 
To learn more about how Powell Software can help you improve the employee experience with the Virtual Coffee Machine and Water Fountain, talk to our team today. Organize a demo to understand how Powell Software can help your organization build better connections. 
Powell Software in the Media
These publications are talking about Powell Softwares new virtual coffee machine and water fountain cooler: