Microsoft Teams: Governance Rules for every Organization
Many organizations often implement Microsoft Teams successfully, but not necessarily in the best way. Organizations should define governance controls for managing the lifecycle of teams, as well as security controls to manage capabilities, control access, restrict guest access, and control privacy. In this eBook, we discuss the key to a successful Microsoft Teams implementation, the two processes that companies need to focus on: governance and the lifecycle management of teams as well as security controls organizations must consider and implement. 
Governance versus Lifecycle Management
Governance within Microsoft Teams comes down to protecting your content by controlling and regulating what your end-users can and cannot do within their teams. While lifecycle management for teams covers creating teams and channels, followed by the controls needed for managing the team during the active phase, and lastly, a team's retention, deletion, and archiving. It is crucial to understand that both Governance and Lifecycle Management are required to manage a team environment of any size successfully. Though they both seem to overlap, they are independent processes that cover specific areas and different parts of the timeline of a team.  
We also explore in great detail the core Microsoft Teams Governance controls as well as the questions to ask about team usage and the organization, which will dictate the controls, policies, and rules you need to create. Some of the controls mentioned in the eBook are naming conventions, classification, and guest access. 
When determining which controls to implement, you need to ask specific questions about team usage and the organization. Some example questions could be:  
Do you require a naming convention for all teams? 

 

Do you need the ability to assign classifications to teams?

 

Do you need to provide team expiration? 

 

Do you need to restrict guest access to teams? 

 

Do you need to restrict guest access to teams? 

 

Do you require controlling who creates teams? 

 

Do you need approval for team creation?

 
The answer to these and similar questions will dictate the controls, policies, and rules you need to create. Remember that these controls are not just for security but also for better use and management. A few rules and key benefits are highlighted below.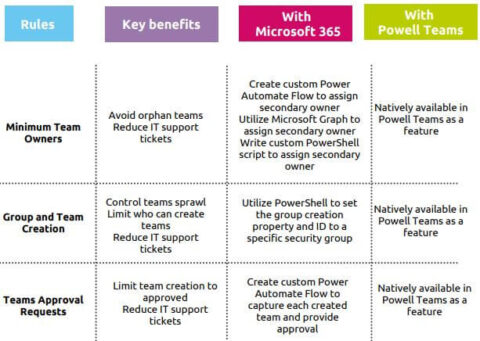 Understanding Microsoft Teams Security
Governance and security controls are required to monitor Microsoft Teams appropriately. 
The second part of the eBook focuses on the core security features of Microsoft Teams. 
Microsoft Teams security is Microsoft 365 security. Multiple services combine to provide core services, including security, instant messaging, audio and video calling, online meetings, and extensive web conferencing capabilities when provisioning a team. In this section, we discuss the tool(s), skill(s), and effort required to implement different security controls: guests users' access, access reviews, sensitivity labels, and entitlement management for Microsoft Teams.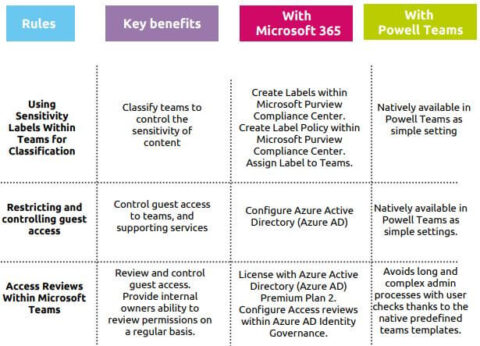 Conclusion
When looking at a few of the core governance rules and policies required for better control and management, some exist, and others need extra effort or even custom development. However, just because the features aren't native does not mean you ignore them and do not use them.  
In the second part of the eBook, when looking at core security capabilities, it becomes evident that Teams rely heavily on supporting technologies to provide the highest security. You will need to spend time and money to utilize these features to get the best protection required for Microsoft Teams. An advantage to using them, though, is that the features are not Teams specific as they span nearly all services within Microsoft 365, so an investment in these capabilities will help with the more comprehensive Microsoft 365 services you utilize.  
Download the eBook below for more insights and get the most out of your investment in Microsoft Teams. 
About the Author – Liam Cleary
Liam began his career as a trainer of all things computer-related. He quickly realized that programming, breaking, and hacking were much more fun. Liam spent the next few years working within core infrastructure and security services. He is the founder and owner of SharePlicity, a consulting company that focuses on Microsoft 365 and Azure technology. His role within SharePlicity is to help organizations implement Microsoft 365 and Azure technology to enhance internal and external collaboration, document and records management, automate business processes, and implement security controls and protection.