Why are Microsoft Teams new features focused on wellbeing?
Before the mass move to remote work, we could never have imagined missing long commutes or the many in-office meetings. We took casual coffee chats and endless conversational opportunities for granted. Microsoft is now trying to bring back some of these daily routines and make them virtual. Many companies have already been trying to replicate some normal events, like staff meetings using Microsoft Teams video calls.
So far it has been a growing success. Employees meet and work together easily even when spread around the world. Microsoft has now recognized that employees are facing new and sometimes increased stress as they transition to remote or hybrid work. They want to incorporate well-being practices into the workday and not as ''afterthought''. Although our understanding and use of digital tools is growing, people want new features to be easily accessible from one place. We want to create the in-office experience at home, using the digital tools we've grown to rely on. Giving employees the wellbeing tools they need in the app they already use, is likely to improve adoption. Hence, Microsoft Teams' newest features.
What exactly are Microsoft Teams new features, and when are they coming?
The announcements of these new Teams features were made at Microsoft Ignite 2020 and will form part of the new Microsoft Teams insights. While personal productivity insights will be available from October, we'll have to wait until 2021 for the well-being features. Employees and HR teams will surely welcome these Microsoft Teams updates as they integrate a softer side to the already powerful app. The insights will focus not just on how much work employees get done but on helping them do it better. Microsoft recognizes that the key to productivity is acknowledging that employee needs are vast and changing in the current work world.
The Virtual Commute
Lots of people are choosing to work remotely from home, so their commute has never been shorter. However, for many, the move from one room to another isn't enough of a kickstart to get them into work mode. Leaving behind home life when your desk is only steps from your sofa can be challenging. Microsoft has also found that people are working longer hours, starting earlier, finishing later, and continuing over weekends. Switching from work to home life seems to be increasingly difficult.
The experience of getting in your car or hopping on public transport is becoming something people want to recreate, but not necessarily in the way you'd think. It's not the crowded metro or traffic that workers want to replicate, but the extra few minutes of downtime which allow employees to transition from 'work' to 'home'. The physical journey gives us space to prepare for the day ahead or look back on what we have done, and it's an important part of our day. Employees can leave behind one world and mentally move into the other.
Maybe it's time we recognize that the time saved in not commuting could be better spent doing something else beneficial. This is why Microsoft is giving users the option of a virtual commute. But how will they create it, and is the idea as wild as it sounds? Microsoft Teams' new feature will allow employees to 'schedule' a commute from the new insights feature. What will this commute involve? End-of-day reminders, emotional check-ins, and mindfulness are some of the creative ideas Microsoft Teams' new features will implement.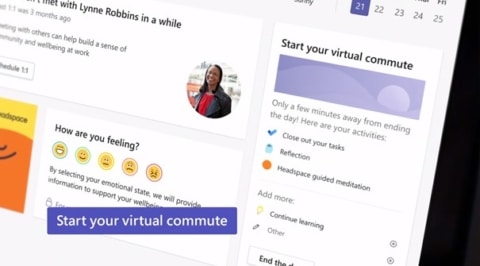 Mindfulness and Mental Wellbeing
Burnout, overwhelm, and stress. The mental charge of the workday can have serious impacts on the physical and mental well-being of employees. This has only increased since March 2020. In one study, 29% of respondents reported experiencing negative impacts on their mental health since the Covid crisis and working from home began.
There are many ways for organizations to look after employees' mental and digital well-being like virtual coffee chats, check-ins, and helpful internal communications. Still, it's always useful to provide nudges encouraging employees to check in with themselves. Headspace, an app already used around the world to teach people mindfulness, is now coming to Teams. This will allow employees to check in and carve out a few moments of mindfulness practice in their day.
Grab a Coffee in a Virtual Coffee Shops
Virtual coffee chats have taken off over the last few months. With people encouraged to limit social interactions, we needed to adapt. Humans are social creatures who crave interaction and caffeine! This Microsoft Teams update is going to take things a step further in combining the two. After users push for the roll-out of virtual backgrounds and together mode in Microsoft Teams, the addition of fake coffee shops backgrounds will be widely welcomed!
Need help gathering colleagues in Teams for a coffee break? Powell Softwares Virtual Coffee Machine for Microsoft Teams automatically gathers colleagues from across the organization for a casual coffee chat. The Water Fountain helps animate the conversation to avoid any awkward silences. Discover the Virtual Coffee Machine.
How to ensure employees adopt these new Microsoft Teams features
These new features from Microsoft are a welcome addition that will help organizations as they move into hybrid work as a long-term solution. However, they require buy-in from employees, and employees will only use new Microsoft Teams features if they are already using Teams in their daily work. Encouraging Microsoft Teams adoption is something that organizations can get on top of with proper planning. It's a powerful tool but requires governance.
As employees start to use Teams more and more, it is important to ensure your company has some control. The endless creation of new teams with no rules or limits can become problematic. If users can create a new team for every new project, with no governance, you may face issues down the line with duplicated or redundant teams. Managing the Teams lifecycle from the beginning is crucial.
When there are hundreds of teams within an organization with no governance, users won't know where to find the one they're looking for. They might become afraid to post in any, in fear of using the wrong one. If your Microsoft Teams descends into confusion and stress, well-being features will be lost on employees.
Powell Teams is a Microsoft Teams add-on that provides governance features for IT and improves the end-user experience. With the Powell Teams app, users get an easy-to-use homepage allowing them to find their favourite teams and view the latest key information. IT can put in place governance, control the creation and life cycle of teams, and secure best practices using guided templates.
To learn how Powell Teams can help your organization make the most of your Microsoft Teams, schedule a demo today. Our team will guide you through our solutions for digital workplace success.