POWELL INTRANET
FlexDesk for mobile
We have prepared a dedicated view for an optimized experience of FlexDesk on mobile devices. It fits all your screens no matter the size.
New seasonal themes
We make applying seasonal themes on the Powell Intranet even easier to bring more fun to your workspace. They are available now from a drop-down menu pre-loaded by Powell Software directly on the front page.
Must Read
Our Must Read feature on the intranet aims to make sure the content shared throughout the portal does not go unnoticed by employees. With the "Must Read" capability, you can highpoint important company news and documents. In addition to highlighting & pushing content as "must read" on the intranet, you will now also have the option to export on CSV the list of people who read the content. We also prepared a dedicated "Policies" template as a possible use of the "must-read" capabilities.
Find out about our "must read" capability through a short video.
Ensuring Employees Read Mandatory Content in Your Intranet | Powell Intranet
If you want to go deeper, read our article on HOW TO AVOID INFORMATION OVERLOAD & ENSURE STAFF READ INTRANET CONTENT.
Improved image web part
We have optimized our "Image Map" web part, and now it is even easier to define clickable overlays on images to redirect your users to specific content.
POWELL TEAMS

We offer you a free Health Check of your MS Teams environment, which includes a free trial of Powell Teams (14 days) and 2 free working sessions with our experts.
With this free Teams Health check:
Discover where you are with Teams sprawl
Get your Governance score and perform quick wins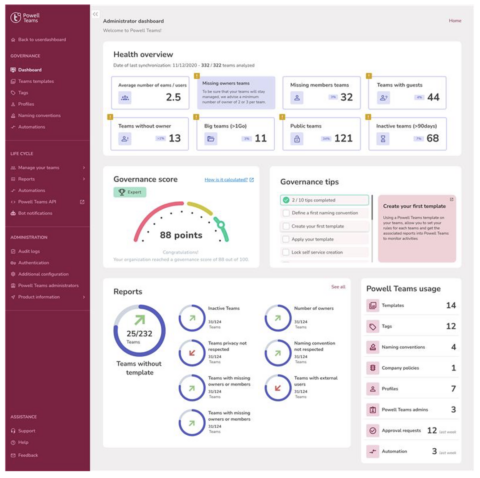 Get full details about the Microsoft Teams Health check through the article: MICROSOFT TEAMS HEALTH CHECK POWERED BY POWELL TEAMS ADMIN DASHBOARD
And a webinar: [ON-DEMAND WEBINAR] TEAMS HEALTH CHECK: UNDERSTAND HOW TO KEEP YOUR MICROSOFT TEAMS UNDER CONTRO