Employees are drowning in documents
With the sheer volume of information being shared these days, employees can easily miss key documents such as company policies and regulations. They often claim they have not received the information, or they do not know where to find it. It's not surprising employees feel overwhelmed.
The role of the Communications and HR managers is to ensure that employees read critical documents shared throughout the intranet. However, with such a large amount of information, if they don't have a way to separate critical reading from other corporate communications on the intranet, they may have a hard time doing so. Even the capabilities of SharePoint document management are not enough to solve the problem. For this reason, companies need a way to highlight "must-read" content on the intranet to keep employees informed and aware of current policies and procedures.
Our solution to simplify information sharing in the digital workplace
Easy access to relevant information for employees
The key to overcoming information overload is a better content management system (also called an intranet CMS) and the ability to highlight important internal communications.
With Powell Intranet, HR and Comms no longer need to worry about employees receiving or reading important company policies. Powell Intranet provides employees with simplified and convenient access to key information through a dedicated company policy page that consolidates all mandatory/must-read content in one place. Any company-wide communications, regulatory and compliance information, or anything you believe is critical to your business can be posted here.
Employees can access policy articles and documents provided by Comms, HR, or any other stakeholder. The content is organized very simply. When employees visit the page, they will find unread content (policy articles and policy documents) on the left and all other recent policies on the right. With the "preferences" button, employees can filter the content according to a specific department. For example, if employees want to access policies tagged with "HR," they just need to click the button. By default, audience targeting filters content according to an employee's role. So, someone in the Sales department will see corporate policies and sales documents.
By ensuring employees received targeted content and can easily differentiate the importance of documents, information anxiety is reduced.  Ease of access to information also helps improve productivity.
Simplified content management for admins
Not only do employees stay happy, but HR and Comms have a much easier job.
Powell Intranet makes it easy to create and highlight "must-read" internal communications on the intranet. Managers can access a dedicated policy administration page to create policy articles and documents with just a few clicks. As they create content, they can publish it to a standard company policy page that all employees can access. An added value of the policy admin page is the ability to track how the shared content is consumed. The "readings" icon visible on policy articles and documents shows a list of employees who have read the content.
Powell Intranet has powerful communication capabilities that provide intranet administrators with multiple ways to view and display content. A dedicated company policy page allows administrators to centralize key reading on one page. However, you don't have to limit yourself. As an admin, you can display company policies on any other page on the intranet – for example, on the Human Resources or Communications pages. Even on the user's personal board.
Our powerful features allow you to configure your web parts in many ways and easily. You have many options. You can decide whether to use statistics for published content, decide whether policies should disappear from pages after employees read them, and more.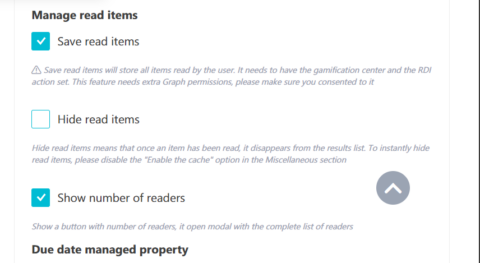 Goodbye information overload, hello quality information sharing
Keep your employees updated with important company policies and procedures, and boost employee productivity with Powell Intranet policy templates and powerful search capabilities.
Are you a current Powell Intranet customer?
To implement policy templates on the intranet, check our article on the help center.
To manage must-read content on the intranet, check our technical guide on the help center.