Why do you need an updated intranet?
Technology is advancing at an unprecedented rate, altering the digital workplace landscape. As a central hub of this workplace, the modern intranet must keep up with these changes.  
If your intranet system is stuck in the past while everything around it evolves, it becomes a hindrance rather than a helpful tool. Updating your intranet ensures it remains relevant, user-friendly, and capable of addressing employees' changing needs.  
How are technological advancements impacting the digital workplace?
Artificial intelligence, machine learning, and other tech advancements have impacted our work. They've introduced intranet features, functionalities, and integrations that can enhance productivity and user experience.  
For instance, AI-powered intranets can provide personalized user experiences, automate routine tasks, and generate insights from user data. Does your current solution leverage these advancements? If not, you're missing out. 
Adapting to evolving business needs and structures
It's not just technology that's evolving – your business is too. 
Over 2-3 years, your business objectives, processes, employee roles, and entire business model could shift dramatically. Just look at the transformation businesses went through in the early 2020s. Employees moved to remote working overnight. A few years on and remote workers have become commonplace. 
As your organization evolves, so should your intranet. It must mirror these changes, providing up-to-date tools, resources, and information structures aligning with your operational framework.   
If your company intranet can keep pace, it will be an indispensable part of your organization, fostering efficiency, collaboration, and strategic alignment.  
Key considerations when planning an intranet upgrade
Users' evolving needs should be the guiding factor in your intranet strategy. Here are some questions to help you understand if your current intranet meets employee expectations. You'll also discover if your platform needs minor changes or a complete revamp.  
Are you offering the best user experience? 

 
A poor user experience is a breaking point on any digital platform. The interface, functionality, accessibility, and engagement features all significantly define the user experience. To ensure you're offering the best employee experience, gather user feedback.  
Do you have a user-friendly interface? 

 
A user-friendly interface enhances the employee experience by simplifying navigation and usage. Ask yourself whether your platform is intuitive for everyone to use.  
Is your intranet engaging employees? 

 
The impact of a legacy intranet on employee engagement, productivity, and satisfaction can be substantial. A hub that doesn't engage employees can decrease productivity and overall job dissatisfaction. Does your intranet software incorporate social features that foster collaboration, interaction, and personal productivity? 
Are employees adopting the intranet?

 
To assess user needs, analyze usage patterns and metrics such as active users, logins, duration, and features accessed. Gather qualitative feedback through surveys, interviews, or focus groups to identify reasons for low usage, pain points, and improvement opportunities. If employees are not utilizing the intranet, consider whether small changes can address the issue. 
What do end-users expect from the intranet?

 
To measure user needs, conduct research through interviews, usability testing, and surveys. Consider the diverse roles and responsibilities within your organization. If employee expectations exceed what the current intranet can provide, it may indicate the need for a complete revamp. 
Is your intranet secure and compliant? 

 
Data security and compliance are becoming increasingly important. Outdated intranets often lack robust security features, exposing your organization to unnecessary risks. Assess any security concerns you may have with your current solution.  
Have you integrated collaboration tools? 

 
Collaboration tools are vital to enhancing productivity in the digital workplace. An outdated intranet might not integrate these tools, hindering internal communication and collaboration.  
Can you keep up with industry standards? 

 
Alignment with industry trends and best practices is crucial to remain competitive. Your intranet is pivotal in integrating, communicating, and utilizing these advancements.  
However, outdated technology can hinder your ability to adopt new industry standards and best practices. As a result, your organization lags behind competitors. Therefore, evaluating whether your intranet meets industry standards and keeps pace with the evolving landscape is important.  
Regular refreshing of your platform is not just about maintaining functionality but ensuring it can continue to serve as a platform for innovation and growth. Doing so enables your organization to keep up with the pace of change in your industry, ensuring your competitive edge.   
Starting an intranet redesign for your organization
So, you're convinced that your clunky, outdated intranet needs a refresh. What next?  
Redesigning an intranet is a strategic task. It should be well-planned and executed to ensure the new platform meets your current and future needs.  
Plan and implement the refresh process
Refreshing your intranet begins with understanding your current solutions weaknesses and your organization's evolving needs.  
You need to involve stakeholders, conduct user research, and set clear objectives.  
You need to identify what works and what doesn't and clearly envision what you want to achieve.  
Partner with experts
Collaborating with experts streamlines the process and maximises your intranet solution's potential. This results in a more efficient and user-centric digital workplace.   If you decide to build your new intranet with Powell Intranet, you'll benefit from our network of Microsoft Gold partners, who will provide expert support to ease the upgrade process significantly. 
Should you do the refresh in-house or get help?
Deciding whether to refresh your intranet in-house or seek assistance from a third party depends on various factors. Considerations include: 
The complexity of the refresh.

 

The technical capabilities of your in-house team.

 

The availability of resources.

 

The desired expertise and experience required.

 
An in-house refresh may suit more straightforward projects with a skilled team.  
While more complex projects often benefit from the involvement of a partner who can guide your digital transformation journey and help you make the most of your intranet investment. They bring specialized knowledge, experience, and a fresh perspective, ensuring a smooth and successful revamp project. Ultimately, you should decide based on carefully evaluating your company's needs and capabilities.      
Finding a future-proof solution
Revamping your intranet can be manageable if you have the right software. 
Here are some common scenarios we encounter: 
You built your intranet in-house on SharePoint:

Users think it's clunky and dated. Contributors don't find it intuitive. IT hasn't the time or skills needed to update it.

 

You built your intranet on SharePoint on-premises:

You want to move to the cloud and benefit from a more agile, secure and connected intranet while still leveraging SharePoint integrations.

 

You have a legacy CMS environment:

You lack the support needed to update the platform, and the technology is falling behind tech advancements.

 

You have another existing intranet:

Maybe you only built your intranet 3 years ago, but since then, you have found; people don't use it, there's no support or updates, the interface dated quickly, and it hasn't kept up with business needs or tech. 

 
If you fall into any of these categories – you need to start again. A basic 'refresh' won't be enough to overcome your issues. But fear not, the lessons you've learned and the content you created won't go to waste.  
If you re-build your intranet with Powell Intranet, keeping the platform updated and future-proof will be much easier. Let's investigate why Powell Intranet is ideal for your intranet upgrade. 
Powell Intranet
Powell Intranet is a cloud-based modern intranet built on Microsoft SharePoint, accessible from your desktop, browser or mobile app. It's an innovative solution, with every feature designed to enhance user experience, drive engagement, and facilitate content management.  
Customizable Look and Feel
To keep your intranet up to date, you need to be able to change the look and feel easily.  
That's why Powell Intranet allows for intuitive design customization to align with your global branding. You can change the colors or logo without technical skills. Our catalogue of seasonal themes creates a dynamic look, keeping the experience lively and engaging. This adaptability makes Powell Intranet the smart choice for an always-relevant experience. 
Rich Catalog of Templates
Refresh doesn't only mean a visual revamp; it also involves adding functionality that caters to your evolving business needs. Powell Intranet offers a catalog of templates that allow for customization, deployment, and updates at scale. This flexibility makes Powell Intranet an intelligent choice that adapts to changes quickly, keeping your intranet functional and relevant.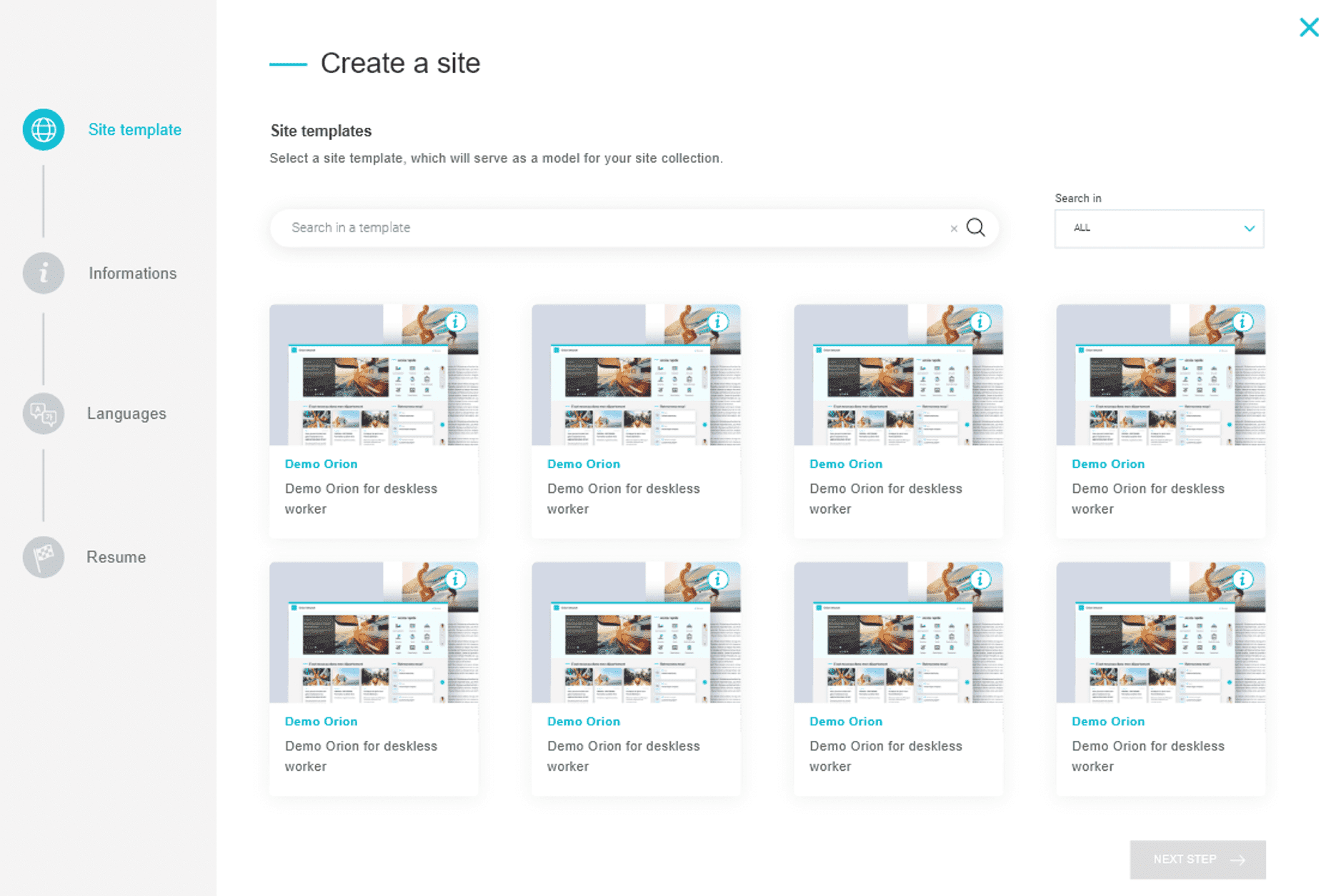 Easy Site Deployment
Quick site deployment is crucial for maintaining a vibrant intranet. With Powell templates, you can create a site collection directly from the front-end and rapidly respond to changing business needs. The ease of deployment makes Powell Intranet a preferred choice for businesses that value responsiveness and agility.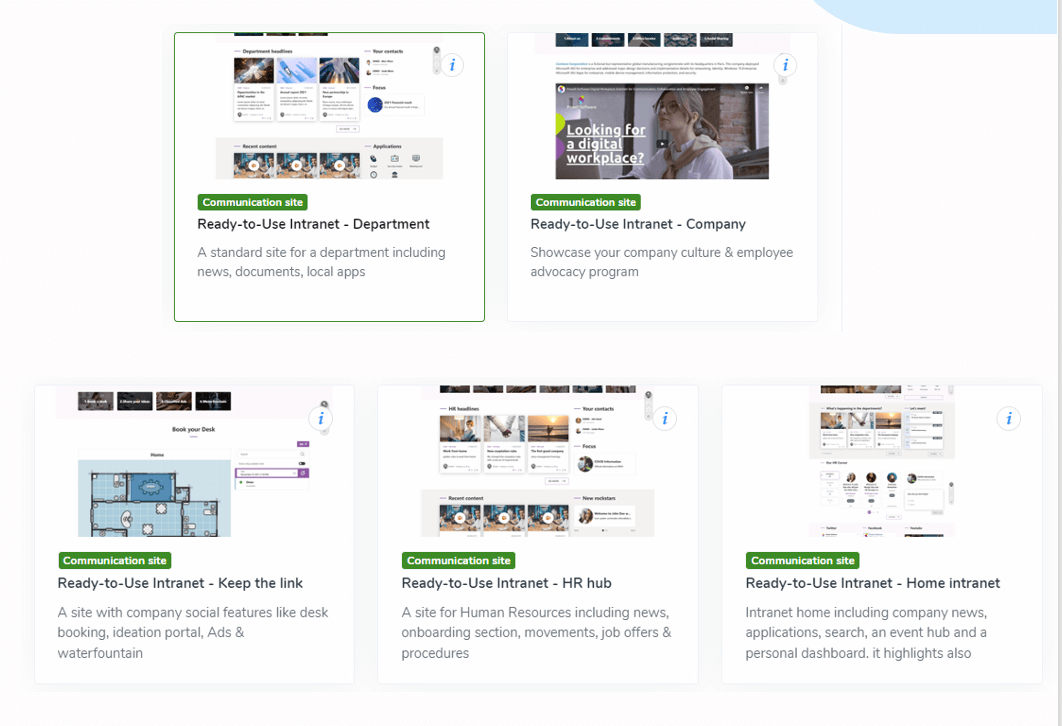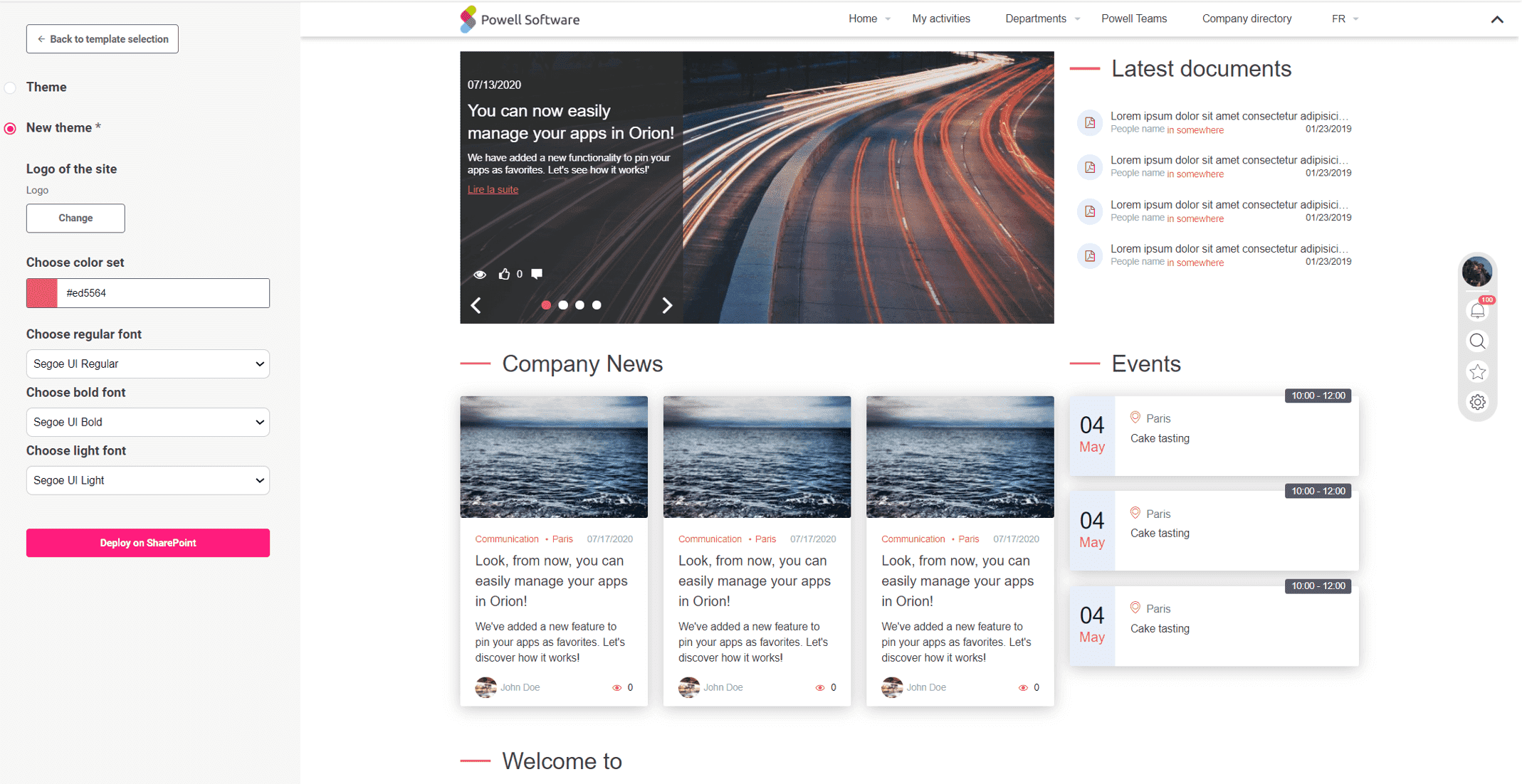 Simplified Content Management System
The most effective intranets are those that contain up-to-date, relevant content. Powell Intranet simplifies content management with its Contribution Board, allowing real-time content updates. So you can offer users the most accurate and timely information.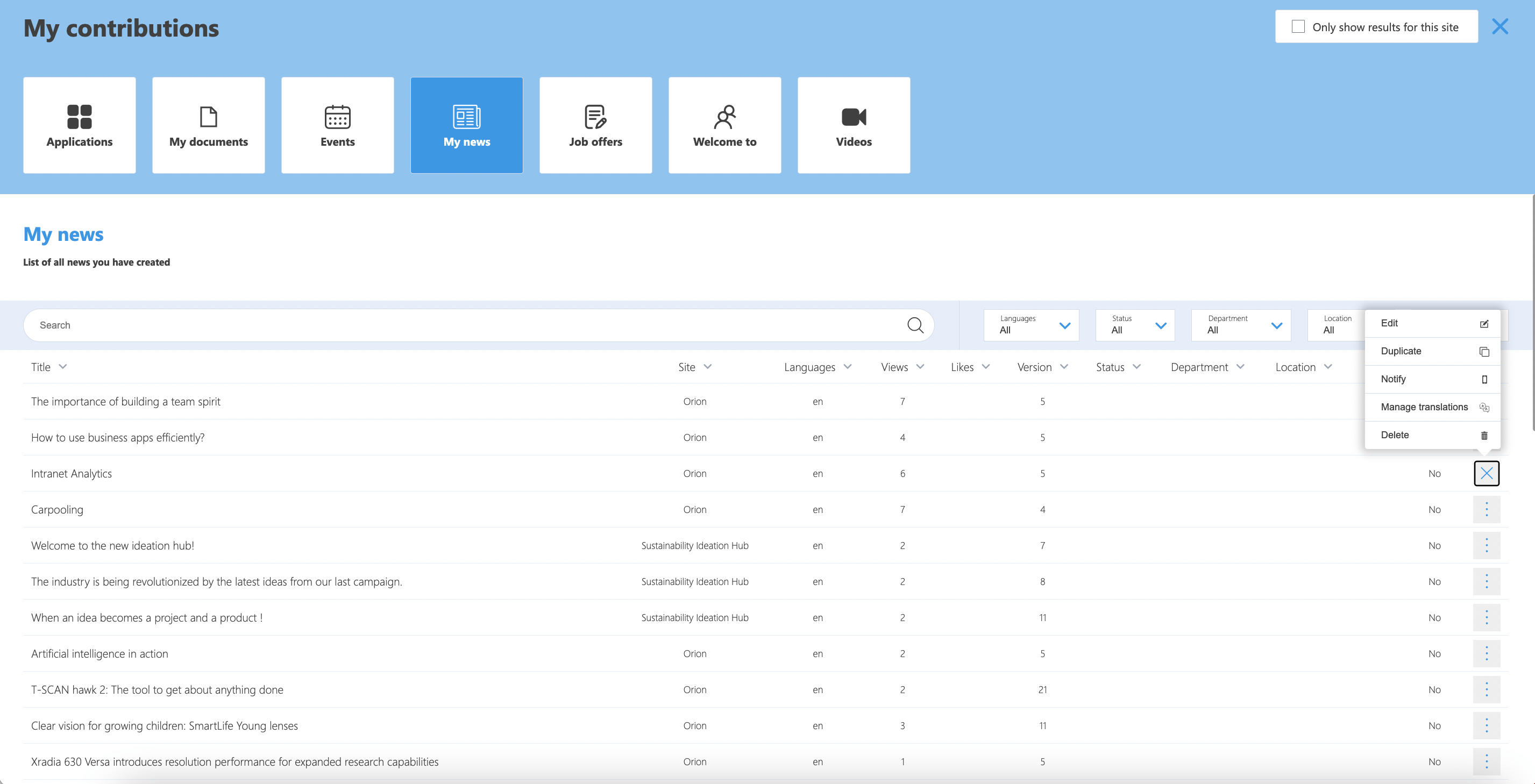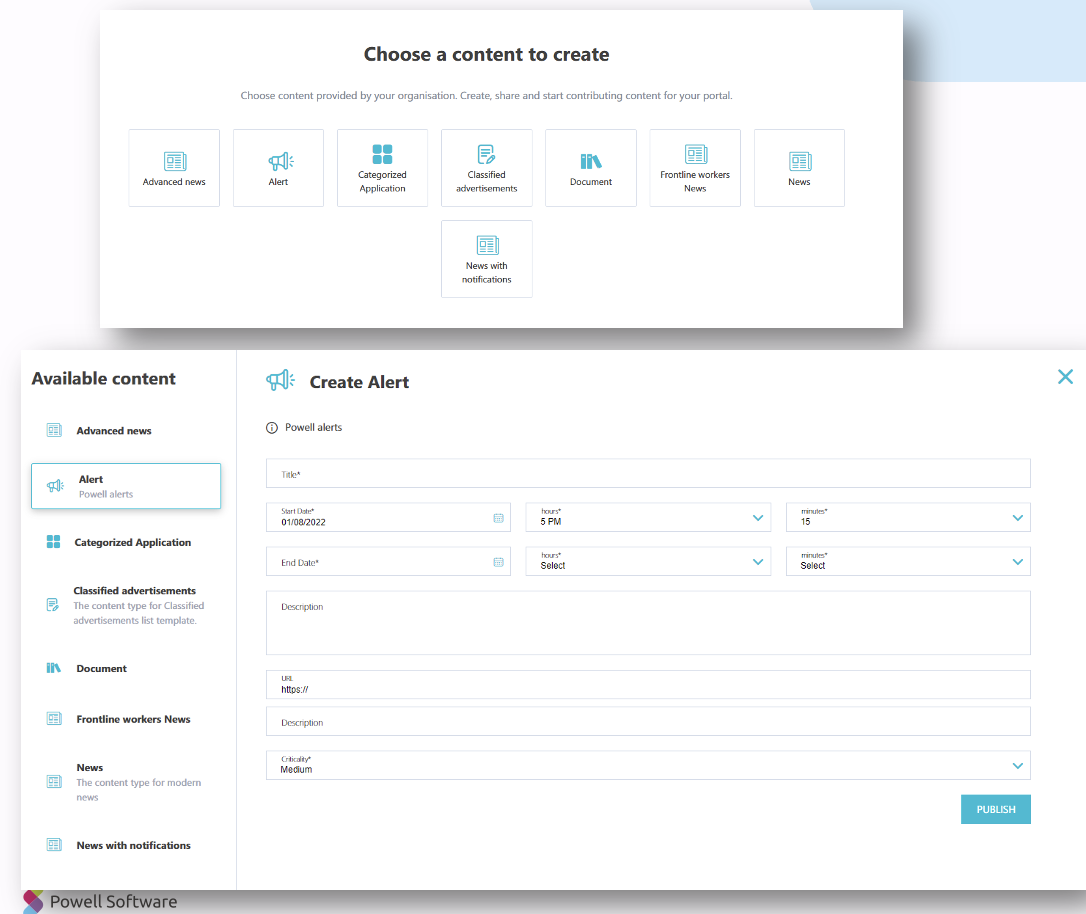 Easy Page Updates and Edits
Easy updates and edits to pages are critical to keeping content and important information current. What sets Powell Intranet apart is its ability to update page content in moments. Thanks to ready-to-use web parts, you can quickly change and update your intranet. If operational efficiency is important to you – Powell Intranet could be the right solution.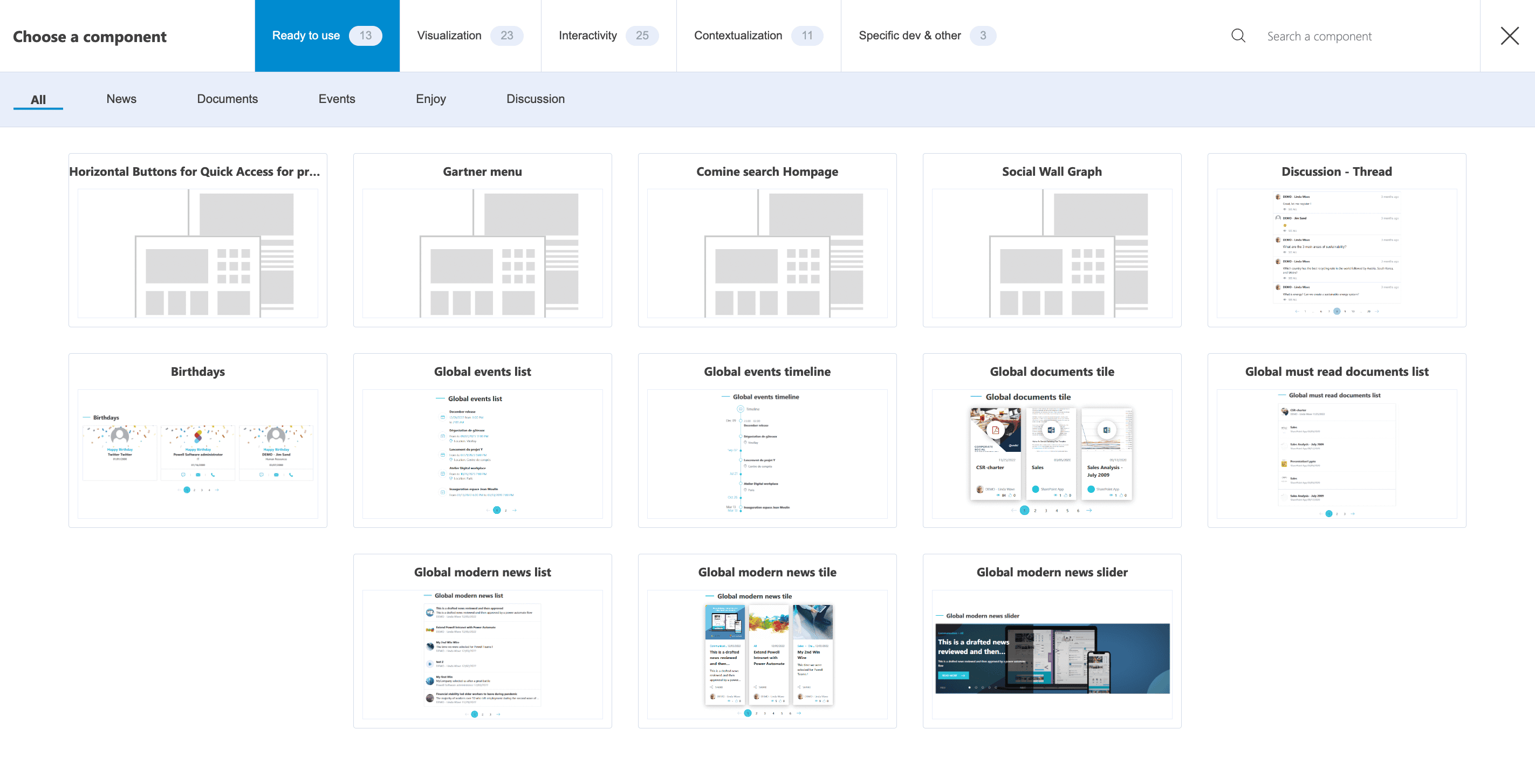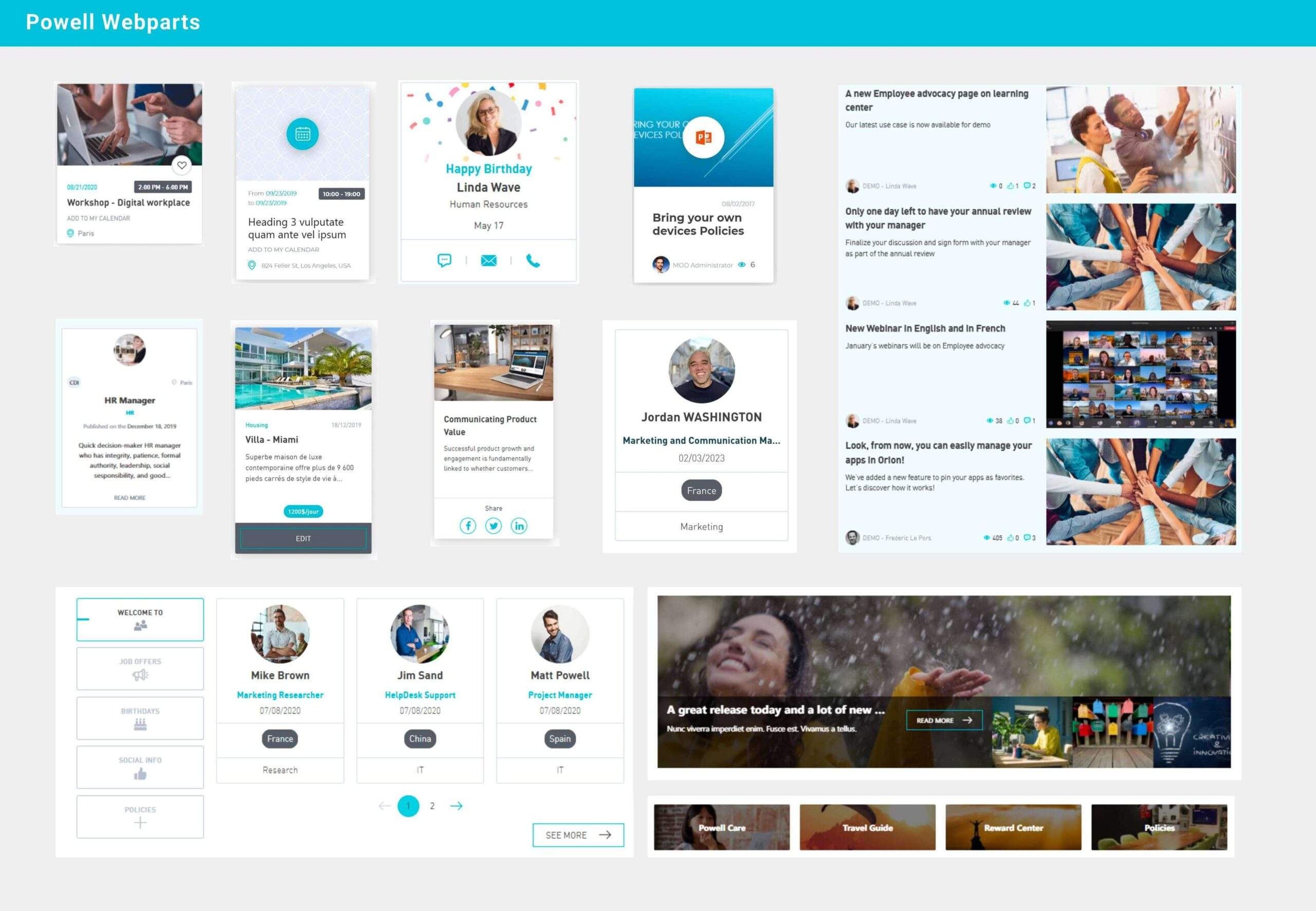 Third-Party App Integration
Connectivity and integration are paramount. Refreshing your intranet should involve expanding its functionality and making it a true hub for all your workplace needs.  
Powell Intranet connects with third-party apps like ServiceNow, Workday, SAP making it a top choice for a connected digital workplace.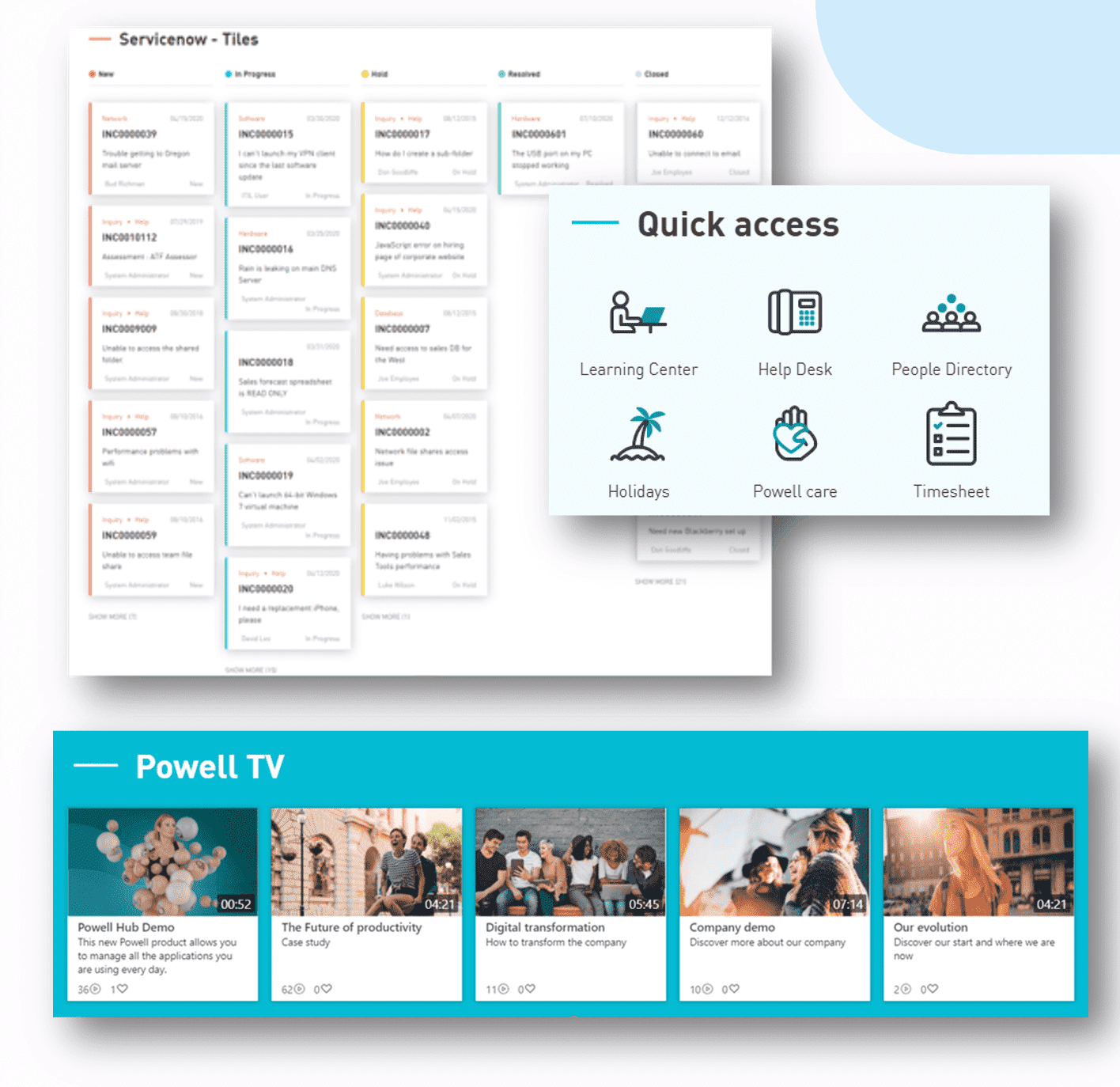 User-Friendly Navigation Updates
User experience lies at the heart of any successful intranet. Being able to update your navigation easily ensures a user-friendly and intuitive browsing experience. This feature makes Powell Intranet a strategic choice for businesses aiming to enhance user satisfaction and efficiency. 


Engagement Features and Analytics 
Employee engagement is proof of a successful intranet. With social functions, polls, discussion boards, leaderboards, games, engagement reports, and analytics, Powell Intranet allows you to foster and measure engagement. These reports offer valuable insights and allow you to make informed decisions and identify areas for improvement.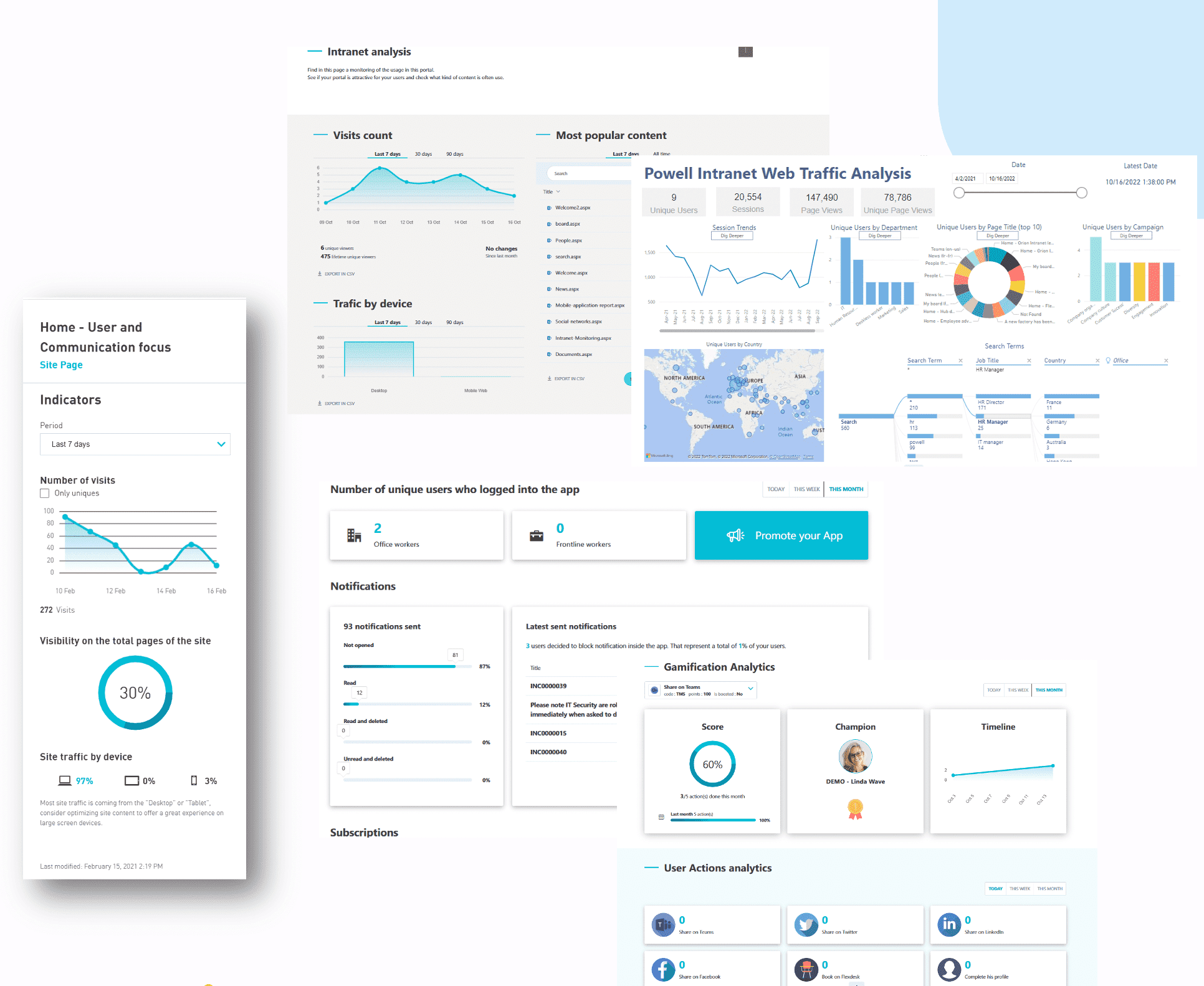 AI-Powered
We are integrating Generative AI intranet capabilities starting in Q3-2023. This integration opens up a realm of possibilities, enabling personalized user experiences, task automation, and valuable insights derived from user data.  
Our roadmap includes Powell Buddy, a chatbot that will revolutionize content creation and intranet management. You'll benefit from improved user experience, streamlined processes, and seamless content management. Content creation will be easier and more efficient.   
We continue to update and leverage these AI advancements to be at the forefront of innovation. 
Conclusion: From traditional intranet to a powerful digital workplace
In conclusion, refreshing your outdated intranet is essential for maintaining a thriving digital workplace. All you need to decide is whether you can achieve the results you're looking for with your current solution.   
And if you opt for a new intranet solution provider – Powell Intranet is a great choice. 
Why? It offers powerful features and capabilities to help you build a living intranet that is easy to refresh and update.   
Customizable look and feel to a 

 

Rich catalog of templates, 

 

Easy site deployment

 

Simplified content management

 

Third-party app integration

 

User-friendly navigation

 

Engaging features, 

 
We'll help you go beyond a refresh and create a dynamic digital workplace. You benefit from a comprehensive, adaptable, and innovative platform.  
So, embrace the opportunity to transform your intranet and unlock the full potential of your digital workplace with Powell Intranet. Refresh your intranet, redefine collaboration, and pave the way for a thriving and future-ready digital workplace.