Integrating a CMS intranet solution should help create less work, not more of it. With this in mind, your intranet CMS must be carefully chosen to ensure its success. As you enter the planning stage, there are a few essentials to look for in a CMS intranet candidate. But first, let's review how a content management system fits into your overall intranet structure.
What is an intranet CMS?
As you already know, your employee intranet is an internal network that is used for communication, collaboration, and information management within your organization. Over time, the amount of content required to convey this information snowballs to a volume that is difficult to publish and manage. An intranet CMS is a content management system that helps with every step of this process, from creating and publishing content to accessing, updating, and archiving it.
So how do you choose the right CMS intranet solution? We've compiled a list of ten things to check for to ensure your content management system is a tool that helps your employees and doesn't hinder them.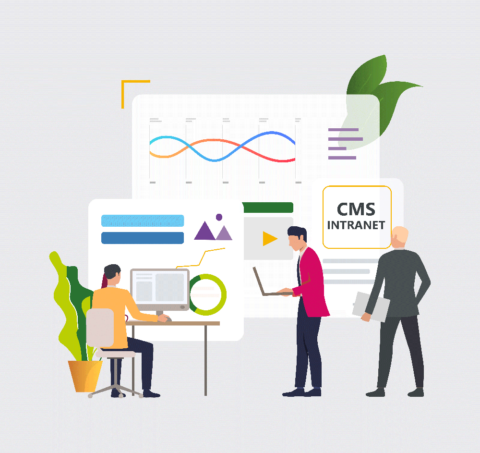 10 essential components of an intranet content management system
1. Integration with existing technology
The most essential quality in an intranet CMS is that it integrates seamlessly with your intranet and with the full spectrum of digital tools your employees use daily. Make sure apps like instant messaging, project management, HR systems, and data analytics can all work fluently with the content management system without the need for cumbersome middle steps.
2. Intuitive user interface
Varying levels of digital dexterity across an organization means that any widely used tools need to be intuitive enough for anyone to use with minimal training. A user interface that mimics tools and platforms employees are already accustomed to using – such as social media – helps improve adoption and efficiency. While this might sound trivial, it goes a long way in boosting the overall digital employee experience, which is associated with boosted employee happiness, employee engagement, higher profits, and even better customer service.
3. Responsive design
Many employees use various devices such as smartphones and tablets to perform work functions. As this behavior is only expected to increase with time, it's key that your content management system can be accessed from more than just a computer. Following the same line of thought, ensure any content published through an intranet CMS is enabled for responsive viewing across devices.
4. Support for different content types
The content you distribute via your intranet as part of your internal communications strategy probably consists of many different types, including text, photos, videos, presentations, and more. Multimedia support should be non-negotiable as you're looking for a content management system.

5. Easy deployment
The process of rolling out your CMS employee intranet solution may take some time. With that said, the deployment process doesn't need to be overly complicated. With so many off-the-shelf solutions available today that require relatively little configuration, there's no need to spend months designing a custom solution as costs accumulate.
6. Regular updates
Once you've deployed your CMS intranet, the work isn't completely done. Content management systems need regular updates to stay abreast of industry trends, new technologies, and security threats. Make sure updates are released regularly in a way that doesn't knock your entire system offline for long periods.
7. Searchability
An intranet CMS is virtually useless if employees can't find what they need. Look for a robust search function that supports multiple criteria and can filter content by properties such as type and date.
8. Analytics
As with all the technology your organization uses, your goal should be to constantly strive to improve your CMS intranet over time. With analytics, you can easily see how employees interact with content, which types are most effective, how content is accessed and shared, and more. Integrated analytics are also useful in collecting data like survey responses from your employees without having to jump through hoops to process the results.
9. Governance management
An intranet content management system can't replace governance for your intranet, but it can certainly help. A good CMS can automatically update content with the newest versions, detect and flag duplicates, and even automate some processes like naming files. These small features will make a huge difference in how your content organization looks one, two, or five years later.
10. Customization
Every company's intranet needs are different. Although you don't need to build your content management system from scratch, having the ability to control and fine-tune certain features and functions can make or break its success. Make sure you can adjust branding, tweak templates, and determine governance rules as needed. Your CMS intranet should adapt to fit your needs, not the other way around.
Choosing the best employee intranet CMS
When looking for an intranet content management system, the first place to start is to narrow down your options based on what works with what you already have. If your team is using Microsoft SharePoint and/or Microsoft 365, Powell Intranets's content management system is the perfect off-the-shelf solution that comes prebuilt with all the necessary tools to help you deploy your CMS intranet software in record time.