Engaging, user-friendly, and where company culture comes alive. Does this sound like your native SharePoint intranet?
We thought not.
Often uninviting, complex, or poorly adapted to modern business needs– traditional SharePoint intranets are seen as an old fashion technology, left neglected by Comms and HR managers.
It's safe to say SharePoint is not the complete intranet solution businesses today look for. But before we go further – don't despair. You can continue leveraging your Microsoft 365 investment and benefit from SharePoint's advantages. How? With third-party SharePoint intranet solutions. Read on to learn more.
12 Reasons why native SharePoint intranets won't work alone
6 Technological limitations
Standalone SharePoint has technological limitations that make creating an intranet platform difficult.
1. Bad user experience
Unattractive look & feel
Ergonomics not adapted to specific devices
2. Non-user centric
Very little interaction with users
No content targeting
Unsuitable for the "consumption" mode of some users
3. Complex deployment
Significant deployment and implementation times
Environment updates can be complex
Multi-environment management (prod, test, dev)
4. Unsuitable contribution
Too complex for casual contributors and not scalable enough for more mature contributors
Creating pages and customizing the site is complex and requires special skills
5. Ineffective content search
It is generally difficult for a collaborator to find specific content
Search engines not being efficient enough
6. Lack of customization
Model not customizable
Insignificant feature catalog
Sometimes impossible to do specific customization
6 Strategic limitations
Native Microsoft SharePoint also has some strategic limitations.
1. Non-adapted to business
The "traditional" vision of the company intranet often prevails to the detriment of field issues
Intranets have not evolved to meet modern business needs, and these needs are not identified before implementation
2. Governance
Unclear internal governance
Vision, content management, research, roles and responsibilities, training, support
3. Role of the collaborator
It is often seen as the bearer of corporate culture, obscuring the nevertheless predominant role of employees
4. Ways of working
The subject must be carried in a vision of business transformation and working methods than as a communication project
5. Information overload
Lots of content/ information with often complex structuring of information
Often generic and identical content for all users
Complex update
6. Continuous improvement
Efforts are focused on the early stages of the project, while the key lies much more in continuous improvement

 
The bottom line
Overall, native SharePoint sites offer the essential features and integrations with Microsoft 365 and third-party services businesses need. Yet they lack features to improve working habits and connect and engage employees effectively.
IT teams struggle with creating a SharePoint site both Comms and employees will enjoy using. Customizing, deploying, and managing SharePoint intranets at scale with many site collections can be overwhelming.
The result is that users find the interface too complex and impersonal. So, it's no surprise that 40% of organizations say that their SharePoint implementation was not a success (AIIM).
What does a successful intranet look like?
New technologies such as SharePoint Online provide a robust technological skeleton to create the basics for an intranet. But how can you go beyond the basics and achieve a more modern and effective intranet? And what exactly does that look like?
A modern intranet-in-a-box addresses internal communication needs and access to documentation. However, more globally speaking, it should act as an entry door to a centralized global employee experience. It should also solve challenges for every department:
Helping employees to be more productive – by digitizing processes such as new employee onboarding and facilitating access to information
Helping Comms to disseminate information – avoiding information overload and improving knowledge sharing with a variety of formats, targeted and multi-lingual intranet content
Helping HR to build a solid corporate culture – bringing people together through social interactions and collaboration
Helping business leaders to drive employee engagement – involve all employees from the field to the office in the global experience
Helping IT teams implement and manage a secure environment
Helping everyone to work remotely – such as hot desking
How can a third-party SharePoint intranet solution help?
Third-party SharePoint intranet solutions are available to help fill the gaps of native SharePoint. With these solutions, you can create a real living space for engagement and exchanges.
A traditional SharePoint intranet offers:
Home page
News
Site Contents
Pages
An intranet built on SharePoint will significantly augment the native experience by adding:
Engaging design and personalization
Simplified interface, navigation, and contribution
Departments spaces with advanced use-cases (onboarding, idea generation, employee advocacy…)
Targeted content
Simplified navigation and search
Engagement features and gamification
Corporate services integration
Social interactions capabilities
Connected workplace (Microsoft 365 and third-party services)
Hybrid work services (Hot desking)
Want to learn more about what a third-party SharePoint intranet solution like Powell Intranet offers? We've got the article for you. Read our Powell Intranet vs. SharePoint comparison.
What a traditional SharePoint Communication site as an intranet looks like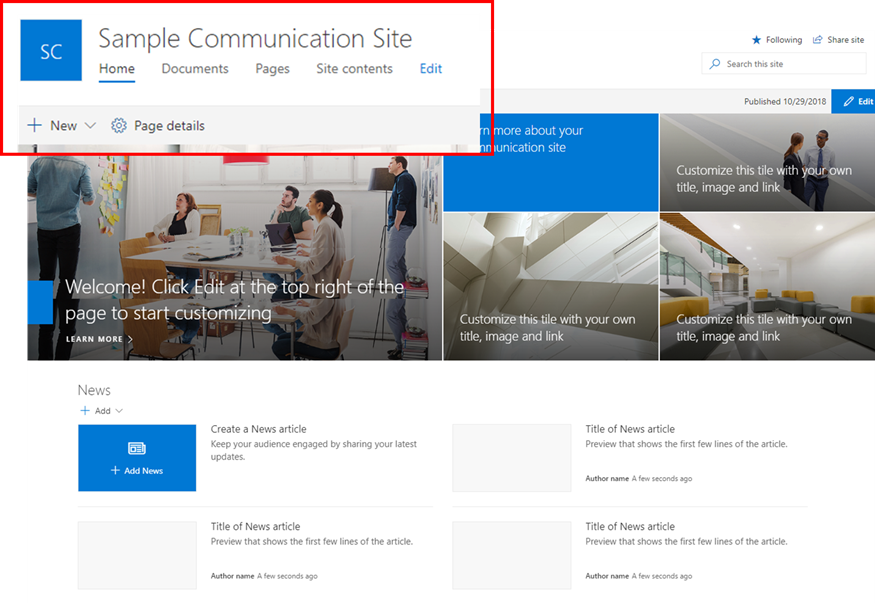 💡 All these sections are natively available after the site creation – but the site itself is empty.
What modern intranet software such as Powell Intranet modern experience looks like vs. native SharePoint  
💡 All these sections are natively available after the site creation – and site pages are predefined, preconfigured, and adapted to modern business needs and hybrid work – only the content is to be added.
Conclusion
For most organizations, native SharePoint won't be sufficient to build an intranet every department appreciates. However, a SharePoint intranet solution like Powell Intranet make it possible for IT to design and deploy an intranet both Comms and employees will love. So what's the next step? You'll enjoy this e-book if you've got an on-premise SharePoint or are using publishing. We dive into everything you need to know about building an effective intranet while migrating to SharePoint online and modern experience.