The arrival of Microsoft 365 cloud solutions and growth of the intranet in a box
The arrival of the cloud completely changed the intranet business, and the mass deployment of cloud solutions like Microsoft 365 converted customers to ready-to-use solutions. The intranet has evolved to become a set of features vital to corporate communication needs in the hybrid workplace.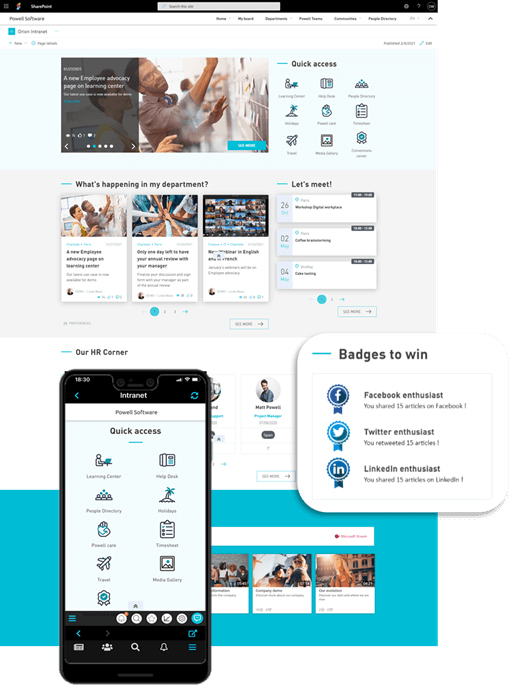 Companies now want to set up a user-centric portal with profiled information and business app access. They are also expecting quick deployment, taking weeks instead of months, and to instantly benefit from new features Microsoft provides monthly. When all this is available,  IT departments have few reasons to opt for full custom intranet development and instead can embrace intranet in a box.
Powell Software offers a complete digital workplace, designed to keep employees highly engaged and connected, no matter where they work from. Powell Intranet is a corporate communications platform that allows information to flow. It is complemented by Powell Teams, a Microsoft Teams application for enhanced collaboration and improved governance.  The Powell Software digital workplace also brings more employee engagement features, like employee advocacy and remote employee onboarding.
Learn more about Powell Intranet in our ebook!
Download A Powell Intranet Guidebook
Powell Intranet, a SharePoint intranet offering a modern experience
Powell Intranet is a SharePoint intranet solution, benefiting from the security and reliability of Microsoft 365 while adding a modern experience and advanced features.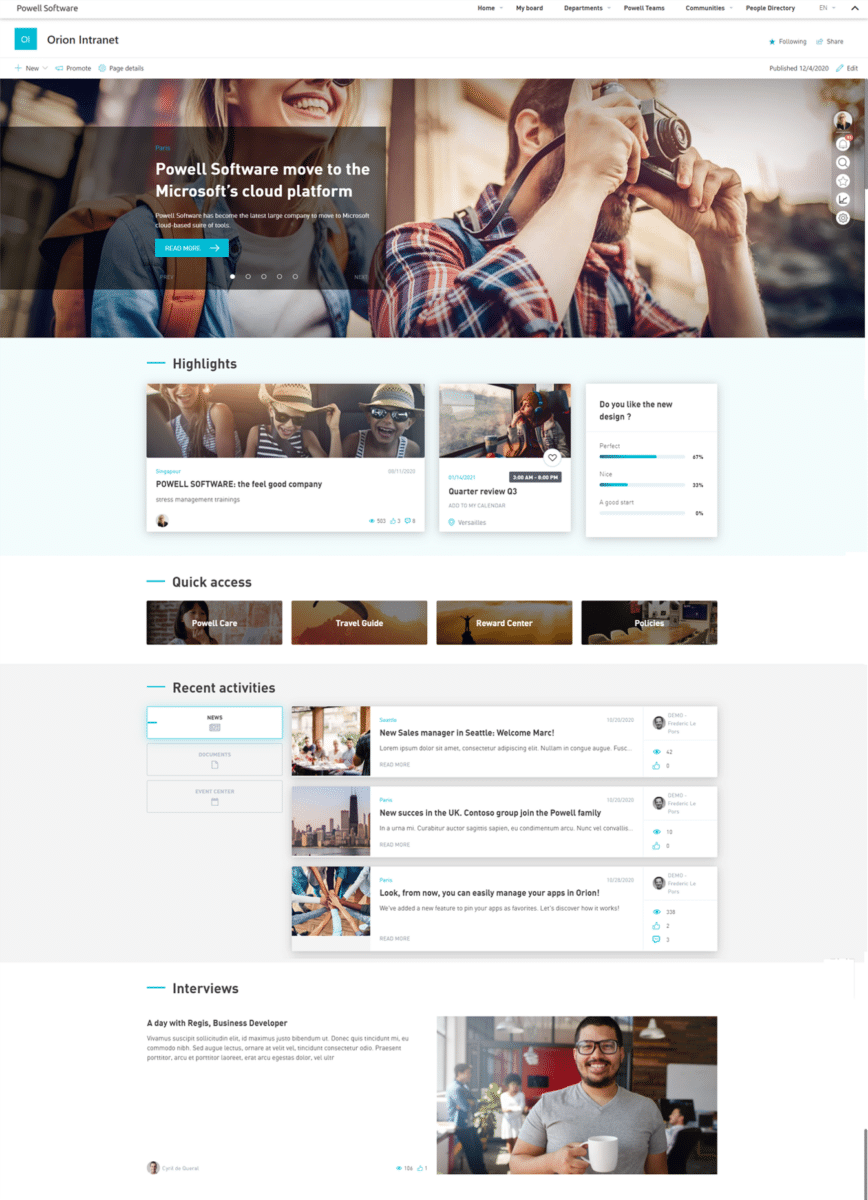 Multilingual, news, events, targeted content, notifications, analytics. Simplified contributor experience with the Powell Gear.
Personalized company experience
Tailor the portal to match your needs with our huge catalog of templates and web parts which include your company branding.
Maximize Microsoft 365 services adoption
Fully relying on Office 365, Modern Experience, Connectors with all Office 365 products (Teams, Yammer, Power BI, Outlook, Delve).
Extend the intranet with your own functionalities and use any kind of compatible 3rd party application.
Users can connect to Powell Intranet through Microsoft Teams, allowing employees to access information where they are working.
Powell Software, a complete digital workplace
Powell Intranet is more than a company portal, it is a complete digital workplace offering advanced features through templates and applications.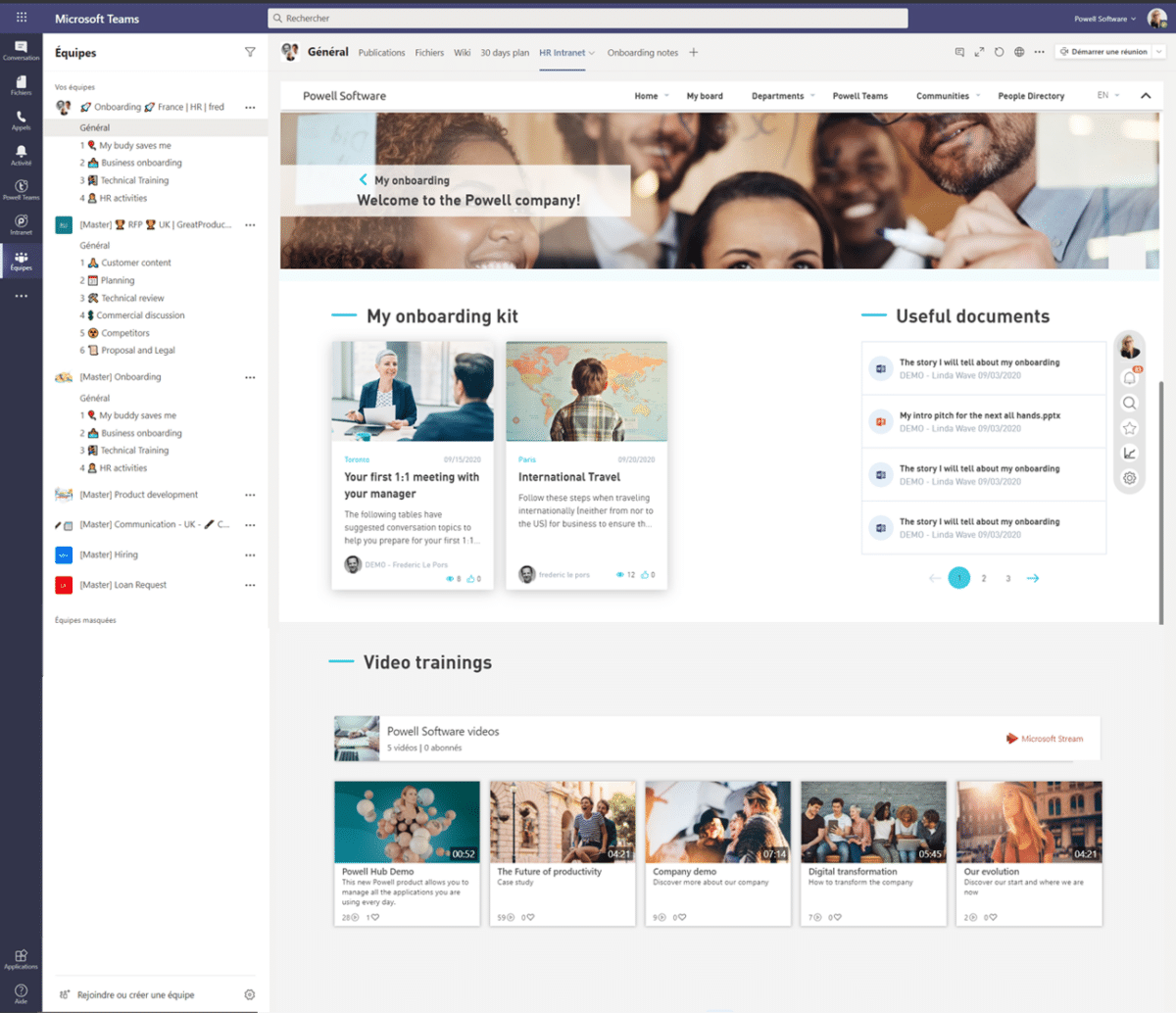 Give employees an easy way to share content curated by your marketing teams. Powell Software employee advocacy templates reward employee sharing and contributions.
Develop intrapreneurship, allow employees to propose new ideas, and promote the best ones.
Ensure new employees get immediate access to the people, documents, and tools they need to start in their role. Powell Software onboarding templates bridge the intranet and Microsoft Teams making and help newcomers settle straight onto their role.
Working from home or in the office, employees need help to stay connected to the rest of the organization and book their desks. The FlexDesk app lets employees book their desk in advance, allowing for hot-desking and safeguarding health and safety measures like social distancing.
Download A Powell Intranet Guidebook
The Advantages of Intranet in a Box
A complete site templates library
Powell Intranet offers the ability to reuse templates of sites and pages already created by your company, such as the user directory, user dashboard, and search.
With a huge library of site templates, always up to date, creating an intranet is easier. These templates are designed to avoid the 'blank page effect'. So even if you don't know where to start in the design of your intranet, Powell Software ready-to-go templates bring ideas to the table. Templates' design and feel can then be edited to suit the organization.
Easily customize with web parts and widgets
Powell Software also offers web parts and widgets. For example, connectors for Twitter, LinkedIn, Microsoft Teams, Yammer, PowerBi, and more. Pick a feature, drag and drop into position and you're ready to go.
With the intranet in a box providing so many advantages out of the box, the choice of starting a time-consuming, from scratch deployment becomes less appealing.
Access anywhere with Powell Apps mobile application
An intranet feature that is becoming more important than ever, is the ability to have a mobile app. While Powell Intranet in the browser has a mobile responsive design, Powell Apps is growing in popularity.  For example, frontline workers or those on the field also want to have full access to the intranet – which the Powell App offers.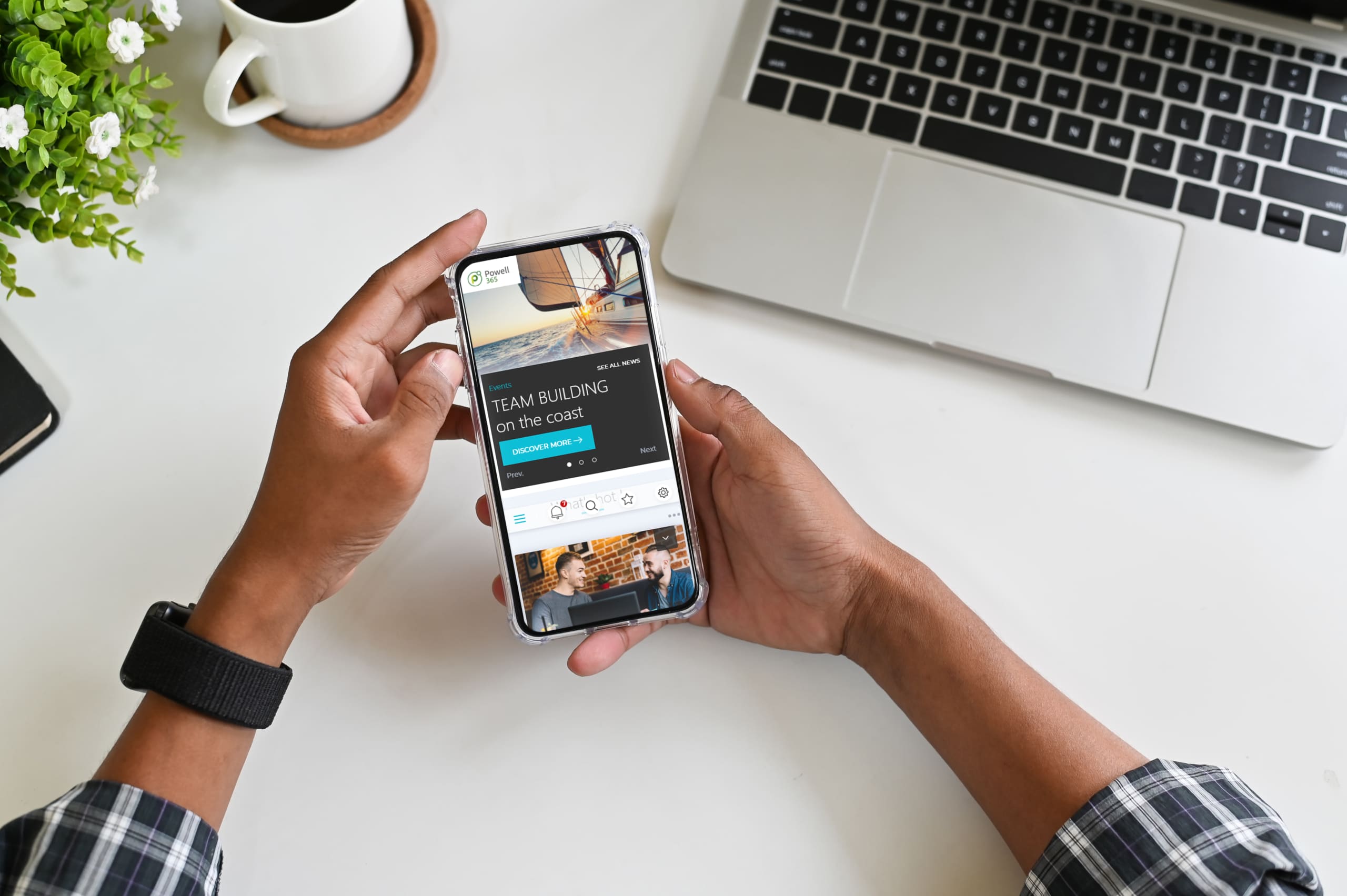 Natively multi-device and compatible with the latest generation of browsers: Edge, Safari, Firefox, and Chrome.
Native app for Android and iPhone with company-specific branding and quick access to main portal functionalities and notifications.
Behind the scenes – our digital workplace factory
The secret sauce to the Powell Software digital workplace is Powell Manager, which is a tool that allows you to deploy an intranet quickly and efficiently. Thanks to this, you can change your mind and reorganize the digital workplace within hours or days instead of weeks or months. Powell Manager is the glue that brings together all the Microsoft, 3rd parties and Powell features together.
Intranet in a box success stories
Company A
About the client: An international logistics company based with over 3600 users on the field and in the office.
Goal:
Offer a communication platform to all employees and facilitate the adoption of Office 365
Strengthen the sense of belonging
Create the platform in two languages English and French
Process: This client came to Powell Software with a blank page, and worked with their partner to build their intranet portal.
Result: The client had their communication portal up and running in only 3 months.
Company B
About the client: A pharmaceutical company with over 10,000 users spread over 40 countries.
Goal:
Build an internal communications platform for all employees and facilitate the adoption of Office 365
Bring more sense of belonging, strengthen the employer brand and centralize information in one space
Process: The mission was to design and deploy Powell Intranet using the modern SharePoint experience, support business teams, and associated training.
They wanted to launch an MVP within 3 months, to build on later.
Result: The project started in September and by the end of November the MVP portal was ready and deployed. This is a typical timeline for the deployment of Powell Intranet.
Maintenance
Example 1: Full change of graphic design of the portal and change of company name.
Number of sites: 20
Time needed to do it with Powell Manager: less than 2 working days
Example 2: Need to change the communities template and apply the change to all communities sites
Number of communities concerned: 15
Time needed to do it with Powell Manager: less than ½ working day.
Roadmap for Powell Intranet
Powell Intranet is consistently aligned with Office 365 updates and evolutions, which happen on a monthly basis. On top of this, our customer success managers are always in contact with our 300 clients looking for new ideas and ways to improve. Feedback is built into our roadmap and fuels our developments.
Summary of Powell Intranet:
Rich set of communication and collaboration features
Quick deployment and maintenance approach thanks to Powell Manager
Constant Alignment with Office 365 updates and evolutions
Features based on customer and partner feedback
Focus on usage and experience
Interested in starting the journey to getting your intranet in a box up and running? Still need a bit more guidance?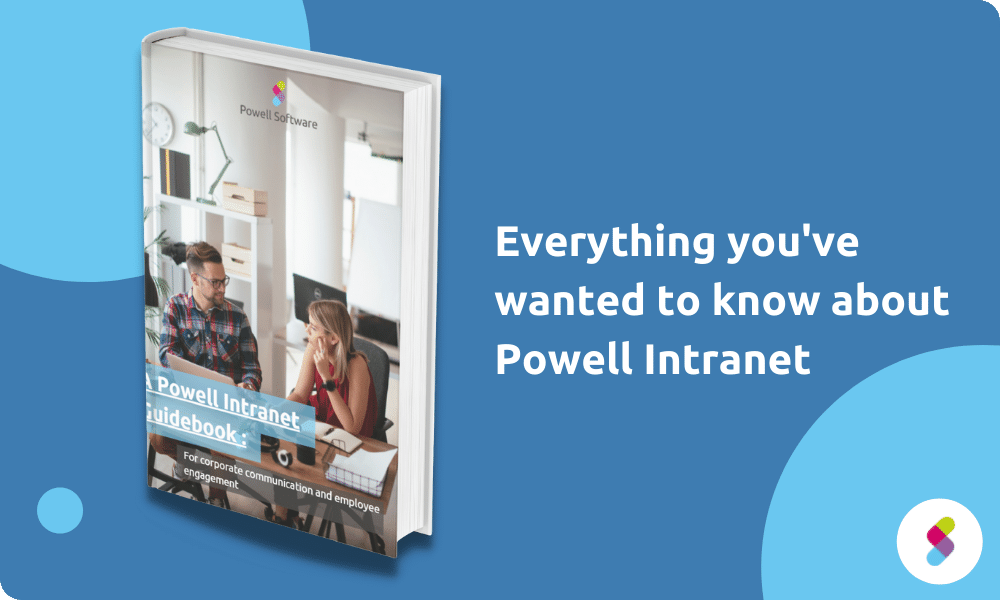 Want to learn even more about Powell Intranet? Download the guide today.