Where are you with Teams sprawl?
As an IT Admin in charge of Microsoft 365 & Teams, you realize that Teams adoption comes with its own set of challenges: too many teams are created, employees feel lost, and you ask yourself if everything is secure and compliant.
From customer surveys, we know that on average you find each employee has been at least creating on average one team. We've also found that 41% of these teams could be inactive for more than 90 days, with 22% of them having less than two owners. This is a big concern, even bigger when these teams include guest users.
With Powell Teams, our customers see strong tangible benefits such as…
Half the number of teams per employee
Half the number of harmful teams (inactive, guess access, public, etc.)
Reduce by more than 78% of the IT workload is spent on Teams management
Access a free Microsoft Teams Health Check where you will see real statistics and understand where you are with respect to Teams governance and lifecycle management.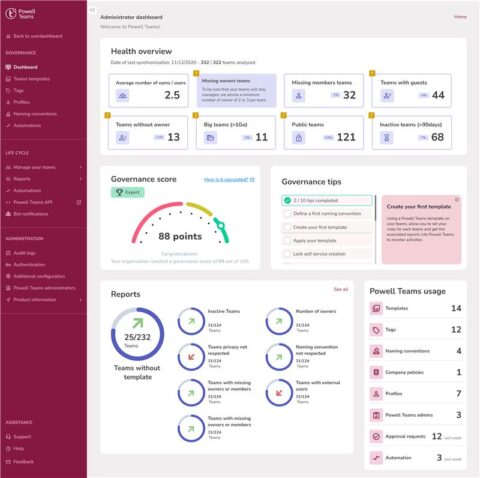 What is included?
✓ A full audit of your Microsoft Teams environment from the governance perspective
✓ A few hours after having Powell Teams installed, you will know:
How many teams are in your tenant?
How many potentially "harmful" teams exist?

Teams with guest access,
Teams with missing owners,
Inactive teams (>90 days),
Public teams
How does it happen?
Install Powell Teams (from the Microsoft Teams app store) and work with your global admin as you will need consent for the app to work,
In less than 24 hours, you can review your Health Check report in our Admin dashboard
Afterward, we'll review your findings during a 1-hour workshop with our Microsoft. We will work with you to build guard rails for Teams governance and management.
Based on the discovery, we'll propose an action plan which includes 14-days to utilize Powell Teams at no cost. We're confident you'll realize how easy it is to implement a framework for Teams Governance.
Possible steps during the next 14-days?
Continue defining your governance criteria through two templates: guest access, expiration date, and creation approval workflow
Other ways to leverage Powell Teams include:

Create a template, naming convention, approval process, add new tabs, and create a Team with said template

See your Governance score improving:

Fix irrelevant teams with guest access or missing owners

Everything created in Powell Teams is easily translated into production
Build your ROI to determine if you want to continue using Powell Teams
As part of this service, we commit to at least two 1-hour long sessions with our experts and access to Powell Teams for 14 days.