How to take advantage of Microsoft's new automation features within your Powell intranet
In November at Microsoft Ignite, Microsoft announced their rebranding of Microsoft Flow, as to include it under their Power Platform suite.
The company renamed Flow (launched in October 2016) as Power Automate and added new automation and security features. This update pushes the tool towards automated workflows as it is integrated in the Power Platform to work more closely with Microsoft Teams. It also drives end user productivity to new heights by automating business processes across an entire organization. The overall idea being; work less and do more!
The Power Platform
Microsoft's Power Platform suite is a family of products that offer valid business tools to analyze and automate data with a low code approach. The collection includes Power BI, Power Apps and the newly rebranded Power Automate. Microsoft is also including robotic process automation (RPA) and launching Power Virtual Agents. This means more AI features, analytics, data visualization and security when automating repetitive tasks.
These updates prove how closely Powell Software is aligned to Microsoft. Our Powell 365 intranet is based around a no-code approach that is secure and innovative. It helps our clients get the best out of the different Microsoft Office 365 applications, which of course includes Power Automate. As Powell 365 has connectors to various bricks of Office 365, the intranet can showcase all these different automations from a single portal. Regrouping these distinct features into one platform with Powell 365 unifies processing and increases productivity.
Advantages of Power Automate
Something like creating an IT help request ticket has never been so simple. The end user will make the request using Microsoft Forms with the information being stored in a SharePoint list. This request is then sent to the IT director's email for them to dispatch, with the task and information put automatically in Planner and finally a Teams message will be sent to the IT groups' Teams.
Thanks to Power Automate this entire process is streamlined to improve the end user experience and response time, all while leveraging five different Microsoft Applications; Forms, SharePoint, Outlook, Planner and Teams. However, to see the work in progress, all five different applications must be open.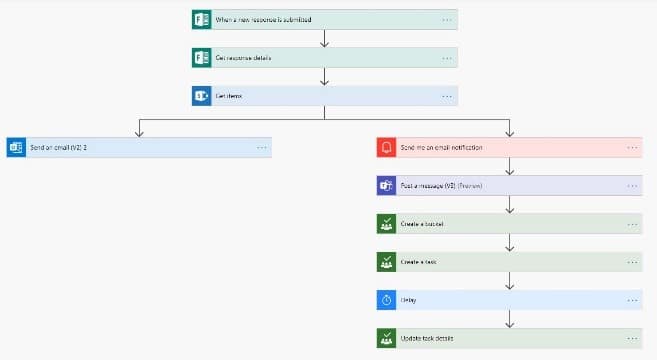 Leveraging Powell 365
By using Powell 365, you can leverage our webparts to create a single stop view of all this information. The user has direct access to the Form to make any modifications and see all past requests stored in a SharePoint list. Outlook inbox is also directly accessible to approve the request and see the team's Planner to track the progress of the request. Plus, a connection to all of the Teams, which notify her of any new messages or activity. All of these applications are fully integrated into the page, allowing the user to see the work of Power Automate without ever having to leave this single page of the portal.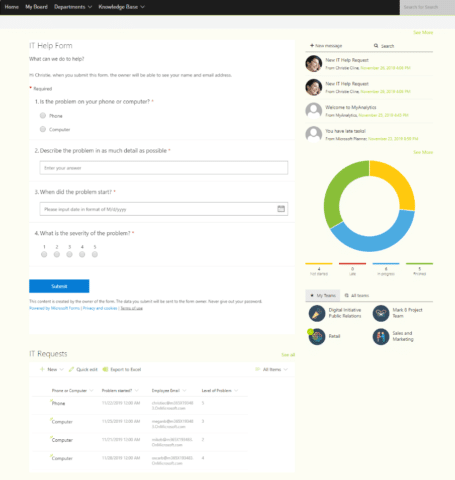 Furthermore, everything is interchangeable with Powell 365. Perhaps you want to use Dynamics instead of a SharePoint list, Groups instead of Teams, Yammer instead of Planner. All of these connectors and webparts are readily available from Powell Software.
The value of Powell Software and our products is that not only can you to leverage the best of Microsoft, but you can structure and adapt the platform to your exact necessities. To be able to create a complete digital workplace under a single tenant.
To learn how to take advantage of Power Automate and Microsoft tools, contact us today.