The 2020s have entirely transformed the way we work and live. Remote working is more popular than ever, and our daily habits have changed for good. Now that we've gotten rid of the commute, we're trying to find ways to be productive from home. At the same time, employers are struggling to engage their remote workforce.
That's why companies, including Microsoft, are more focused than ever on increasing employee engagement and releasing new features with this goal in mind.
What is Microsoft Viva?
This focus on employee engagement was the driving force behind Microsoft Viva, the employee experience platform Microsoft launched in 2021. Viva was announced as the first employee experience platform (EXP), reflecting a more significant shift in work-from-home practices.
Pre-Covid, few people worked remotely full time, and experience referred to what happened in the office. Think Chief Happiness Officers and ping pong tables. Then the pandemic hit, and everyone became a remote employee.
Now the employee experience is online.
A closer look at Viva Connections, Learning, Topics & Insights
What is Microsoft Viva in concrete terms? Microsoft Viva groups together some existing functionalities with several new features. It is composed of four modules housed in Microsoft Teams.
Connections: Microsoft Viva Connections makes SharePoint and Yammer accessible from within Microsoft Teams.
Learning: Microsoft Viva Learning brings together learning resources and content from third parties like Pluralsight and Coursera and LinkedIn learning. Microsoft acquired LinkedIn learning in 2016, so the integration is a natural progression.
Topics: Viva Topics is a new search capability feature that uses AI to improve knowledge management.
Insights: Many Microsoft users will recognize the Viva Insights feature. Outlook users have been receiving insights into their inboxes for several months now.
Viva Insights will now provide a dashboard in Teams that breaks down the number of hours taken up by emails and meetings, how much focus time employees have, and more. Insights will also let managers see if employees have been working overtime, encouraging them to switch off. Microsoft reassures employees, however, that the data is anonymized.
Viva Insights will be housed in Teams alongside MyAnalytics and other wellbeing features like the 'virtual commute' and Headspace.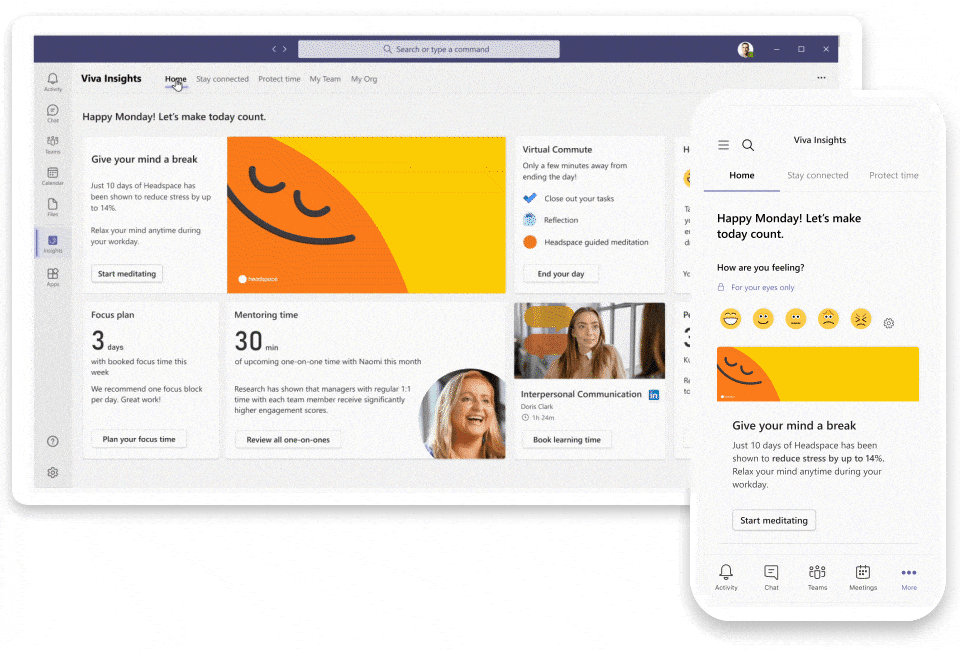 How does Viva connect with Microsoft Teams?
Microsoft Viva is located in Microsoft Teams, which has grown exponentially since 2020. Now counting over 115 million daily active users, it is the go-to collaboration platform.
Will Viva replace the SharePoint intranet?
Not quite. Think of Microsoft Viva as an addition to your Microsoft 365 and SharePoint intranet to make working from home or in the office as streamlined as possible. It confirms that SharePoint is not obsolete, but there are new ways to make it work for the modern workplace.
Trying to choose between Viva vs SharePoint vs Teams? One of Microsoft Viva's main features is integrating several current solutions, like SharePoint, Insights, and Cortex within Teams. It aims to bring everything employees need into one place, simplifying tasks and saving time.
Powell Software was a leader in this area. Our customers have benefitted from this integration for several months. With Powell Intranet, an intranet solution built on SharePoint, users can access their intranet from Teams and vice-versa. Viva confirms the need for easy access to the tools employees use daily.
When will it be available?
Viva started rolling out in 2021, and in July 2022 Microsoft announced the addition of Viva Engage.
How does Microsoft Viva complement the digital workplace?
We're excited to see a global company like Microsoft recognize the move to flexible working and the need for adapted digital tools. The launch of Viva from Microsoft, a traditionally IT-focused company, confirms the importance of the digital employee experience.  
At Powell Software we take a holistic approach to achieving our mission. We stretch beyond pure productivity and focus on employees and engagement. From employee advocacy to the virtual coffee machine, we have pivoted the digital workplace to adapt to the needs of modern employees.
Microsoft Viva complements the Powell Software digital workplace, and as our solutions are built on Microsoft Graph, customers are ready, by design, for new Microsoft features.
Our goals are aligned; to enhance employees' day-to-day lives in the hybrid workplace.  Together, our solutions support the whole employee journey. That's why we welcome Microsoft Viva and look forward to seeing more companies put remote employee experience at the heart of initiatives.
Ready to boost employee engagement and prepare employees for a long-term move to remote work? Watch the webinar to compare Powell Intranet vs SharePoint, and see how Powell Software's digital workplace provides employees with the communication and collaboration tools they need to stay productive no matter where they work from.
>