Before diving into Viva Connections, just what exactly is Microsoft Viva? Microsoft Viva is an employee experience platform launched by Microsoft back in 2021. It groups together some existing Microsoft functionalities with several new features. It is composed of Viva Connections, Learning, Topics, Insights, and now Viva Engage.
What is Viva Connections?
Viva Connections is one of the four Viva modules. It provides a bridge between Microsoft SharePoint sites and Microsoft Teams. Viva Connections allows users to discover and search for content, sites, and news directly from the Microsoft Teams main menu to enable :
Linking SharePoint into Teams
Highlighting specific resources
Finding corporate information directly from Teams
Searching content in SharePoint from within Teams
When is Viva Connections available?
On the launch of Microsoft Viva, we explored how Powell Software will leverage Viva to provide an always up-to-date and complete employee experience. We were excited to explore Viva and its capabilities, as it represents an opportunity for Powell Software to strengthen further the connection between the intranet and Teams.
That's why we are now mobilized to take advantage of the Microsoft Viva opportunities as quickly as possible. Viva Connections is available now, and Powell Software customers can already implement it.
How can you enable Viva Connections?
Microsoft has released the ability to start deploying Microsoft Viva Connections. The process must be done by an administrator who will provision this first version through PowerShell and upload it as an application to Microsoft Teams.
How can you deploy your own Powell Intranet buttons in Teams with a few clicks?
At Powell Software, we not only offer our customers compatibility with Viva Connections but also the ability to generate this experience very easily. Administrators can create deployable modules as buttons in Teams with just a few clicks and as many times as they like.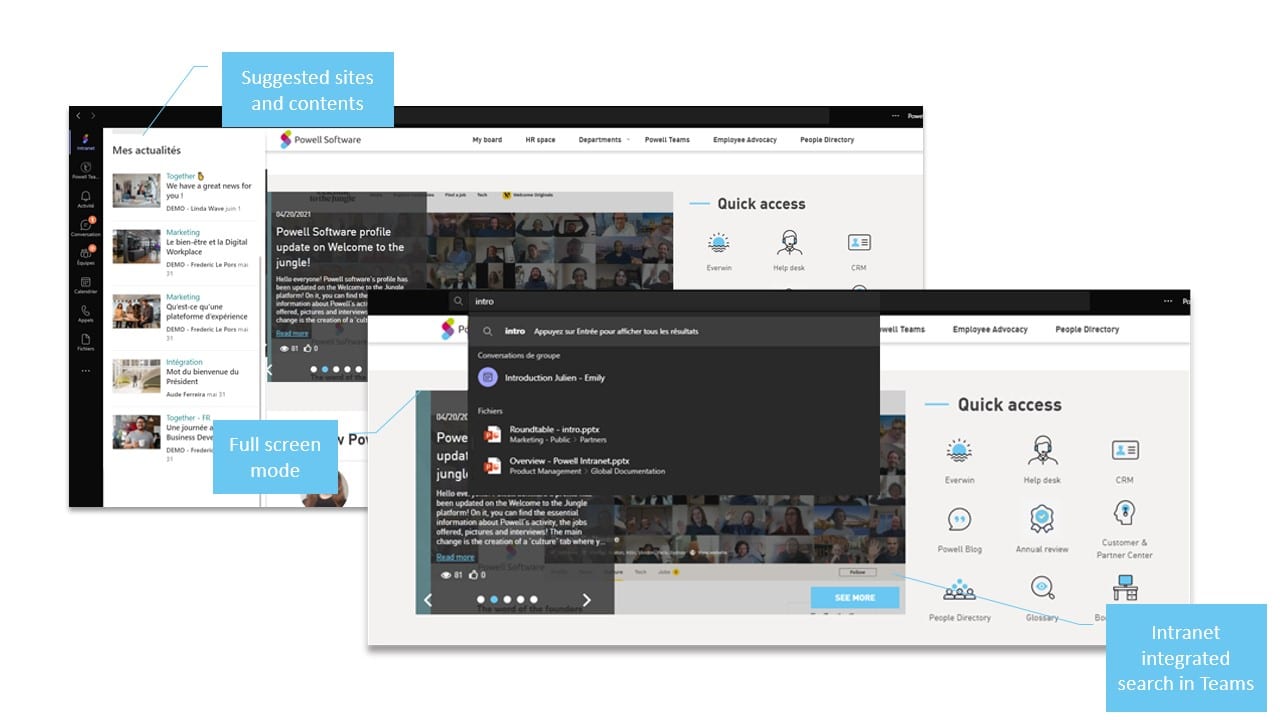 The added value of Powell Intranet is of course not limited to this very practical day-to-day functionality. Our digital workplace solution also allows you to engage your employees and cover all scenarios of the hybrid work environment, whether on the company's intranet or in Teams.
At Powell Software, improving employee engagement, corporate communication, and simplified collaboration is our focus. We help companies create the best employee experience through digital workplace solutions that fit the new flexible hybrid work environment. We do this by connecting employees and organizations more effectively with a single digital workplace that links the intranet to Teams.