POWELL INTRANET
New "Must Read" capability
Very often, mandatory content, such as company policies shared on the intranet, go unnoticed by company employees. It is difficult for Comms Managers to track if the "must read" content is consumed by intranet users. With our new "Must Read" capability, Comms and Marketing managers can highlight any content as a "must read" on the intranet and ensure employees read company-essential news and documents.
Find out about our "must read" capability through a short video.
Ensuring Employees Read Mandatory Content in Your Intranet | Powell Intranet
If you want to go deeper, read our article on HOW TO AVOID INFORMATION OVERLOAD & ENSURE STAFF READ INTRANET CONTENT.
Gamification – through the header.
On Powell Intranet, we offer various gamification features that aim to increase employee engagement. Employee activities on the intranet are tied to gamification capabilities that let them earn badges and points for their contribution and participation.
We now introduce a new gamification experience that allows employees to earn points every time they create content through the Powell header contribution tool.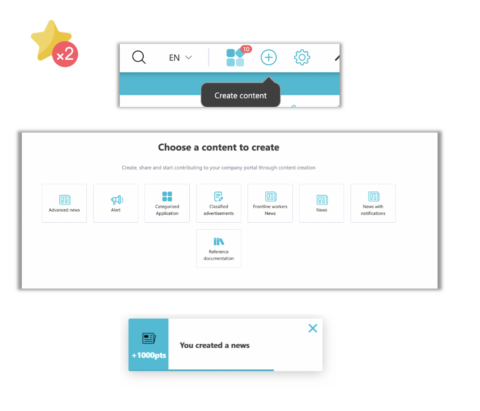 Learn about Powell Intranet gamification features through our article.
New Analytics in the mobile app
 It will now be possible to access the Powell Intranet mobile app analytics. You will be able to see the Date & Time of application connections for users, Most and Least clicked nodes in the application.
Find more about our new features on our Help Center.
POWELL TEAMS

New governance tools on the admin dashboard:
The first part of the admin dashboard was rolled out in March, providing a more assisted and guided experience with Microsoft Teams governance. You can now benefit from a "tenant health overview" with access to reports.
A new governance score to measure will be introduced by the middle of April. This score will provide insight into where you are in your journey and give tips to improve your overall health.
Discover all the new admin dashboard features: Administration Dashboard.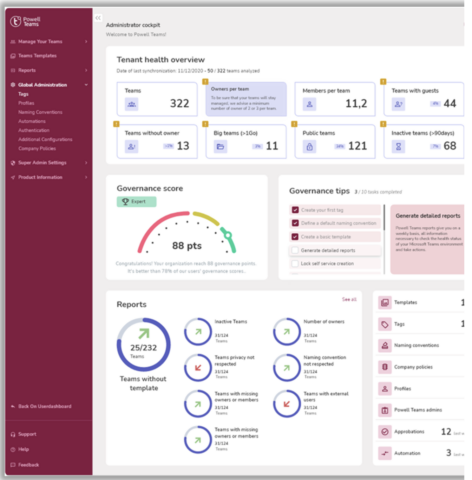 Powell Teams user dashboard
We have redesigned the user dashboard to make it look more modern and usable, and it will arrive in the middle of April.
We have improved the notification experience, and a new table view will be available to look for for your teams.
Find more about MICROSOFT TEAMS HEALTH CHECK POWERED BY POWELL TEAMS ADMIN DASHBOARD.