Powell 365 can help you speed up the deployment of Teams in your organization
Let's talk about Teams! Teams is the latest complete online conversation and meeting solution coming from Microsoft. The application allows you to host audio, video, web conferencing and chats with anyone inside or outside your organization. It has had a big run since its release in 2016. Many companies using Office 365 have made the move to implement Teams. The new tool has been so successful in the Microsoft universe that is about to overtake and replace Skype.
You can easily integrate Teams into a corporate intranet. At Powell Software, we  help organizations deploy this major collaboration and communication feature for all employees. Discover how to design your own Teams interface, streamline Teams  deployement with customized templates and manage all Teams deployment and governance from your Powell 365 digital workplace. Still not sure how to implement Teams in your organization? In this article, we will examine all the different features available in Teams, show you why adoption is important and give you a way to streamline the deployement process with Powell 365.
What is Teams?
As Microsoft puts it, Teams facilitates teamwork. The tool allows employees to co-create and share files from popular Office 365 applications, such as Word, Excel, PowerPoint, OneNote, SharePoint, and Power BI, in one customized group workspace. Employees can also chat about group projects, hold virtual meetings and collaborate on files from the same workspace. The idea is to increase workplace productivity on a global scale with several different features that integrate Microsoft applications and partner services.
Teams Features:
1. Chat
Teams offers a unified presence, where documents cannot only be stored but also collaborated on and talked about. A major feature in Teams is the federated chat where employees can instant message their contacts. Users can also converse in any language thanks to in-line translation capabilities.
2. Calls
Combined with instant messaging Teams also includes a full-fledged phone system, call plan, and / or direct routing, to deliver a comprehensive business call experience anywhere in the world. This phone system provides call control, PBX capabilities and full calling features that are quickly replacing Skype for several enterprises. Everything from delegate support, call queues, auto-attendant, consultative transfer, do-not-disturb breakthrough, the ability to forward a call to a group, and out of office support are feasible from the Teams tool.
3. Meeting Management
Teams simplifies meeting management with its web-based audio and video conferencing. Virtual conferences with features such as planning, note-taking, desktop sharing, file uploading, and instant messaging can be held with people inside and outside your organization. Join meetings from a phone or use Microsoft Teams to call anyone directly. Meetings are accessible via a phone number covering more than 400 cities worldwide, making it easy for people on the move or without an Internet connection.
In sync with the meeting management feature, Teams offers:
A Cloud-based meeting recording
A support for larger meetings of up to 250 participants
Federated meetings, which provides the ability to host meetings across multiple organizations
Meeting lobby so you can qualify dial-in callers before they join your meeting
Dial-in fall-back support to ensure people can join a meeting even in the event of network issues.
4. Individual Team
Each user has their own platform, with the access to the different teams to which he or she belongs. Therefore, each user experience is customized to each individual with personal and professional chats, work groups, document management and the various integrated Microsoft applications a person uses.
5. File Sharing and Storage
File sharing and storage has depth in Teams. Files are manageable on several different levels. There is each individual team. Then, there are channels within each team to organize and store documents for a specific group. There are also tabs within each channel to take file sharing, organization and storage even further. Plus, files can either be uploaded to a team, shared in a chat or co-created within a team thanks to Office 365 integrations.
6. SharePoint Site
In Microsoft Teams, each team is linked to a site in SharePoint Online, and each team's channel receives a folder in the default document library of the team's site. Files that are shared in a conversation are automatically added to the document library. Plus permissions and file security options set in SharePoint are automatically applied to Teams.
For each team, a SharePoint site and the default Shared Documents folder are created automatically. Each channel, including the team's default General channel, has a folder in the Shared Documents folder in SharePoint Online.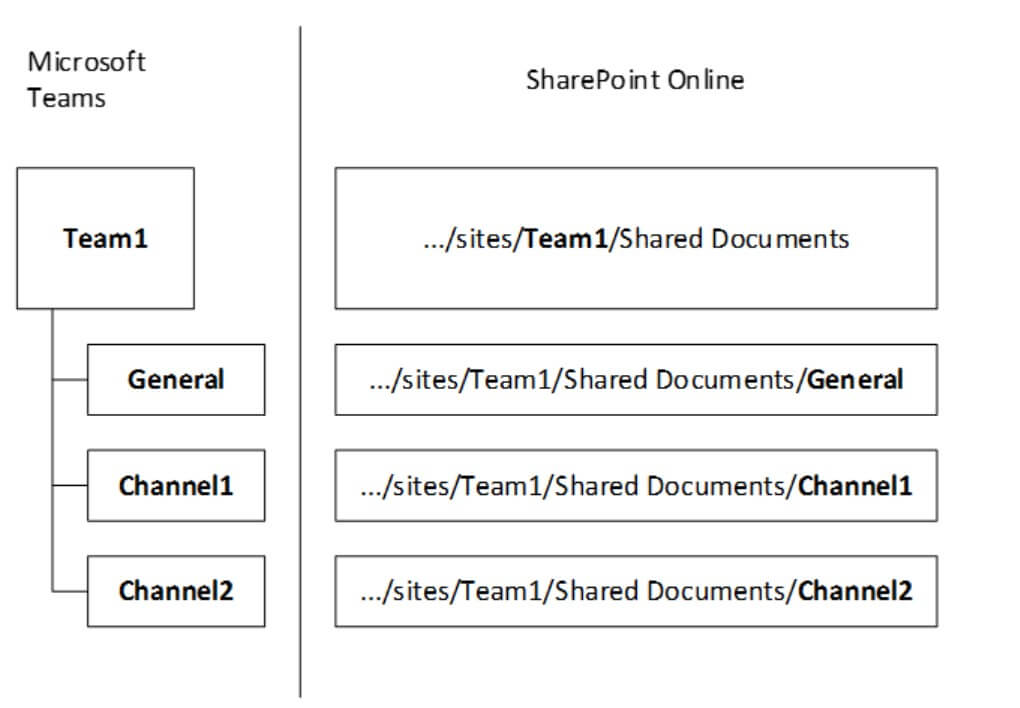 7. Application Management
Teams also lets you bundle all your critical applications into the same location. This helps employees to make quick decisions and take action. Plus, it can reduce unnecessary back-and-forth between important tasks, increase effective collaboration on external tools, projects, and documents. Anything from the Adobe Creative Cloud to AzureBot can easily be downloaded into Teams. Application management simplifies day to day operations and increases productivity.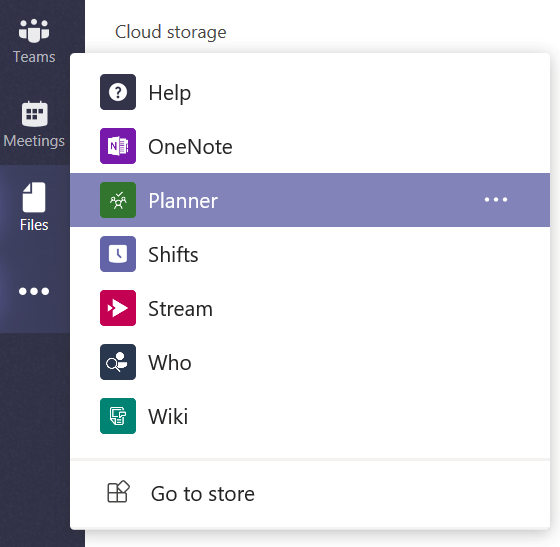 Adoption of Teams
Why is adoption important?
Due to the many features listed above, Teams has transformed the market as an application that simplifies day to day work and increases employee productivity. Starting from scratch, in just two years, Teams has been adopted faster than any competing solution. While the growth of other collaborative applications like Skype for Business and Slack is relatively slow or very low, Teams has grown tremendously.
Microsoft introduced the professional application in November 2016. According to Spiceworks, the adoption of Teams jumped from three percent in 2016 to 21% in 2018. Slack, the industry benchmark, has also grown. However, the publisher has only gained two points since 2016 to reach 15% market adoption.
As Spiceworks notes, the rapid rise of Teams is probably due to its free service within Office 365, the dominant productivity suite in the corporate world. The market domination of Office 365 is shadowing non-Microsoft solutions like Google and other services.
Skype for Business remains by far the leader, currently used by 44% of companies, compared to 36% two years ago. However, there will be a shift in the near future, as Microsoft wants to migrate users from Skype to Teams.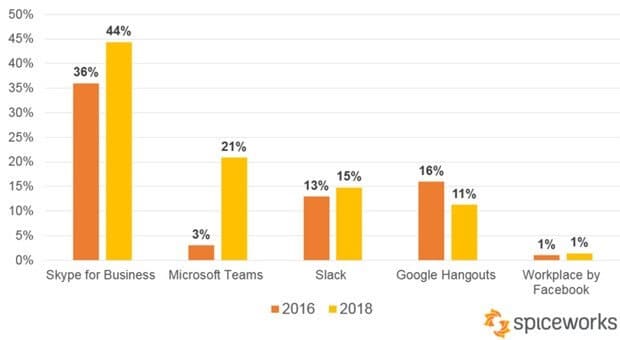 How can Powell 365 help
The creation, customization and overall configuration of the back office of a team within Teams takes time. The application does not offer an industrialization solution. The IT department must start from scratch each time it has to create a new team. Imagine a company that needs to create five different teams for each of its 25 departments. This means they'll have to create 125 teams from scratch. Any size company would need some help to manage this kind of project.
For organizations that would like Teams to be an extension of their intranet it is important to understand that there are intranet features that are not applicable to Microsoft Teams. For example, company branding cannot be fully applied to the MS teams application. Fully implementing governance concepts like naming conventions/standards, teams templates, and information architecture (metadata) is not as readily available or enforced.
Streamline Teams deployment with Powell 365
Not only is Teams available within a Powell 365 intranet, but we've enhanced the tool to simplify use and increase productivity for end users and IT / implementation employees alike.
Productivity Tools
Today, the workload in Teams is a somewhat disjoint from the intranet. Collaboration and communication within Teams is quite separate from the intranet experience. Powell 365 provides key features to help bridge the functionality and develop synergy between the two workloads or platforms.
The Powell 365 Teams widget enables organizations to bring Teams into the corporate intranet. Connecting Teams to your intranet creates a central portal for company news and communication, where employees can access Teams activity, members, news, and have an overall launch point to all the Teams functionalities.
Webpart: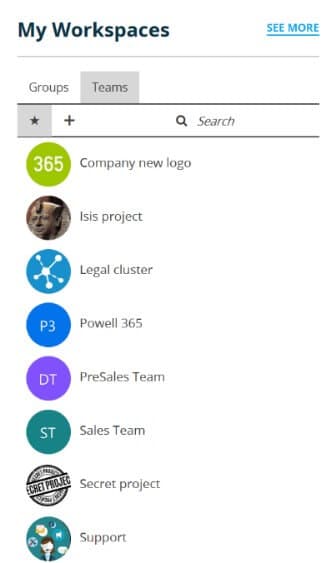 Panel: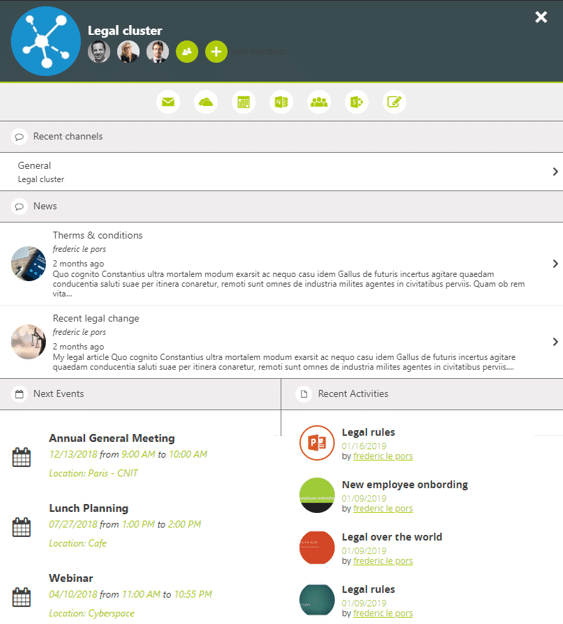 How about bringing a bit of the intranet into Teams? Every team has a Modern Team Site that is used for collaboration. It is the entry point where we can bring intranet functionality into your team. This feature allows companies to take advantage of their overall branding, logos, navigation and information from your intranet by applying it to a Teams Modern site.
A SharePoint site template associated to a team:
Management of Teams
Many organizations question the governance and ongoing management of Teams. Who can create a team? How can you enforce settings, information architecture and functions for newly created teams? How do you manage your different teams over time? Powell 365 aims to answer these questions with two key features; Teams templates and Site design for Teams.
The Powell Manager implementation engine will help you build Teams templates by specifying the default configured channels, tabs, security and the overall settings on a Modern Team site. Powered by the Microsoft Site Designs tool, these templates simplify the overall team site configuration with the opportunity to apply branding and adjust navigation, page structure, and versioning. Overall information architecture can also be applied on a newly created and existing team, without any coding or complex effort required.
Enabling users to create a new team does not have to be a risky proposition. In Powell 365, end users can create teams with a predefined, approved and managed structure and templates.
Powell 365 will also expand, in the future, the information architecture of Teams with features only available in Powell 365. These features include but are not limited to:
 Configuring imposed naming based on a template to coordinate all users and teams
 Real activity monitoring for all kinds of team activity like knowing what teams are active or not
In addition, Powell Software will soon plug the Teams conversation directly on the SharePoint webpart.
Teams is an essential collaboration and communication tool. The application has already proved that it will become the market leader as it goes beyond what Skype for Business can offer. Many companies have already adopted it and 41% of Office 365 users plan to adopt it before the end of 2020. We propose to enrich your use of the tool to get the best benefit.
Today, Powell 365 is known to simplify and improve SharePoint platforms into order to adapt them to employee needs and company branding. We've made Teams available in the Powell 365 intranet with new features, expanded customization and branding for our customers. Tomorrow Powell Software will do the same for Teams in order to simplify more and more employee activities and increase corporate productivity with the latest tools on the market.
For more information on the Powell 365 intranet, Powell Manager or Teams within Powell 365, don't hesitate to contact us today.