Connecting Employees and Organizations: How Powell Software's Digital Workplace Solutions Drive Operational Efficiency
Powell Software's mission is to connect employees and organizations through its Digital Workplace solutions. Our vision is that the Digital Workplace goes far beyond a Communication intranet and must improve an organization's operational efficiency. This article will outline the mechanisms that enable us to achieve this objective.
At Powell Software, we define the Digital Workplace as the digital space where company employees can find all the documents, information and access to applications they need to do their day-to-day work. It is also a space where internal communications and human resources build corporate culture and employees' sense of belonging, which is indispensable in the era of hybrid work.
In addition, we consider that the Digital Workplace goes beyond a communication intranet by encompassing collaborative spaces where teams can exchange, build, and carry out business projects. Logically, we integrate Microsoft Teams, now the preferred tool for carrying out projects and working as a team.
Based on our 480+ companies of all sizes that use our solutions daily, we were able to determine what operational gains our Digital Workplace will deliver:
Search for information, documents, processes, and company life
Access to the company's strategy, policies, and key processes
Access to cross-functional applications, business applications, and personal productivity applications
Sharing knowledge and best practices by promoting collective intelligence
More attractiveness and retention of talent by promoting a strong corporate culture and welcoming new employees
Business continuity, whether working on-site, at home or in hybrid work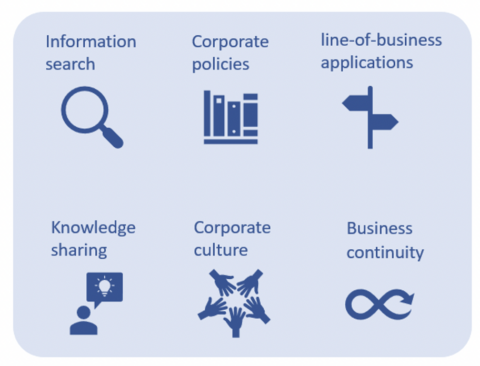 Search for information, documents, processes and business life
Powell Intranet and Powell Teams have powerful tools to facilitate searching the company's digital heritage. We rely on Microsoft 365 search by augmenting it with filters and metadata customized by the company.
Concretely, this allows an employee to find a colleague in a few clicks based on their identity, job, department, or properties filled out by employees themselves (such as their projects or interests).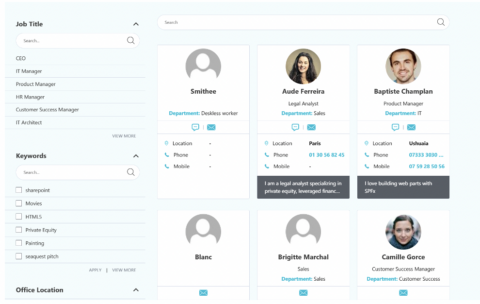 Our advanced search also allows you to find documents by filtering based on several key properties, such as the purpose of the document (whether it is a policy, a reference document or a best practice), business labels, or location (Intranet, Teams, or other SharePoint spaces).
It also allows you to search within the Intranet and filter according to different topics, such as company news, job offers, employee life, classified ads, etc.
Find out more in detail about how Powell Intranet can increase employee productivity with its search function through our article.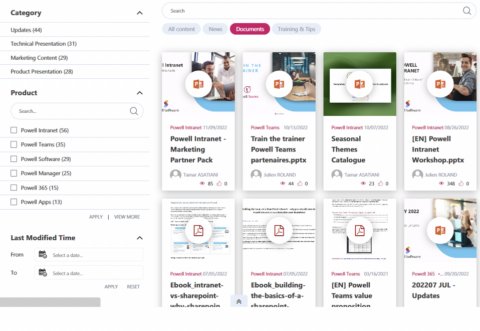 Access to the strategy of key company policies and processes
Beyond the search tool, our intranets are structured according to business needs and transversal functions. Each employee must understand the company's mission and vision, their department, and their role. All of this is structured through dedicated pages and simplified access to the organization's key policies and charts. This allows for an essential quality of organizations: clarity.
In concrete terms, we also propose mechanisms to facilitate access to key and mandatory company documents, which we call "Must Read."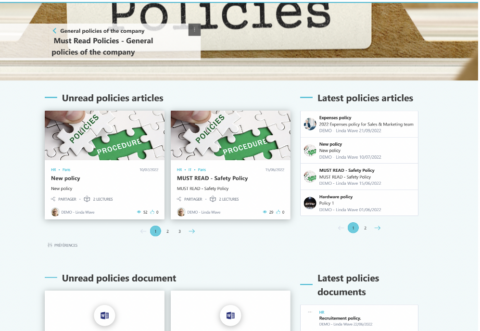 Access to cross-functional applications, business applications, and personal productivity applications
With digitalization, the number of applications in companies is increasing rapidly. In large companies, there are often hundreds of applications. It may seem obvious, but access to the company's application catalog is crucial for employee productivity.
Therefore, we have developed mechanisms within our Intranet and Powell Teams to provide employees with access to real corporate application catalogs. These catalogs are categorized into three groups: cross-functional applications used by all employees (such as HR and IT applications), applications specific to each business (e.g., marketing, finance, and operations), and personal applications that employees can define based on their preferences.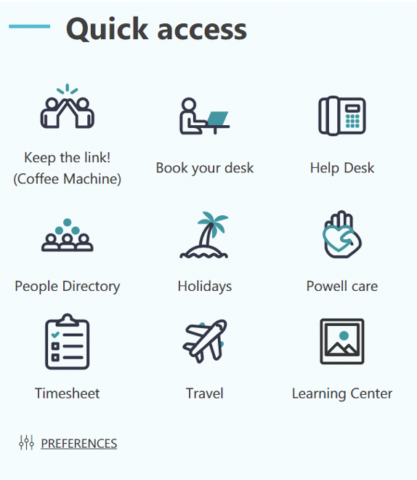 Our mechanisms include web parts and page templates that enable employees to access the application catalog by displaying applications based on their role or organization. We have also adapted access to this information, whether through a browser in Microsoft Teams or a mobile application.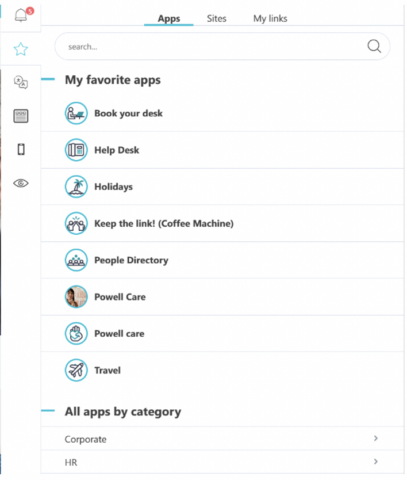 Sharing knowledge and best practices by promoting collective intelligence properly
Using collective intelligence is also a key element of operational efficiency. One way to access it is to promote the exchange of good practices, encourage the emergence of communities of experts and especially perpetuate the information exchange in everyday spaces such as Microsoft Teams and the intranet pages.
That's why we offer many solutions:
Ideation and suggestion box Template, allowing each employee to express their ideas and the community to select the best ones.
Business Communities Template, real business network promoting expert communications or informal communications.
Knowledge management site template and tools to help capture key information from Microsoft Teams to the intranet.
More attractiveness and retention of talent by promoting a strong corporate culture and encouraging the welcoming of new employees
Let's begin by welcoming new employees. We provide a dedicated collaborative space where HR, the new employee, and their manager can exchange and discuss a plan for the employee's first 30 days. This plan will include critical documents and private conversations to ensure a smooth onboarding process.
On the intranet side, we provide a template for welcoming new employees, which gathers welcoming documents, key policies, and messages from management necessary for a newcomer to have a good understanding of the job.
We have developed various employee engagement techniques for talent retention using everyday applications. These include announcing employees' birthdays, promoting the exchange of Kudos, and facilitating informal interactions through our "Water Fountain" template or virtual "coffee machine." We also celebrate company life by embracing other cultures through seasonal theme templates. However, the key to employee satisfaction and retention is having a strong tool for work – an effective Digital Workplace that boosts employee satisfaction and maximizes the chance of them staying with your company.
To make our company more appealing, our HR department emphasizes communicating our values in different ways. We have a sustainable development space where we promote our values. Moreover, we offer opportunities for employees to take part in tangible actions like carpooling and using our second-hand market application. These initiatives are aimed at fulfilling the needs of employees who are interested in making a positive impact through their work.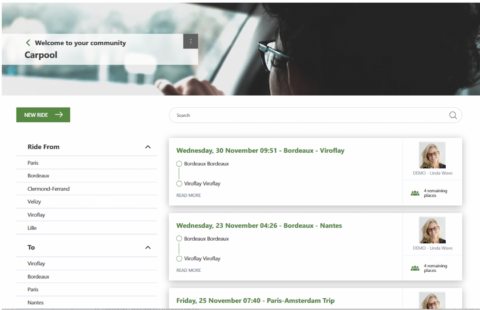 Business continuity, whether working on-site, from home or hybrid work
All the tools we offer are accessible through a PC or mobile application and are hosted in the cloud. All data is stored in the Microsoft 365 space of the company, making information from documents and community spaces accessible from anywhere.
Our digital communication and collaboration processes are digitized, and our spaces facilitate information sharing and capturing everyone's ideas, regardless of location.
The effectiveness of these solutions is evident in our engagement, ideation, and information-sharing templates, which have been developed in response to the COVID crisis among our customers.
In addition, we offer an application that promotes hybrid work. Our FlexDesk application allows employees to remotely book their office desks and check who is working from the office and who is working remotely online.
Conclusion
The operational gains achieved through our Digital Workplaces can be measured over time by various KPIs, which may be more or less easy to track. They include:
The number of hours of productivity gained per employee enables employees to focus on higher-value tasks and add more value to the company.
Increased innovation and reduced time-to-market for the company's new products and services.
Time required to recruit and onboard new employees.
Employee attrition rate.
Employee satisfaction index with the company's transversal services, particularly the information system.
Our consulting partners can assist you in building a business case to demonstrate the return on investment of implementing our Digital Workplaces. This will be the subject of a future article.