POWELL INTRANET
Additional content editing options
We now provide unified editing capabilities for all components (news details, event hub details, post boards, and chart list views). You will have direct access to additional options on your content to manage translations or send notifications to your users without changing the content.

The social network wall
Find out what you can implement with Microsoft Flow and a customized display in the Powell Search webpart. Content can be aggregated from social networks (Instagram, YouTube, Twitter, Facebook) and displayed on your intranet. Employees can use the preferences option to display the content of their choice. You can view an example in our demo environment.
Better management of mobile application package (for premium only)
Creating premium mobile applications can be difficult. We now facilitate the process of deploying applications and add some logs to quickly see and understand if there are any issues during the deployment. We also added the ability to view all packages created, not just the last one.
Visit Release Notes for September month for more detailed information.
POWELL TEAMS
Complete support for EDU tenant
We are proud to announce that Powell Teams is now supporting EDU tenants. Classrooms and other education-specific teams are now visible on the Powell Teams user dashboard and the Reports page in the admin center. You can create templates based on these teams and use them for team creation or editing. Additionally, we support specific Microsoft Teams rights and rules related to EDU.
Updates on administrator's KPIs and governance score
We updated KPIs and Governance Score on the admin dashboard to make them more accurate and tailored to your needs.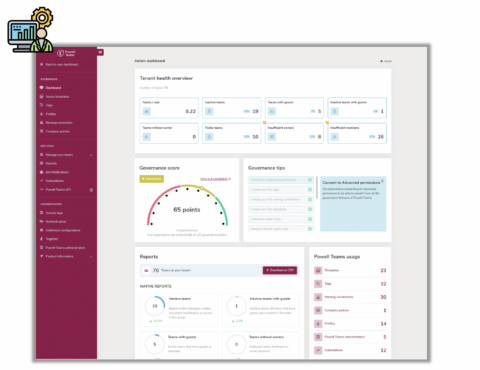 Please find more detailed information about the new Powell Teams features in the September release notes.