As more employees than ever work remotely, engaging employees virtually has become a new challenge for Comms and HR. That's why today's social intranets have been upgraded with applications that aim to increase employee engagement. Now the question is, are these applications effective? How can we know if users interact with the intranet? Do they read the latest news or must-read documents? How often do they book desks online? How can we determine which pages or tools in the digital workplace employees are not using?
Why should we be concerned about intranet engagement?
Employee engagement has many crucial implications. Research shows that organizations with proper robust employee engagement strategies and higher engagement levels benefit in a number of ways, including:
22% higher productivity
21% higher profitability
25-65% lower turnover
48% fewer safety incidents
41% fewer quality issues
Common challenges with measuring intranet engagement
Communications managers want to measure intranet adoption beyond page views. Yet, traditional intranet engagement KPIs are limited to showing the number of active intranet users and time usage – how long employees stay on the intranet, how often they log in, etc. More advanced tools track the number of likes, comments, and shares of digital communications. However, Comms and HR managers want more than this – they want to get a sense of the company's pulse and the employee experience. They want to monitor engagement over time and use the insights gathered to drive more participation on the intranet and, as a result, in company life.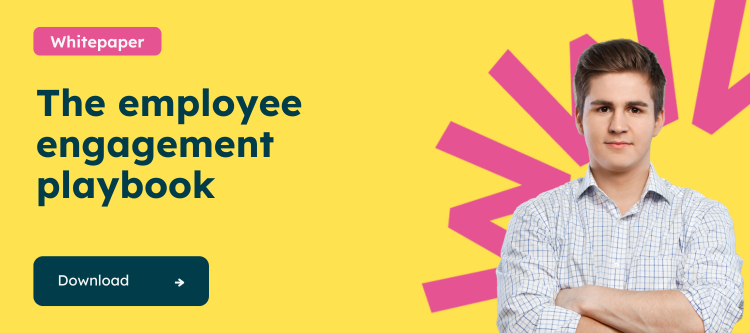 How to monitor and boost employee engagement in Powell Intranet
To help, Powell Intranet is introducing "engagement reports" to monitor intranet engagement levels.
The engagement report monitors intranet activity – likes, comments, posts, and shares, and collects action-level data. This data is categorized by the intensity of engagement. The degree of engagement is then characterized and classified into three user personalities or intranet user types. Each user title reflects a person's level of participation on the intranet:
Observer
Engager
Amplifier
By dividing the user actions into these three categories, you can identify a subject matter expert or an "engager" for a topic in different departments (Marketing, HR, RD).
Observers
Observers interact less on the company intranet. That does not mean they do not get value from it. They are likely to spend a lot of time on the intranet, consume a lot of content, and regularly interact with likes, comments, and survey responses. However, they are not active users and are relatively quiet.
Amplifier
Amplifiers are more engaged on the intranet. In addition to liking and sharing posts, they participate in discussions and conversations and enjoy sharing intranet content on social media platforms, via email, or Microsoft Teams. This employee advocacy has positive results in boosting brand awareness.
Engager
Engagers are not afraid to get involved. They are eager to communicate and collaborate. They actively interact with likes, comments, and shares on the intranet. They also post content, submit innovative ideas, initiate new discussions, and contribute to content creation. Engagers are a great example of strong employee advocacy marketing. These highly engaged employees are more likely to feel connected to the company and less likely to leave, leading to better employee retention.
How are engagement scores calculated?
The engagement report is powered by the intranet gamification platform and view analytics, allowing scores to be created for users behind the scenes. Actions taken on the employee intranet are associated with a specific score. For example, sharing content via email will have a specific score, while publishing an article will have a different score. The report then shows the total score for each user. These scores determine which profile category an employee belongs to—engager, amplifier, or observer. All the data collected provides insights that help understand the intensity of engagement.

It is important to note that the goal of the engagement report is not to track what people are doing but to understand intranet engagement and find KPIs to improve it. This report also allows anonymous identities to be displayed instead of individual usernames. Data can also be generated at a departmental level showing the involvement and actions taken by each department. For example, it can show scores for must-read content posted by marketing and sales.

What are the benefits of monitoring intranet engagement in Powell Intranet?
For HR
The engagement report will be highly beneficial for HR managers who want to ensure employees are equally engaged in the company culture. The report will provide powerful insights into how the engagement tools implemented on the intranet work. By identifying key metrics, HR can encourage participation by delivering better engagement strategies and enhancing existing intranet applications.
For example, using the Powell Intranet report, an HR manager found that IT professionals actively consume intranet content but are less willing to amplify it. With this knowledge, they can now implement practices to help the IT team be involved in different ways.
For Comms
Communications managers must ensure internal communications reach, engages, and motivates their audience. They want to see a hive of intranet activity – plenty of likes, shares, comments, and posts. The Powell Intranet engagement report will serve this purpose. With insights from the engagement report, Comms can test content that will grab employees' attention or identify areas that need attention.
For example, using the report, a Communications Manager realized that their team shares content through email rather than through Microsoft Teams. With these insights they reminded the team how easy it is to use the Powell Intranet sharing buttons to share content from the intranet directly to Microsoft Teams. The Comms Manager also noticed that only 20% of company employees share content on social media. So they launched a campaign to encourage and help employees to share internal content externally on social.
Understanding levels of participation is just the first step; you then need to improve intranet engagement. Powell Intranet already offers several powerful engagement practices on the intranet.
Together, engagement reporting, adoption reporting, and gamification features will have a significant impact.
How to measure intranet adoption in Powell Intranet?
In addition to insights gathered from the engagement report, Comms also have access to the intranet adoption report. This report displays additional clues into employee engagement by displaying the number of shares (email, Teams, social media platforms) and Kudos received.

The amount of content shared can provide insights into which social networks are most popular among intranet users. It shows which apps are used less and how often users share content externally. On the other hand, Kudos shows the most praised users. While engagement reports are an excellent tool for providing insights into how to improve intranet engagement, adoption reports offer additional value.
Keeping employees engaged has become a top priority and a challenge for companies. Solutions like engagement reporting can drive change that matters, simplifying tasks for HR and Comms. What is excellent about the Powell Intranet engagement report is that the data collected can lead to real changes.