Unlock limitless Brand Reach
In an era of hyperconnectivity, the battle for brand visibility is intense. However, with the right employee advocacy platform, you can obliterate the confines of your brand's reach. Powell Intranet offers a cutting-edge solution that empowers your employees to become the driving force behind your brand's online presence. By seamlessly integrating with their social networks, our platform enables your team to amplify your message far beyond the scope of traditional marketing efforts.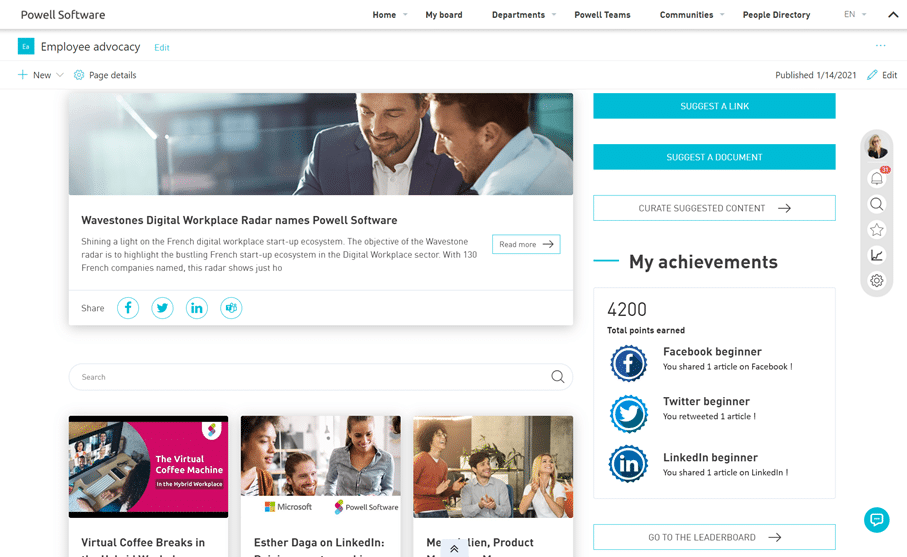 Unite employees and drive engagement
Powell Softwares' innovative social sharing tool helps establish internal brand ambassador programs. Our employee advocacy templates seamlessly integrate into the digital workplace by creating a dedicated space within your company intranet. This space is strategically crafted to engage employees as enthusiastic brand advocates.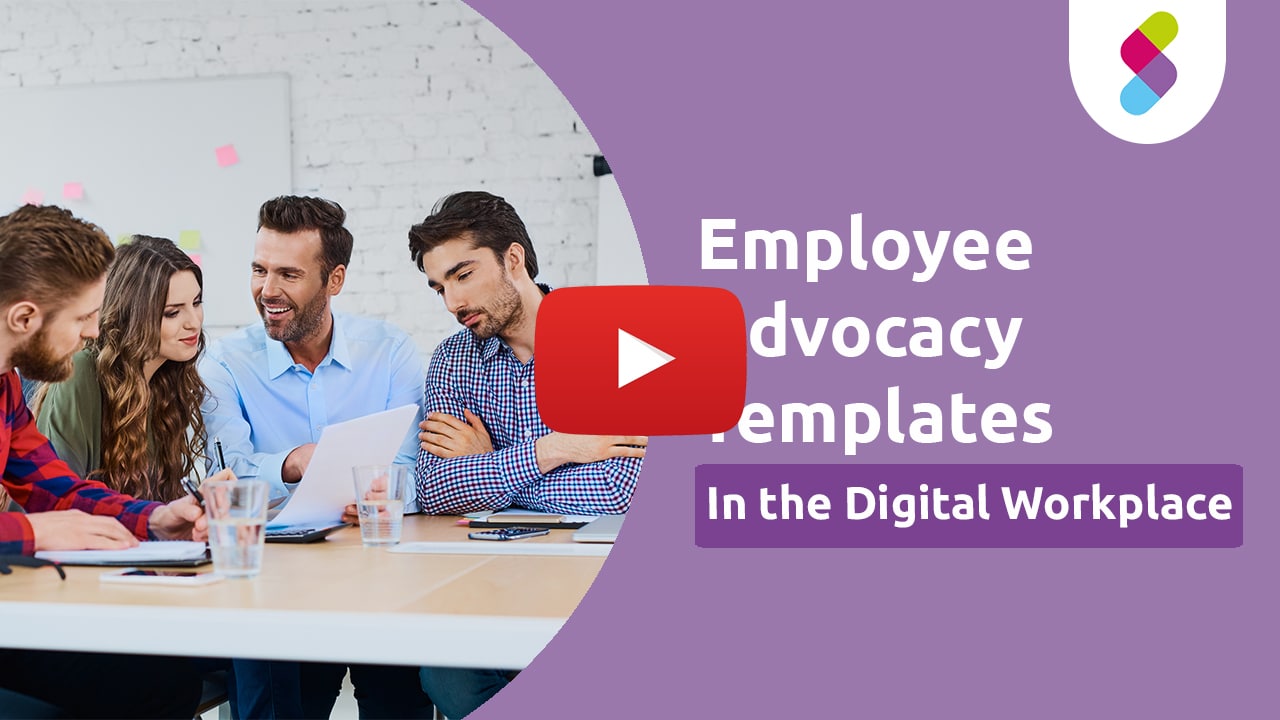 Our employee advocacy tool delivers benefits throughout every department while fostering unity among employees, all united around a common goal, forging more robust connections.
"Empowering employees with an accessible channel to express themselves fosters a genuine sense of belonging—an especially crucial factor in today's hybrid workplace, where teams are dispersed and remote. Our templates, securely hosted on Microsoft 365, ensure a positive and enjoyable employee experience, perfectly aligning with our company's marketing objectives and driving business growth.
"However, nurturing a robust employee advocacy culture hinges on efficient collaboration between the marketing and communications teams and other crucial departments. Technology is the linchpin, affording teams swift access to information, a user-friendly search system, an inclusive and engaging interface, and intelligent sharing features."
Silbermann underscores: "Employees constitute a company's most precious resource and its most compelling advocates. Powell's digital workplace tool streamlines participation, making it accessible for everyone to contribute to social success."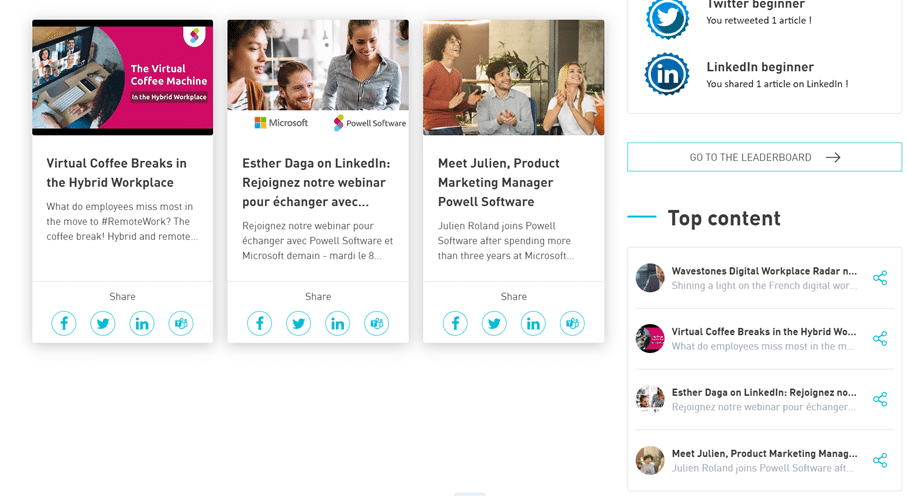 Effortless Content Amplification for Maximum Impact
Silbermann continues: "Employee advocacy serves as an 'Advertising Value Equivalent' for the Marketing team, contributing to establishing a company as a social media influencer. Sales also reap the rewards; over 70% of sales teams leveraging social selling outperform their peers or exceed quotas. HR can even leverage the platform to advertise external positions—within article formats—subsequently shareable across employees' social channels, with enticing rewards for sharing.
Imagine the collective power of every employee sharing your finely crafted content across their networks, reaching fresh audiences, and broadening your brand's footprint. Powell Software's employee advocacy platform unlocks this vast potential, turning your workforce into an influential digital marketing team.
Measurable ROI and Performance Tracking
Understanding the impact of your employee advocacy endeavors is paramount to optimizing your strategy. Powell Software doesn't just provide a platform; it equips you with comprehensive tools to measure your return on investment (ROI) and meticulously track performance.
Our robust suite of analytics and tracking features empowers you to witness the tangible results of your employee advocacy program. From gauging engagement levels to tracking leads generated through employee shares and even linking advocacy efforts to concrete business outcomes, we offer clear, data-driven insights. This insight allows you to refine your strategy, allocate resources judiciously, and ensure that your employee advocacy platform delivers the quantifiable ROI your organization demands. It's not merely about amplifying your message; it's about concretely quantifying your success.
Building an advocacy program in the digital workplace
Our innovative employee advocacy tool, available for Powell Intranet customers, bridges the gap between the intranet and Teams. Built on Microsoft 365 and incorporating gamification technology, employees are encouraged to share company content and collateral through their personal social media channels, earning rewards.
Within employee advocacy, Marketing effortlessly integrates content for employee sharing. A simple link insertion triggers the automatic generation of titles, descriptions, and images. Furthermore, the advocacy tool suggests trending content shared by peers. Employees can effortlessly click to share this content on their preferred social networks, such as LinkedIn, Facebook, or Twitter.
Our platform streamlines content discovery and sharing by providing access to relevant content based on pre-established preferences and facilitating timely updates, ultimately saving valuable time.
"Companies with employee advocacy programs experience elevated levels of employee engagement and can significantly benefit from employees evolving into influential social media contributors," asserts Matthieu Silbermann, Chief Product Officer at Powell Software. "Employees within socially engaged companies display heightened loyalty, optimism about the company's future, and a perception of enhanced competitiveness."
Gamification and rewards for employee social sharing
Employees stand to gain directly from sharing company content via our employee advocacy tool, which is thoughtfully equipped with gamification features. Points and badges are up for grabs with every social post, fostering friendly competition and simplifying the task for Marketing to nurture internal brand ambassadors.
Innovative Bridging Technology for Enhanced Collaboration
Our innovative technology seamlessly bridges the company intranet and Teams, allowing Marketing to initiate discussions and share best practices for social sharing. Recognizing employees' diverse digital proficiency levels, Marketing, being social media experts can efficiently impart their skills.
Curious about the transformation of employees into brand ambassadors? Dive into our article on Leverage your Employee Advocacy Program with Gamification.
User-generated content and participation
Our employee advocacy platform actively encourages employees to contribute their content or offer content suggestions through the platform. Marketing can review and seamlessly incorporate suggested content into the advocacy area or provide support in the curation process.
By empowering every individual to contribute to the company's advancement, the platform fosters the formation of ambassadorial communities. These communities unite employees, ignite engagement, and nurture a more cohesive organizational culture.
Are you eager to witness how Powell Software's employee advocacy tool for the digital workplace could revolutionize your organization? Waste no time, schedule a demo today, and engage in a conversation with our expert team to discuss your project.