Digital workplace leader for 2021
We are delighted to be recognized as a gold medallist and leader in the 2021 Digital Workspace Data Quadrant report from SoftwareReviews, a division of IT research and consulting firm Info-Tech Research Group. The award is based on the collective knowledge of real users and placement is based on satisfaction with product features, vendor experience, capabilities, and emotional sentiment. Twelve vendors feature in the Quadrant, with Powell Software named a leader and gold medallist.
SoftwareReviews named Powell Software a gold medallist as we received an 8.6 composite score, which represents the complete and aggregated satisfaction score from end-users.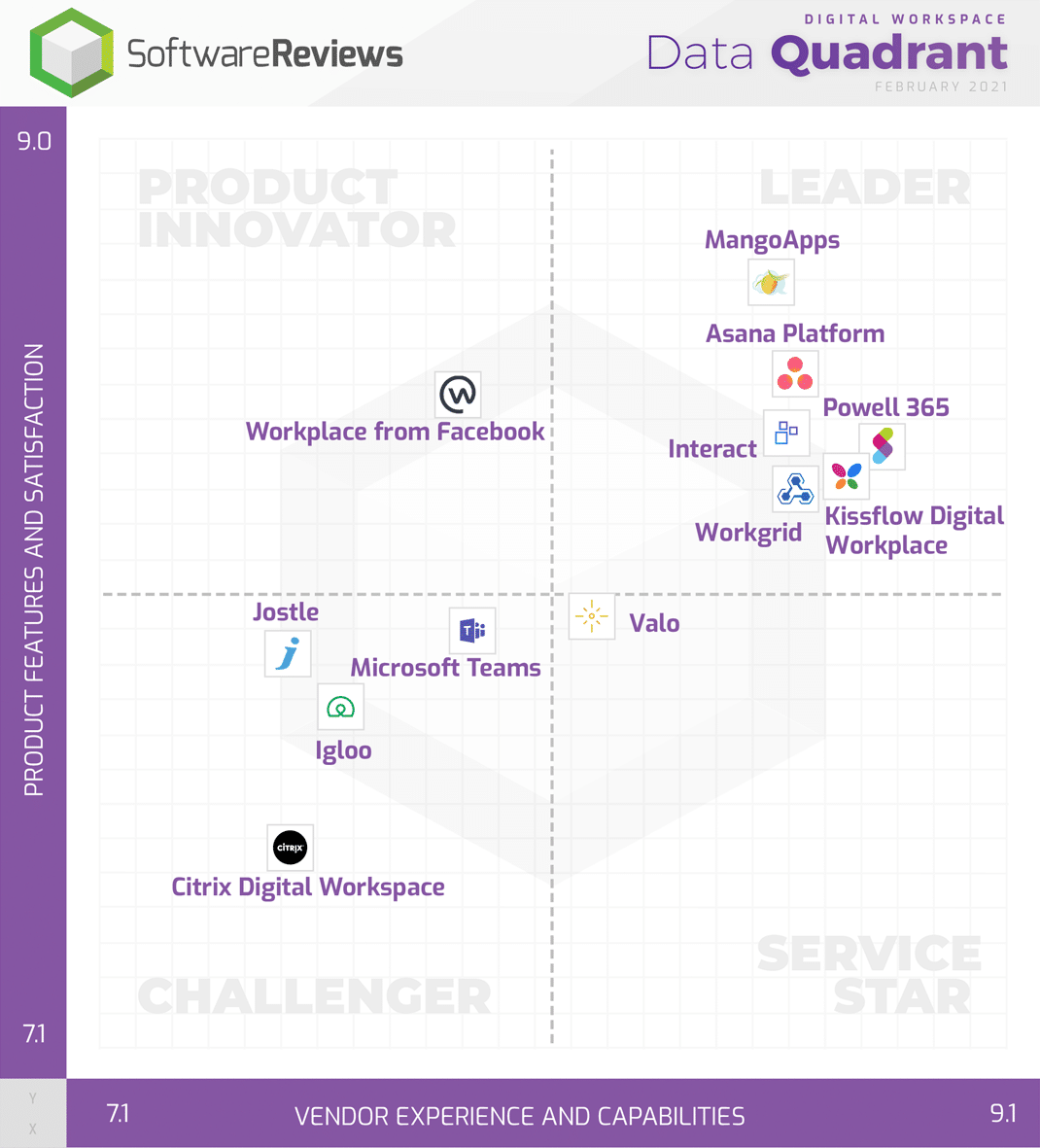 100% of Powell Software users plan to renew
Product Strategy, Rate of Improvement, and Ease of Data Integration were the strongest capabilities associated with Powell Software, resulting in a 100% Plan to Renew reported by our users. We also secured high satisfaction scores in a variety of areas representing our vendor capabilities and product features including:
Quality of Features
Employee Engagement
Discussion Forums
High Emotional Footprint score
We are particularly proud that Powell Software also received the highest Emotional Footprint score of +95, receiving top scores around reliability, effectiveness, and transparency. Emotional Footprint Metrics in which Powell Software ranked highly include:
Enabling Productivity
Client Interest First
Being Respectful
The Emotional Footprint makes the SoftwareReviews Data Quadrant unique as it is the inclusion of aggregated emotional response ratings in the areas of service, negotiation, product impact, conflict resolution, and strategy and innovation. This creates a powerful indicator of overall user feeling toward Powell Software and its product from the software users' point of view.
"The composite score captures how a vendor has performed across key indicators such as product functionality, vendor performance, and the relationship with their customers, what we call the Emotional Footprint. A strong showing with this metric demonstrates a product that not only delivers value for their customers, but is also a partner that people want to work with." David Piazza, President of SoftwareReviews.
About SoftwareReviews Data Quadrant Awards and Software Reports:
SoftwareReviews Data Quadrant Awards recognize outstanding vendors in the technology marketplace as evaluated by their users annually. Top vendors in a software category are eligible to receive Data Quadrant Gold Medals, provided their net-promoter scores meet the threshold for sufficiently high user satisfaction across four areas of evaluation: vendor capabilities, product features, likeliness to recommend, and vendor experience.
About SoftwareReviews:
SoftwareReviews is a division of Info-Tech Research Group, a world-class IT research, and consulting firm established in 1997. Backed by two decades of IT research and advisory experience, SoftwareReviews is a leading source of expertise and insight into the enterprise software landscape and client-vendor relationships. By collecting real data from IT and business professionals, the SoftwareReviews methodology produces the most detailed and authentic insights into the experience of evaluating and purchasing enterprise software.
About Powell Software:
Powell Software is a global ISV, creating digital workplace solutions for the hybrid work world. Our mission is to connect employees, no matter where they are located. We achieve this through Powell 365, composed of Powell Intranet and Powell Teams. Together these solutions provide the communication and collaboration tools employees need to stay engaged and productive.
Want to see for yourself why Powell Software's digital workplace is consistently recognized? Talk to our team today and get a demo.