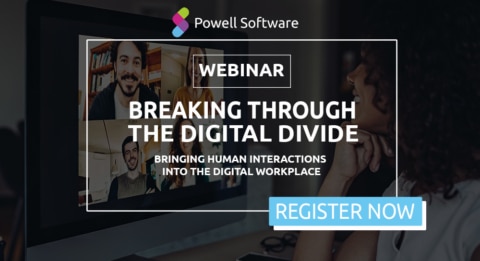 As the hybrid workplace gains popularity, more employees will choose to work between home and the office. Key tools like the digital workplace are allowing them to do so and stay productive. Yet there's more to work than productivity. An office is a social place, so it's time to bring the human interactions we miss to the virtual office and break through the digital divide.
Join Powell Software, global innovators in hybrid work solutions, for this recorded webinar, as we discuss how to create better connections in a hybrid or remote team.
Breaking through the digital divide: Bringing human interactions into the digital workplace
Recorded: Tuesday March 23rd, 5pm CET
Loss of connections in remote work
Working in an office, casual coffee chats, lunch breaks, and team meetings happen so easily every day. However, in the move to remote work, employees can lose out on these interactions. What's more in a hybrid workplace, where only some employees are remote, a digital divide can form with some people interacting in person and those at home missing out.
This loss of social connections can quickly lead to employee disengagement and lower morale. So HR, Internal Comms, and managers need to find a way to connect employees virtually.
Bringing interactions to the digital workplace
During this 45 minute webinar, Matt Weston, Microsoft MVP, and Danielle Jewett, Business Development Manager at Powell Software, will discuss how to reignite connection with the power of the digital workplace and overcome the digital divide:
1) Gamification: Rewards, recognition, and fun are key to getting employees involved and engaged in the digital workplace. We'll demonstrate how gamification in the context of employee advocacy can build participation and interactions.
2) Multiple Digital Workplace entry points: Hybrid workers want to be able to do their job from anywhere and on any device. They also want easy access to their documents and business tools. We'll demonstrate how a digital workplace with multiple entry points can help build interactions.
3) Office interactions go digital: There are moments from the workday nearly everyone misses, like the coffee break. We want to have those casual chance encounters that were a daily occurrence in the office. With the digital workplace, it's possible. Danielle and Matt will demonstrate with the virtual coffee machine, which brings colleagues together for short coffee breaks.
Watch this recorded webinar back now to see how the modern digital workplace is built with employee experience at the heart of its technology.
About Powell Software
At Powell Software our mission is to connect employees with organizations in the hybrid workplace. Our communication and collaboration solutions ensure employees can work from anywhere. By having all tools readily available employees can stay as productive at home as in the office. We focus on improving the employee experience further with engaging features like employee advocacy and virtual coffee machines to maintain social connections.
Watch this recorded webinar back now and explore how to bring interaction to the digital workplace to engage and connect employees.