Read our latest update here: https://powell-software.com/resources/blog/ai-intranet/
Introduction
At Powell Software, we were particularly taken aback by the natural language capabilities and promising integration with Microsoft, which is our technology stack. In this article, Raphaël Pannier, CTO at Powell Software, will share possible use cases if we were to integrate our digital workplace with OpenAI technology.
Let's make some disclaimers; several announcements are not confirmed, and at Powell Software, we take the confidentiality and security of companies'  data seriously. It might be that the public version of OpenAI won't be immediately suitable for enterprises that need more robust and secure data processing.
This article will explore some possible use cases in our digital workplace solutions.
The potential (and current limitations) of ChatGPT
The dazzling success of ChatGPT's introduction to the public in November 2022 is undeniably due to the quality of conversations in terms of natural language. The quality is just as good in English as in French, the native language of many employees at Powell Software.
We were impressed by its ability to summarize articles online or to offer well-crafted LinkedIn posts.
Our technical teams were also impressed by its ability to 'code' and answer technical questions.
However, we have all also noted the limitations of the bot, which sometimes responds to inaccuracies or even technical errors with a certain aplomb. This is closely related to the fact that learning stopped in 2021 for some cases.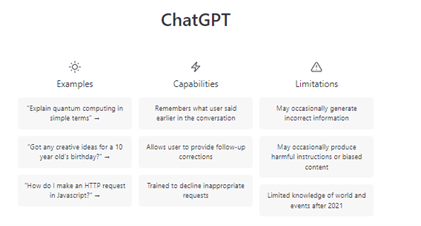 Integration via Microsoft technologies a no-brainer for Powell Software
Beyond Microsoft's announcements of additional investments in the OpenAI company, we find the technological openness in Azure services promising. It will allow us to reach the necessary levels in terms of scalability, robustness, and data security for our Enterprise customers.  Our privileged relationship with the Microsoft Engineering teams positions us particularly well to be among the first vendors to test the new Azure services in the coming months. At this stage, we are not candidates for the private preview.
What is Azure OpenAI? – Azure Cognitive Services | Microsoft Learn
A few foreseen use-cases
Powell Software's digital workplace responds to the needs of all company stakeholders, whether through the intranet or Microsoft Teams. So, we thought about how to help intranet contributors, Microsoft 365 administrators, and in general, employees on a daily basis.
We looked at how natural language processing, translation, summarizing, text proposal, and especially automated searches could help a company's employees.
Here are some of the avenues we will explore in the coming months.
For contributors in the intranet
Proposal of catchy titles and descriptions on draft articles
Same for Employee Advocacy
For employees in Teams and the Digital Workplace
Support for responding to Teams messages.
Summary of long texts or transcripts of meetings
For Microsoft 365 admins
Decision support in Governance rules, such as naming conventions
Automated categorization of Documents, Teams (Labels, Metadata)
For our developer partners
Help with SharePoint search queries
Help with code production to extend our solutions with the Power Platform or our APIs
Some of these ideas won't be possible or maybe natively covered in Microsoft 365.
We have many other ideas for HR, business teams, and Marketing that we will wait to reveal to you…
What does ChatGPT say about it?
We, of course, asked ChatGPT what its opinion was on the matter, and it shared some of our ideas.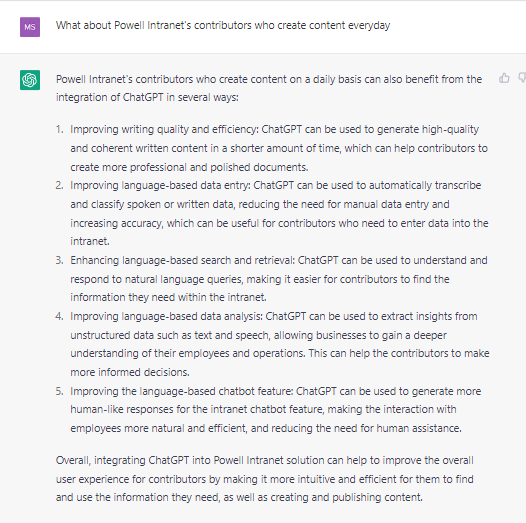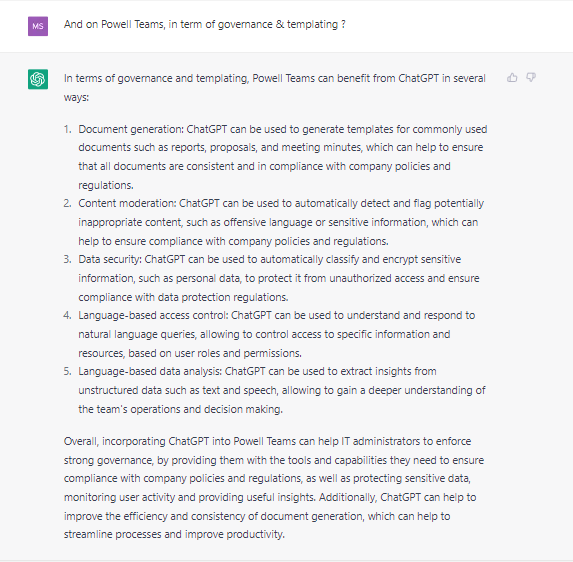 The bonus is already in the lab with us 🎈
Among our Product and RD teams, some are already using ChatGPT's integration with the Power Platform in testing: to question the bot from Microsoft Teams and ask it to help us employees write LinkedIn posts to share the latest Marketing articles.

Message triggered from a Teams conversation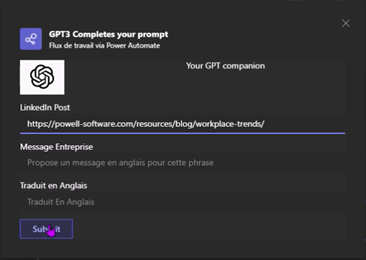 ChatGPT response in a Teams conversation
Conclusion
At Powell Software, we welcome technological advancements, like AI, as an opportunity to take our solutions to the next level and increase their relevance. OpenAI, when used strategically, will be revolutionary to the modern workplace and, from our perspective, the digital workplace.
Interested in learning more about Powell Software's digital workplace solutions?
Check out Powell Intranet, our company intranet solution built on SharePoint Online
Check out Powell Teams, our Microsoft Teams governance and lifecycle management solution