Why Governing Collaboration Spaces in M365, Starting with Teams, Is Essential
Collaborative platforms like Microsoft 365 have become indispensable in today's interconnected world. Microsoft Teams has seen rapid growth among its various services, becoming the go-to for many organizations. However, this convenience and utility come with challenges, especially regarding governance.
It's not just about managing Teams spaces or files; it's about securing data, ensuring compliance, and maintaining productivity. This is where our Powell Teams solution comes in, offering a robust framework for governance starting with Teams but designed to be extendable across the Microsoft 365 ecosystem.
The Foundation of "Understand, Manage, Control" That Drives Powell Teams
Our framework comprises three core components: Understand, Manage, and Control.
– Understand: The first step in effective governance is to have clear insights. Customizable reporting and KPIs empower IT administrators to grasp the state of information security and compliance, such as Teams Ownership and Membership, Guest Access, Privacy, or Inactivity. This tailored data offers a snapshot of the organization's Teams environment, setting the stage for proactive measures.
– Manage: Build your own governance rules and policies and apply them to the existing workspace. Edit, archive, and delete teams. Focus on pre-designed team templates validated by IT and business stakeholders. These templates simplify the team creation process and ensure every new team adheres to the organization's standards. Governance isn't a one-off effort; it's ongoing.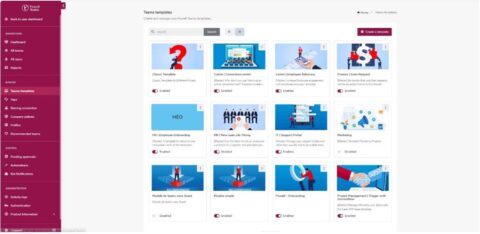 – Control:  Automated campaigns and workflows enable IT departments to prompt team owners for corrective actions, ensuring continuous health checks and adjustments. This is delivered through standard and personalized reports and Campaigns, which are automated scenarios based on the triggers from reports.
Circet's case study
Circet, a leading network service provider in Europe and Northern Africa, aimed to enhance internal collaboration and data collection. They opted for Microsoft Teams, augmented by Powell Teams, to meet this need. The implementation was quick and professionally managed, aided by Powell Software's expertise. The outcome was the successful adoption of Teams, improved governance, and a simplified user experience, ultimately leading to better operational efficiency and closer working relationships.
Matthieu Kermorvant, Subject Matter Expert at Circet, stated,
"We've used Teams and its integration with the rest of Microsoft 365 to create a semblance of the structure that employees, new and old, used to get from their office environment."
Download the entire case study
Extending to SharePoint
SharePoint is another critical component in the Microsoft 365 portfolio, especially for organizations with a rich history of SharePoint use. Hence, extending our governance framework to SharePoint was a logical next step. Whether it's about document libraries, intranet sites, or team collaboration, our framework offers similar capabilities to SharePoint, making sure that your organization's historical data and new content both reside under a governance structure that's robust and compliant.
Microsoft Teams or SharePoint team sites ?
SharePoint and Teams, IT Governance, and Business Templates—A Unique Value Proposition for Powell Software Suite
The beauty of our governance framework will be its extensibility across Teams and SharePoint. It addresses IT and business needs, tying them into a unique value proposition. IT departments benefit from less day-to-day maintenance, while business users enjoy predefined templates and governance policies that operate in the background. This dual benefit ensures streamlined processes and a secure and compliant collaborative environment, making the Powell Software suite a comprehensive solution for your Microsoft 365 governance needs.
Conclusion
Your insights into your Teams and SharePoint usage could significantly impact how we evolve our solutions. What are your main governance challenges in Microsoft 365, and how are you addressing them? Your input can help us tailor our offerings better to serve the unique needs of organizations like yours.
Do you want to start your journey to Understand, Manage, and Control your Microsoft 365 tenant today?