A 'channel first' company, going beyond to further our three-digit-growth globally over the coming years
2020 has been a challenging year for everyone across the globe, including within our own industry. However, during this time, we have seen a significant acceleration in digital transformation projects for organizations throughout the planet. The need for modern digital workplaces has never been so strategic, with every company now needing to refocus time and investments into "how to connect employees".
This is our core mission at Powell Software, and we are very honored to partner with you every day to achieve this.
A global partner network driving change in 2021 and beyond
With our 70 active partners across the globe covering 35 countries on every continent, we have a clear ambition:
"We aim to make our products easy to use and improve end-user experience. Our ecosystem can help any sized organization to deploy and leverage modern digital workplaces to connect their employees across the 3 unified pillars: Communication, Collaboration and Business Processes"
We have a tremendous opportunity with our entire ecosystem. 2021, is the time to take a step back as IT and Business decision-makers, to think, redesign and build solid digital workplaces. It's an opportunity to better connect employees, bring structure, governance, and unified tools within this new employee hub, and to unify the three core pillars of the digital workplace.
With Powell Software, for every $1 of Powell license our partners can generate up to $3.5 in incremental services revenue, from consulting, design, and integration to managed services and change management.
To reach our destination we are continuously increasing our investments and resources for our performing partner ecosystem.
Announcing the new Powell Software Partner Program
We have now released our new partner program which will be implemented gradually during the first half of 2021, for an official launch on July 1st, 2021.
This partner program has two goals:
Build an optimized and structured partner program with valuable give & gets.
Industrialize our support to our ecosystem with ready to go marketing, readiness, and certification assets.
Four Partner Categories
Within the new partner program are four partner categories with specific characteristics and expectations when collaborating with us:
Technology Partners: Independent Software Vendors who have valuable solutions that can create technical and product synergies on top of Powell Solutions.
Referral Partners: Change Management, Business consulting firms, and communications agencies who are helping organizations to plan and structure their digital workplace transformation
Distribution Partners: Solution Aggregators who are working with VAR's and any reseller to support SMB in their digital workplace transformation
Services Partners: Local Integrators, global SI, managed services partners, and Telco's who are looking for higher value with Software + Services to help their customers.
Three Expertise Levels
We are also introducing three expertise levels in our program with specific engagements and benefits for each level: Activate, Silver, and Gold. This program will be supported by four critical pillars: Technology, Support, Sales, and Marketing.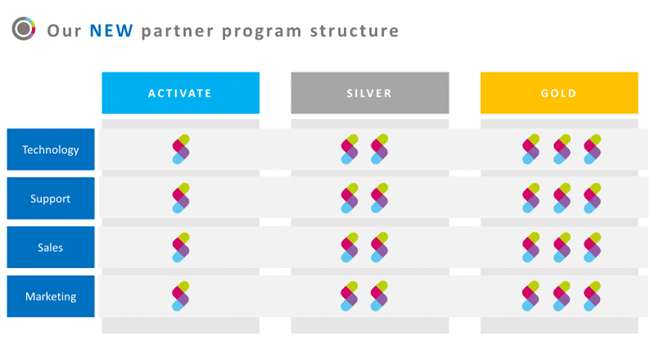 For more detail on our 2021 partner program click here.
More new features coming to the Powell Software Partner Program
During the convention, we also announced great new features and resources for our partners that will arrive in Q1 2021.
A new online readiness and certification program for our partners' sales, pre-sales, and technical experts.
A dedicated partner portal with a first-class experience with sales and marketing resources, a complete partner onboarding kit, pipeline management module, and our training and certification resources.
Our integration to the Microsoft marketplace to extend our reach to small and medium customers.
And much more!
Watch the partner session back now!  
2020 Partner of the Year Winners
Finally, after making these announcements at the Digital Workplace Convention, we took the opportunity to recognize the hard work and commitment of our partner network. Each year we recognize the contribution of our partners during our annual convention and we were delighted to bring this online in 2020.
And the winners are…
Our winners have demonstrated a relentless commitment to Powell Software. Combining true technical expertise in deploying the Powell 365 platform, with a strong drive and ability in pitching the Powell Software's unique value proposition to detect and close new projects.
This award is well deserved. Thank you so much for this commitment to our strategic partnership!
Watch the partner session back now!  
Interested in becoming a Powell Software Partner? Contact us to learn more about the benefits of a strategic partnership with Powell Software.