Join us for this recorded webinar as we explore the challenges facing organizations transitioning to a hybrid workplace. We will be focusing on how to overcome these obstacles for success with a digital workplace. During this webinar, our team will discuss the changing world of hybrid work, the role of digital solutions, and introduce you to Powell 365.
How to Achieve Hybrid Workplace Success with a Digital Workplace
Recorded: October 15th
10 AM CET
With the generalization of hybrid work across organizations and the explosion of Microsoft Teams adoption, businesses and companies are having to adapt to better prepare for the future. The introduction of new ways of working which came at short notice raises fundamental issues. Employees are now likely to be spread between home and in-office work for months to come and this will bring long-term changes. So it's time for modern workplaces to consider three things:
How to effectively connect businesses with employees while promoting an inclusive and engaging culture
How to simplify collaboration and enhance the Microsoft Teams experience by improving the user journey, governance, and management of these spaces
How to digitize, automate and personalize business and collaborative processes
What's up for discussion?
We invite you to join us for a short webinar to explore how you can overcome the challenges associated with a hybrid workplace through the digital workplace. Join us for this interactive webinar to understand the issues facing employees and organizations, and the tools needed to conquer them.
As part of this discussion, our Chief Product Officer Matthieu Silbermann and Product Marketing Manager Julien Roland will introduce Powell 365 and discuss how these solutions can address your company and business needs. Through a use case demo, you can experience our digital workplace live. See how Human Resources can easily and innovatively handle new employee onboarding with our Digital Workplace.
The speakers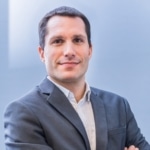 Matthieu Silbermann, Chief Product Officer, Powell Software
Julien Roland, Product Marketing Manager, Powell Software
About Powell Software
We are an International Service Vendor, headquartered in France, and secured $16M fundraising in January 2020. Trusted by over 300 customers and 50 partners, Powell Software has won awards and recognition from some of the best analysts in the digital workplace, such as Gartner & Clearbox.
At Powell Software, our mission is to connect organizations with employees through a complete Digital Workplace. We achieve this with the Powell 365, made up of two pillars. First, Powell Intranet for Corporate Communications and Employee Engagement. Second, Powell Teams to enhance Microsoft Teams with governance for IT and improved usage and adoption for end-users. Our ready-to-use and customizable templates combine these pillars to help transform business processes for hybrid work.
Don't miss our webinar to meet our team and see our solutions in practice!
Recorded: October 15th │10AM CET